July 2021 Herself360 Books We are Reading for the Summer
|
author/source:
Cathie Briggette
Brown Girl Dreaming – Jaqueline Woodson
Jacqueline Woodson, one of today's finest writers, tells the moving story of her childhood in mesmerizing verse.
Raised in South Carolina and New York, Woodson always felt halfway home in each place. In vivid poems, she shares what it was like to grow up as an African American in the 1960s and 1970s, living with the remnants of Jim Crow and her growing awareness of the Civil Rights movement. Touching and powerful, each poem is both accessible and emotionally charged, each line a glimpse into a child's soul as she searches for her place in the world. Woodson's eloquent poetry also reflects the joy of finding her voice through writing stories, despite the fact that she struggled with reading as a child. Her love of stories inspired her and stayed with her, creating the first sparks of the gifted writer she was to become.
This book was beautiful. Each of Jaqueline's poems brings you closer and closer to her life. I listened to this on Audible, and it was read by Jacqueline herself, and I was mesmerized!
---
Somebody's Daughter – A memoir, by Ashley C Ford
One of the most prominent voices of her generation debuts with an extraordinarily powerful memoir: the story of a childhood defined by the ever-looming absence of her incarcerated father and the path we must take to both honor and overcome our origins.
For as long as she could remember, Ashley has put her father on a pedestal. Despite having only vague memories of seeing him face-to-face, she believes he's the only person in the entire world who understands her. She thinks she understands him too. He's sensitive like her, an artist, and maybe even just as afraid of the dark. She's certain that one day they'll be reunited again, and she'll finally feel complete. There are just a few problems: he's in prison, and she doesn't know what he did to end up there.
Through poverty, puberty, and a fraught relationship with her mother, Ashley returns to her image of her father for hope and encouragement. She doesn't know how to deal with the incessant worries that keep her up at night, or how to handle the changes in her body that draw unwanted attention from men. In her search for unconditional love, Ashley begins dating a boy her mother hates; when the relationship turns sour, he assaults her. Still reeling from the rape, which she keeps secret from her family, Ashley finally finds out why her father is in prison. And that's where the story really begins.
Somebody's Daughter steps into the world of growing up a poor Black girl, exploring how isolating and complex such a childhood can be. As Ashley battles her body and her environment, she provides a poignant coming-of-age recollection that speaks to finding the threads between who you are and what you were born into, and the complicated familial love that often binds them.
---
Tangled Up In Blue – Rosa Brooks
Journalist and law professor Rosa Brooks goes beyond the blue wall of silence in this radical inside examination of American policing
In her forties, with two children, a spouse, a dog, a mortgage, and a full-time job as a tenured law professor at Georgetown University, Rosa Brooks decided to become a cop. A liberal academic and journalist with an enduring interest in law's troubled relationship with violence, Brooks wanted the kind of insider experience that would help her understand how police officers make sense of their world--and whether that world can be changed. In 2015, against the advice of everyone she knew, she applied to become a sworn, armed reserve police officer with the Washington, DC, Metropolitan Police Department.
Then as now, police violence was constantly in the news. The Black Lives Matter movement was gaining momentum, protests wracked America's cities, and each day brought more stories of cruel, corrupt cops, police violence, and the racial disparities that mar our criminal justice system. Lines were being drawn, and people were taking sides. But as Brooks made her way through the police academy and began work as a patrol officer in the poorest, most crime-ridden neighborhoods of the nation's capital, she found a reality far more complex than the headlines suggested.
In Tangled Up in Blue, Brooks recounts her experiences inside the usually closed world of policing. From street shootings and domestic violence calls to the behind-the-scenes police work during Donald Trump's 2016 presidential inauguration, Brooks presents a revelatory account of what it's like inside the blue wall of silence. She issues an urgent call for new laws and institutions and argues that in a nation increasingly divided by race, class, ethnicity, geography, and ideology, a truly transformative approach to policing requires us to move beyond sound bites, slogans, and stereotypes. An explosive and groundbreaking investigation, Tangled Up in Blue complicates matters rather than simplifies them, and gives pause both to those who think police can do no wrong--and those who think they can do no right.
After hearing an interview with Rosa Brooks on NPR, I was looking forward to this book. It really gave me the full picture of policing in America, from all sides of the view.
---
How to Thrive in the Virtual Workplace by Robert Glazer with Mick Sloan
The remote work revolution has been rapidly accelerated by the COVID-19 pandemic. Organizations as big as Twitter have learned their employees didn't need an office to get great results, and employees are using the flexibility of remote work to live where they want, ditch their commutes and live a work-life integration that works for them.
Remote work is here to stay, and the companies that do it well will have a clear competitive advantage in the future. As founder and CEO of Acceleration Partners, a 100 percent remote organization with 170 employees who work from home, Robert Glazer has discovered that with the right principles, tactics and tools, many businesses can excel in a virtual world. In this highly actionable book, Glazer shares how he and his team built a remote organization that has been recognized with dozens of awards for its industry performance and company culture.
How To Thrive In The Virtual Workplace shares insights from the remote employee, manager and leader perspectives, offering a blueprint any person can use to make remote work successful, productive and fulfilling. Learn how to leverage the flexibility of remote work, be more productive while working at home, avoid burnout, lead a team of virtual employees and build an organization that sets the gold standard for virtual work.
The remote work revolution is here–the leaders who will build the future are the ones who can lead top performing virtual teams. Learn how to build a world-class organization–office no longer required.
Robert is one of our favorite "Let's Hear it from the Boys" writers for Herself360. This book is great for management and employees alike who are working virtually.
---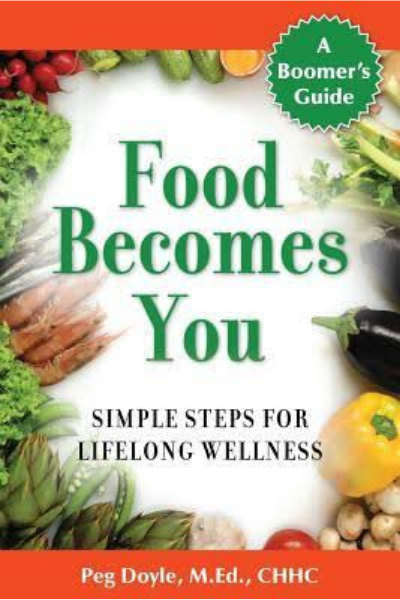 Food Becomes You ~ Simple steps for lifelong wellness, By Peg Doyle, M.Ed., CHHC
When you envision your future, what do you see? Food Becomes You reminds readers of the simple truth that the food we put in our bodies becomes a part of us, in our tissues, organs, systems, and senses. It deconstructs nutrition science to show what our bodies and minds need to thrive, all woven into the stories of many who turned their lives around by changing their food.
Baby boomers will find this book especially useful as they approach their fifties and beyond, though the lessons are ones that we all should learn. If you want a healthy, vibrant future, you have to make healthy nutrition choices-now-and this book will help you learn how.
In an easy-to-read fashion, Food Becomes You provides invaluable tips, examples, and recipes that will allow you to seamlessly incorporate healthy foods and easy meal preparations into your life.
Peg Doyle, EdM, CHHC, is a certified holistic health coach and educator who has been studying health and nutrition for over fifteen years. She firmly believes nutrition and lifestyle, not age, are the principle predictors of health later in life and, as a clinician and educator, is dedicated to helping her clients realize and appreciate the critical link between food and health.
Doyle is a member of the national gerontology honor society, Sigma Phi Omega, and holds a master's degree in education as well as numerous post-graduate certificates. A popular keynote speaker and nutrition/lifestyle consultant, she has spoken and led workshops at Harvard School of Dental Medicine, Boston College, the National Millender Conference for Occupational Therapy, and numerous business organizations. Her writing has appeared on various websites, including ones for Gatehouse Media's Wicked Local, Spirit of Change Magazine, and My Menopause Magazine.
Food Becomes You is Doyle's first book. Her previously released motivational work includes the highly acclaimed recordings Stress Management and Beyond Cancer.
Peg is also a writer for Herself360. We love the great style of food, nutrition, and health benefits that she has shared with our readers. Be sure to check out her book, and stories she has written.
---
The Legacy He Left Me by Lovern J Gordon
"Lovern Gordon shares with us an in-depth and personal understanding of her life as a survivor of adverse childhood experiences."
This clinical term was brought to life for Lovern Gordon as she grew up on the island of Trinidad in the 1980s. Her mother, affectionately dubbed Mummy, suffered mental and physical abuse at the hands of her emotionally detached father, Lloydie. Lovern, her younger siblings, and Mummy were able to migrate to the United States in the late 1990s. Even though she had vowed she would never become a victim, based on what she had witnessed as a child, a sinister romantic partner would repeat the trauma of Lovern's past in her own adult relationship.
Rising from the ashes of these two severe domestic violence situations, Lovern established her own awareness foundation in 2011. Through her advocacy work at Love Life Now, she educates the masses around the issue of abuse, as well as how to become part of the solution, and provides resources to victims and survivors. The organization helps victims thrive after leaving toxic situations, just like Lovern now thrives every day thanks to her strength, positivity, and perseverance, despite the legacy of abuse left by her father.