Book selection of the month
|
author/source:
Lyvia Feraco
Memoire: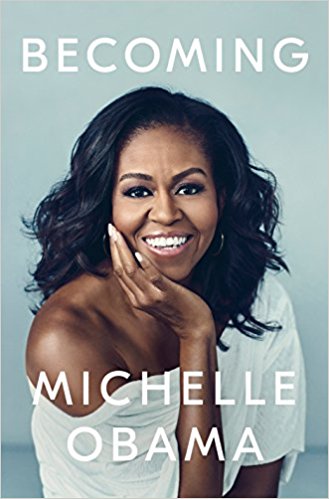 "Becoming" – Michelle Obama
An intimate, powerful, and inspiring memoir by the former First Lady of the United States.
In her memoir, a work of deep reflection and mesmerizing storytelling, Michelle Obama invites readers into her world, chronicling the experiences that have shaped her—from her childhood on the South Side of Chicago to her years as an executive balancing the demands of motherhood and work, to her time spent at the world's most famous address.
With unerring honesty and lively wit, she describes her triumphs and her disappointments, both public and private, telling her full story as she has lived it—in her own words and on her own terms.
Warm, wise, and revelatory, Becoming is the deeply personal reckoning of a woman of soul and substance who has steadily defied expectations—and whose story inspires us to do the same.
Community:
"Belong: Find Your People, Create Community, and Live a More Connected Life" – Lada Agrawal
How is it that the internet connects us to a world of people, yet so many of us feel more isolated than ever? That we have hundreds, even thousands of friends on social media, but not a single person to truly confide in?
Radha Agrawal calls this "community confusion," and in Belong she offers every reader a blueprint to find their people and build and nurture community, because connectedness—as more and more studies show—is our key to happiness, fulfillment, and success.
Mom tips: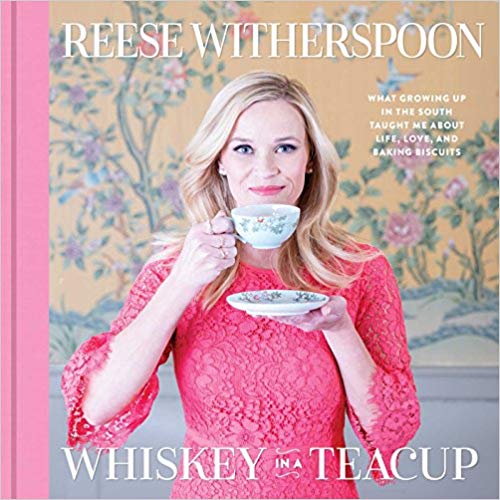 "Whiskey in a Tea cup" – Reese Witherspoon (Great food & recipes, insights, family, life lessons: like her hot roller tips)
Academy Award–winning actress, producer, and entrepreneur Reese Witherspoon invites you into her world, where she infuses the southern style, parties, and traditions she loves with contemporary flair and charm.
Reese Witherspoon's grandmother Dorothea always said that a combination of beauty and strength made southern women "whiskey in a teacup." We may be delicate and ornamental on the outside, she said, but inside we're strong and fiery.
Reese's southern heritage informs her whole life, and she loves sharing the joys of southern living with practically everyone she meets. She takes the South wherever she goes with bluegrass, big holiday parties, and plenty of Dorothea's fried chicken. It's reflected in how she entertains, decorates her home, and makes holidays special for her kids—not to mention how she talks, dances, and does her hair (in these pages, you will learn Reese's fail-proof, only slightly insane hot-roller technique). Reese loves sharing Dorothea's most delicious recipes as well as her favorite southern traditions, from midnight barn parties to backyard bridal showers, magical Christmas mornings to rollicking honky-tonks.
It's easy to bring a little bit of Reese's world into your home, no matter where you live. After all, there's a southern side to every place in the world, right?
Family: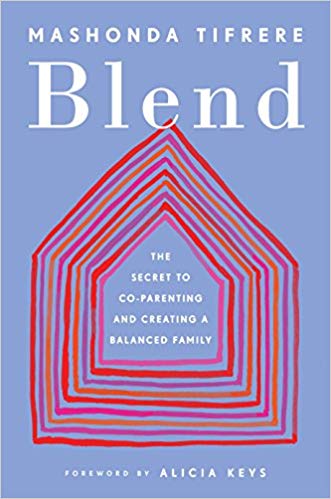 "Blend" – Mashonda Tifrere
A wise and inspiring guide to creating a happy and healthy blended family by Mashonda Tifrere with contributions from her co-parents - Swizz Beatz and his wife, Grammy-Award winning singer and songwriter Alicia Keys.
In January 2010, founder of ArtLeadHer Mashonda Tifrere and music producer Swizz Beatz finalized their divorce. When Swizz married award-winning singer/songwriter Alicia Keys, a new dynamic was born - three adults who loved and were deeply committed to raising Mashonda and Swizz's four-year old son Kasseem. In Blend, Tifrere draws on the insights they gained from their journey as well as advice from family therapists, parenting experts, and other blending families, to provide an invaluable resource for blended families.
Statistics show that one in three Americans is now a step-parent, stepchild, step-sibling or other member of a blended family. The number of first time marriages or romantic relationships that end in divorce or breakups and the high percentage of remarriages and new relationships that involve children demand a unique, life-affirming approach to processing the end of one relationship and the rebirth of a new familial dynamic with the well-being of children at its center. In this book, Tifrere shares intimate details on how she and her co-parents used communication, patience and love to create an environment where they were able to work as a team and all the children involved could thrive.
Blend will inspire a generation of families.
Family + Well-being: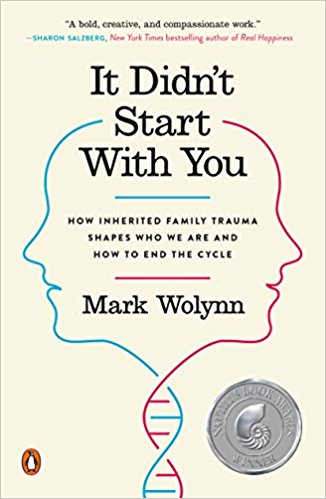 "It didn't start with You" – Mark Wolynn
A groundbreaking approach to transforming traumatic legacies passed down in families over generations, by an acclaimed expert in the field
Depression. Anxiety. Chronic Pain. Phobias. Obsessive thoughts. The evidence is compelling: the roots of these difficulties may not reside in our immediate life experience or in chemical imbalances in our brains—but in the lives of our parents, grandparents, and even great-grandparents. The latest scientific research, now making headlines, supports what many have long intuited—that traumatic experience can be passed down through generations. It Didn't Start with You builds on the work of leading experts in post-traumatic stress, including Mount Sinai School of Medicine neuroscientist Rachel Yehuda and psychiatrist Bessel van der Kolk, author of The Body Keeps the Score. Even if the person who suffered the original trauma has died, or the story has been forgotten or silenced, memory and feelings can live on. These emotional legacies are often hidden, encoded in everything from gene expression to everyday language, and they play a far greater role in our emotional and physical health than has ever before been understood.
As a pioneer in the field of inherited family trauma, Mark Wolynn has worked with individuals and groups on a therapeutic level for over twenty years. It Didn't Start with You offers a pragmatic and prescriptive guide to his method, the Core Language Approach. Diagnostic self-inventories provide a way to uncover the fears and anxieties conveyed through everyday words, behaviors, and physical symptoms. Techniques for developing a genogram or extended family tree create a map of experiences going back through the generations. And visualization, active imagination, and direct dialogue create pathways to reconnection, integration, and reclaiming life and health. It Didn't Start With You is a transformative approach to resolving longstanding difficulties that in many cases, traditional therapy, drugs, or other interventions have not had the capacity to touch.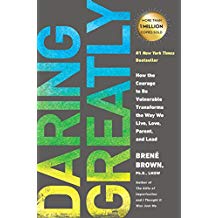 "Daring Greatly" – Brene Brown (how the courage to be vulnerable transforms the way we Live, Love, Parent, and Lead)
From thought leader Brené Brown, a transformative new vision for the way we lead, love, work, parent, and educate that teaches us the power of vulnerability.
"It is not the critic who counts; not the man who points out how the strong man stumbles, or where the doer of deeds could have done them better. The credit belongs to the man who is actually in the arena, whose face is marred by dust and sweat and blood; who strives valiantly; . . . who at the best knows in the end the triumph of high achievement, and who at worst, if he fails, at least fails while daring greatly."—Theodore Roosevelt
Every day we experience the uncertainty, risks, and emotional exposure that define what it means to be vulnerable or to dare greatly. Based on twelve years of pioneering research, Brené Brown PhD, LMSW, dispels the cultural myth that vulnerability is weakness and argues that it is, in truth, our most accurate measure of courage.
Brown explains how vulnerability is both the core of difficult emotions like fear, grief, and disappointment, and the birthplace of love, belonging, joy, empathy, innovation, and creativity. She writes: "When we shut ourselves off from vulnerability, we distance ourselves from the experiences that bring purpose and meaning to our lives."
Daring Greatly is not about winning or losing. It's about courage. In a world where "never enough" dominates and feeling afraid has become second nature, vulnerability is subversive. Uncomfortable. It's even a little dangerous at times. And, without question, putting ourselves out there means there's a far greater risk of getting criticized or feeling hurt. But when we step back and examine our lives, we will find that nothing is as uncomfortable, dangerous, and hurtful as standing on the outside of our lives looking in and wondering what it would be like if we had the courage to step into the arena—whether it's a new relationship, an important meeting, the creative process, or a difficult family conversation. Daring Greatly is a practice and a powerful new vision for letting ourselves be seen.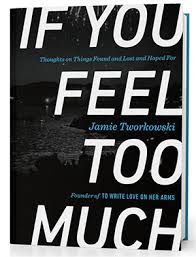 "If You Feel too much" – Jamie Tworkowski
A celebration of hope, wonder, and what it means to be human. It's ok to admit pain, and it's ok to ask for help [Recognizing #WorldSuicidePreventionDay]
In 2006 Jamie Tworkowski wrote a story called "To Write Love on Her Arms," about helping a friend through her struggle with drug addiction, depression, and self-injury. The piece was so hauntingly beautiful that it quickly went viral, giving birth to a non-profit organization of the same name. Now, To Write Love on Her Arms (TWLOHA) is an internationally recognized leader in suicide prevention and a source of hope, encouragement, and support for people worldwide.
If You Feel Too Much is a celebration of hope, wonder, and what it means to be human. From personal stories of struggling on days most people celebrate to words of strength and encouragement in moments of loss, the essays in this book invite readers to believe that it's okay to admit to pain and okay to ask for help. If You Feel Too Much is an important book from one of this generation's most important voices.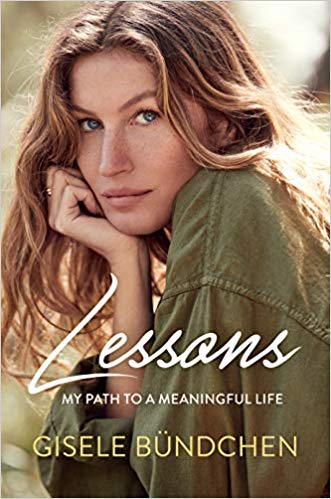 "Lessons, my path to a meaningful life" – Gisele Bündchen
Supermodel and philanthropist Gisele Bündchen shares personal stories, insights, and photos to explore lessons that have helped shape her life.
Gisele Bündchen's journey began in southern Brazil, growing up with five sisters, playing volleyball, and rescuing the dogs and cats around her hometown. In fact, she wanted to become either a professional volley player or a veterinarian. But at the age of 14, fate suddenly intervened in in the form of a modeling scout, who spotted her in São Paulo. Four years later, Gisele's appearance in Alexander McQueen's memorably rain-soaked London runway show in the spring 1998 launched her spectacular career as a fashion model, and put an end to the "heroin chic" era of fashion. Since then, Gisele has appeared in almost 400 ad campaigns and on over 1200 magazine covers. She has walked in more than 470 fashion shows for the most influential brands in the world. Gisele has become an icon, leaving a lasting mark on the fashion industry.
But until now, few people have gotten to know the real Gisele, a woman whose private life stands in dramatic contrast to her public image. In Lessons, she reveals for the first time who she really is and what she's learned over the past 37 years to help her live a meaningful life-a journey that takes readers from a childhood spent barefoot in small-town Brazil, to an internationally successful career, motherhood and marriage to quarterback Tom Brady.
A work of great openness and vulnerability, Lessons reveals the inner life of a very public woman.
Finance: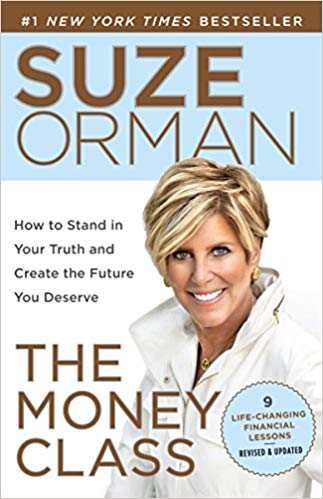 "The Money Class" – Suzan Orman
How to find the courage to stand in your truth and why it is a place of power.
What daily actions will restore the word "hope" to your vocabulary.
Everything you need to know about taking care of your family, your home, your career, and planning for retirement—no matter where you are in your life or where the economy is heading.
In nine electrifying, empowering classes, Suze Orman teaches us how to navigate these unprecedented financial times. With her trademark directness, she shows us how to tackle the complicated mix of money and family, how to avoid making costly mistakes in real estate, and how to get traction in your career or rebuild after a professional setback. And in what is the most comprehensive retirement resource available today, Suze presents an attainable strategy, for every reader, at every age.
The Money Class is filled with tools and advice that can take you from a place of financial fear to a place of financial security. In The Money Class you will learn what you need to know in order to feel hopeful, once again, about your future.
See also Book events in Boston