Zucchini Noodles with Chicken, Spinach and Parmesan
|
author/source:
Recipe by: Lisa Bryan Shared By: Jamie Swartz
PREP TIME: 10 mins
COOK TIME: 35 mins
TOTAL TIME: 45 mins
SERVINGS: 4 servings
AUTHOR: Lisa Bryan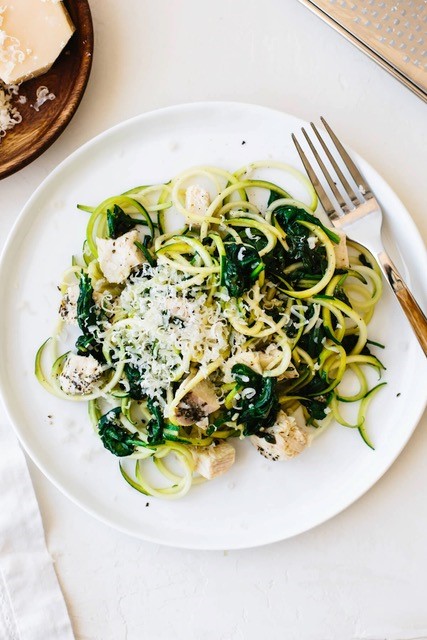 INGREDIENTS
3 boneless skinless chicken breasts

4 tablespoons avocado oil, divided

1 tsp garlic powder

1 tsp dried basil

1 tsp dried parsley

1 tsp dried thyme

1 tsp dried rosemary

salt and pepper, to taste

3 large zucchini, spiralized

2 cloves garlic, minced

4 cups baby spinach

1/4 cup shredded parmesan cheese
INSTRUCTIONS
Preheat your oven to 425 degrees Fahrenheit.

Place the chicken breasts in a baking dish and coat both sides with 2 tablespoons of the avocado oil. Sprinkle the dried garlic, other herbs, and salt and pepper on both sides of the chicken. Cook the chicken for 20-30 minutes or until a digital thermometer reaches 165 degrees Fahrenheit.

Remove the chicken from the oven, let sit for 2-3 minutes, then dice it up.

Heat 2 tablespoons of avocado oil in a large sauté pan on medium heat. Add the minced garlic and stir for 30 seconds. Then add the baby spinach and stir until it's wilted down about 3-4 minutes.

Once all of the spinach has wilted down, add the zucchini noodles and diced chicken. Stir together for 1-2 minutes.

Add a portion of the zucchini noodles to the plate and sprinkle with fresh parmesan cheese and cracked black pepper.
LISA'S TIPS
To make this recipe fast (in 5 minutes during the week!) - meal prep your zucchini noodles and baked chicken ahead of time. You could also use shredded chicken. Then all you have to do is sauté and combine.

To make this recipe dairy-free and Whole30 compliant omit the parmesan.
NUTRITION
CALORIES: 308.9kcal,
CARBOHYDRATES: 7.5g,
PROTEIN: 32.1g,
FAT: 16.5g,
SATURATED FAT: 3.4g,
CHOLESTEROL: 81.9mg,
SODIUM: 369.6mg,
FIBER: 2.1g,
SUGAR: 3.7g