Take Out Style Low Carb Beef and Broccoli
|
author/source:
Jamie Swartz
Ingredients
1.5-pound flank steak, thinly sliced

2 green onions, thinly sliced

1/2 cup soy sauce (or coconut aminos)

1/4 cup beef broth

1/4 cup water

1 tablespoon fish sauce

2 teaspoons garlic

1 tablespoon sweetener (I use Swerve)

1.5 teaspoons ground ginger

2 tablespoons arrowroot powder + 3 tbsp water (slurry)

1 large head broccoli, cut into small pieces and steamed until tender-crisp
Instructions
In a large measuring cup, whisk together the soy sauce, beef broth, water, fish sauce, garlic, green onions, sweetener, and ginger.

Place the flank steak into a ziplock bag and pour marinade inside. Let meat marinate in the fridge at least 30 minutes.

Place the steak into the Instant Pot and pour the marinade on top.

Cook on HIGH pressure for 10 minutes. Quick-release the steam.

Remove the meat from pot and put it on a plate and set aside. Press cancel to clear the settings. Turn Instant Pot to SAUTE setting.

Once the juices start to bubble, slowly whisk in the slurry. Stir continuously as the sauce begins to thicken.

Add the steak and broccoli to the pot and toss to coat.

Serve immediately.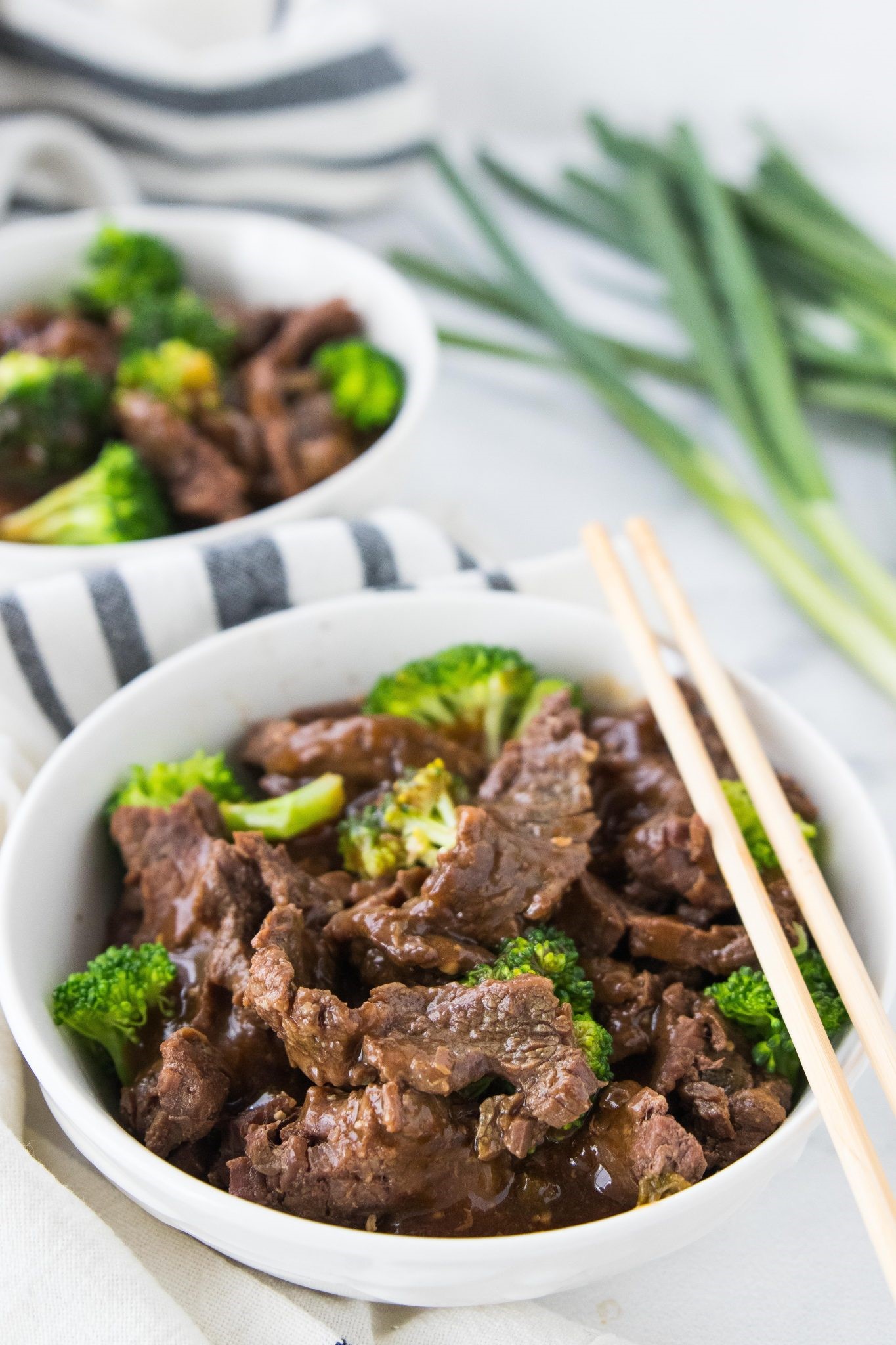 Notes
To make in the crock-pot: Follow steps 1-3. Put the meat and marinade into the crock-pot and cook on LOW for 4 hours. Transfer juices to a small pan on the stove. Bring to a boil and slowly whisk in slurry. Stir continuously as the sauce begins to thicken. Add steak and broccoli to pot and toss to coat.
Nutrition Information: YIELD: 6
Amount Per Serving: CALORIES: 226
TOTAL FAT: 9.3g
CARBOHYDRATES: 7g
NET CARBOHYDRATES: 6g
FIBER: 1g
PROTEIN: 28.8g
Recipe courtesy of Anna Hunley | Keto In Pearls
Best of Health,
Jamie Swartz
Healthyinspirations.net
781-706-5486