Lemon Butter Pork Chops
|
author/source:
Shared by Jamie Swartz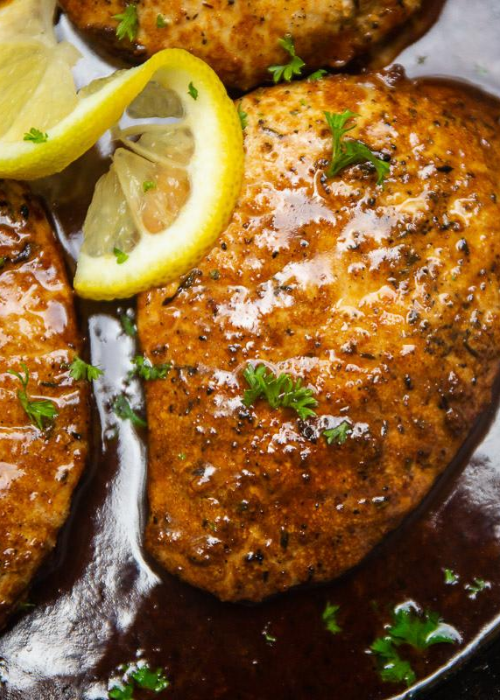 This simple and delicious lemon butter pork chops dish is great for a quick meal that tastes like something you could order at a restaurant. It's excellent served alone, or atop hot, salted, and peppered zoodles. Green beans and spinach are great side dishes for this lemon butter pork chops recipe because they pair beautifully with the sauce.
Author: Amanda C. Hughes
Prep Time: 5 minutes

Cook Time: 25 minutes

Total Time: 30 minutes

Yield: 4 Servings
INGREDIENTS
1/2 teaspoon sea salt

1 teaspoon lemon pepper seasoning

1 teaspoon garlic salt

1/2 teaspoon dried thyme

4 oz thick-cut boneless pork chops

5 tbsp butter, divided

1/4 cup bone broth (chicken broth works too)

2 tablespoons freshly squeezed lemon juice

1 tablespoon minced garlic

1/2 cup heavy (whipping) cream
INSTRUCTIONS
In a small bowl, stir together the salt, lemon-pepper seasoning, garlic powder, and thyme. Rub the spice mixture all over the pork chops.

Heat a skillet over medium-high heat and melt 2 tablespoons of butter. Add the pork chops and cook for at least 5 minutes on each side until they are cooked through. Remove the chops from the pan.

Reduce heat to medium-low. Add the bone broth, lemon juice, garlic, and the remaining 3 tablespoons of butter. Add the pork chops and simmer for about 15 minutes, adding the cream 1 tablespoon at a time every few minutes, until the sauce thickens.

Remove from heat and serve.
NOTES
This recipe works great with all kinds of protein, so feel free to substitute some pounded chicken breasts or even shrimp for the pork chops.
Nutrition
Serving Size: 4
Calories: 379
Fat: 29g
Carbohydrates: 2.5g
Fiber: 0g
Protein: 29g