Kale and Roasted Vegetable Soup
|
author/source:
Recipe by Elise Bauer Shared by Jamie Swartz
Prep time: 15 minutes
Cook time: 1 hour, 40 minutes
Yield: Serves 6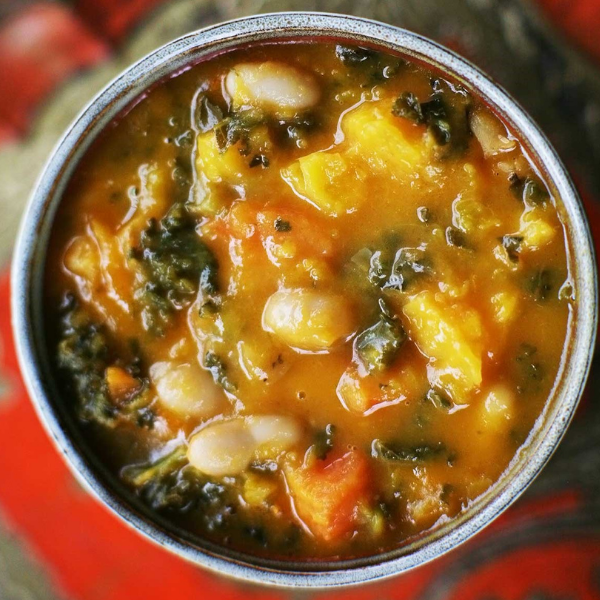 INGREDIENTS
3 medium carrots, peeled and quartered lengthwise

2 large tomatoes, quartered

1 large onion, cut into 8 wedges or 4 or 5 slices

1/2 small butternut squash, peeled, seeded, cut lengthwise into 1/2 inch thick wedges

6 garlic cloves

1 tablespoon extra virgin olive oil

6 cups or more of vegetable broth

4 cups of finely chopped kale

3 large fresh thyme sprigs

1 bay leaf

1 15 oz can of Great Northern white beans, drained
METHOD
Preheat oven to 400°F.
Roast the carrots, tomatoes, onion, squash, garlic: Rub a rimmed baking sheet with a thin coat of olive oil. Place carrots, squash, tomatoes, onion, and garlic on the baking sheet and sprinkle with a little more olive oil and salt and pepper. Rub the oil over all of the vegetables so that they are well coated. Roast vegetables for about 45 minutes, stirring once or twice until they are cooked through and nicely browned.
Further cut the squash and carrots: Remove the roasted squash and carrots from the pan to a cutting board. Cut into 1/2-inch pieces and set aside.
Purée the roasted garlic, tomatoes, onions: Remove the roasted garlic from their peelings and place in a food processor. Add the roasted tomatoes and onions. Pulse in the processor until almost smooth.
Deglaze the roasting pan: Add a little water or broth to the baking sheet and scrape up any browned bits.
Start soup with browned bits, broth, puréed vegetables: Add the browned bits, the broth, and the puréed vegetables to a large pot. Add the chopped kale, thyme, and bay leaf to the pot. Heat on high to bring to a boil, lower the heat to reduce to a simmer. Simmer uncovered until the kale is tender, about 30 minutes.
Add roasted carrots, squash, beans: Add the roasted carrots and squash to the soup. Add the drained white beans to the soup. Simmer for 8 to 10 minutes and add more broth or water to the soup if it needs thinning.
Season with salt and pepper. Discard thyme sprigs and bay leaf.
Can be made a day ahead.