Greek Chicken Kabobs with Homemade Tzatziki Sauce
|
author/source:
Recipe by: Lisa Bryan Shared By: Jamie Swartz
PREP TIME: 30 mins
COOK TIME: 25 mins
TOTAL TIME: 55 mins
SERVINGS: 6 servings
AUTHOR: Lisa Bryan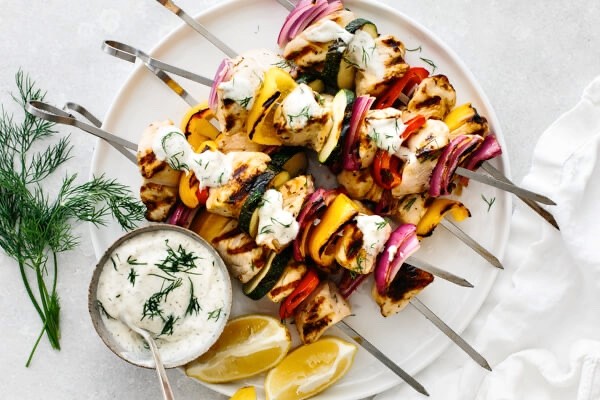 These Greek chicken kabobs are incredibly flavorful and a perfect grilling recipe. Serve this with a homemade tzatziki sauce!
INGREDIENTS
MARINADE
1/4 cup olive oil

2 tablespoons red wine vinegar

3 tablespoons lemon juice

1 teaspoon Dijon mustard

3 garlic cloves, minced

1 teaspoon dried oregano

1/2 teaspoon salt

1/4 teaspoon black pepper
CHICKEN KABOBS
1 1/2 pounds boneless skinless chicken breasts, about 3 large chicken breasts, cut into 1 1/2-inch pieces.

1 red bell pepper, seeded, cut into 1 1/2-inch pieces

1 yellow bell pepper, seeded, cut into 1 1/2-inch pieces

1 red onion, cut into 1 1/2-inch chunks

1 zucchini, sliced
INSTRUCTIONS
To make the marinade, whisk together the olive oil, red wine vinegar, lemon juice, Dijon mustard, minced garlic, dried oregano, salt, and pepper.

Place chicken pieces in a glass dish and pour the marinade over the chicken. Cover and marinate in the fridge for at least one hour.
Light a gas or charcoal grill on medium-high heat. Thread the skewers with pieces of red onion, chicken, zucchini, and bell pepper. You can alternate the order.

Place the kabobs on the preheated grill, and cook about 5-7 minutes per side. The kabobs are done when the chicken is cooked through and the vegetables are lightly charred about 15 minutes.

Serve with lemon wedges and tzatziki sauce. (recipe below)
NUTRITION
CALORIES: 135kcal,
CARBOHYDRATES: 11g,
PROTEIN: 10g,
FAT: 6g,
SATURATED FAT: 1g,
CHOLESTEROL: 24mg,
SODIUM: 460mg,
POTASSIUM: 487mg,
FIBER: 3g,
SUGAR: 6g,
VITAMIN A: 1395iu,
VITAMIN C: 77mg,
CALCIUM: 42mg,
IRON: 1mg
BEST TZATZIKI RECIPE (EASY & AUTHENTIC)
PREP TIME: 10 mins
TOTAL TIME: 10 mins
SERVINGS: 8 servings
AUTHOR: Lisa Bryan
Tzatziki is a creamy, yogurt-based sauce that will brighten up any summer meal. This easy, authentic recipe is perfect served alongside vegetables or grilled meats. Watch the quick video above to see how I make it!
INGREDIENTS
1 1/2 cups greek yogurt

1 medium cucumber, peeled and grated

2 tablespoon fresh dill, chopped

2 cloves garlic, minced

2 tablespoon olive oil

1 tablespoon fresh lemon juice

1/2 teaspoon salt
INSTRUCTIONS
Drain the grated cucumber by pressing down on it over fine-mesh sieve over a bowl. Alternatively, you could use a nut milk bag or cheesecloth and gently squeeze until all the moisture is out.

Mix all the ingredients in a large mixing bowl until everything is well combined.

Let the mixture rest for a few minutes for the flavors to meld together. Taste test to see if you need to add any extra herbs, lemon juice, or salt.

Serve immediately or let it chill in the refrigerator for up to 4 days.
NUTRITION
CALORIES: 36kcal,
CARBOHYDRATES: 2g,
PROTEIN: 3g,
FAT: 2g,
SATURATED FAT: 1g,
CHOLESTEROL: 1mg,
SODIUM: 155mg,
POTASSIUM: 86mg,
FIBER: 1g,
SUGAR: 1g,
VITAMIN A: 35iu,
VITAMIN C: 2mg,
CALCIUM: 34mg,
IRON: 1mg