Cream of Zucchini Soup
|
author/source:
Jamie Swartz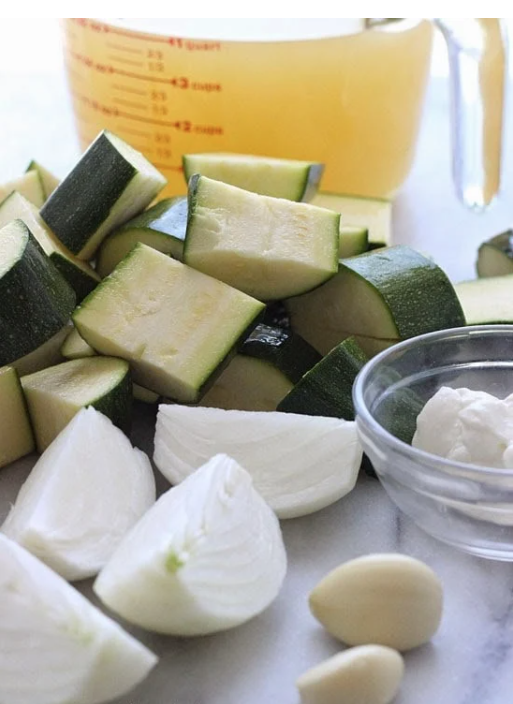 Course Appetizer, Main Course, Soup
Cuisine American, French
Prep Time 10 minutes
Cook Time 30 minutes
Total Time 40 minutes
Servings 6
Calories 219 kcal
Author Annissa Slusher
Ingredients
1 tablespoon butter

2 tablespoons avocado oil

1 medium onion (about 4 ounces) chopped

2 pounds zucchini squash (about 2 medium) trimmed and sliced

1 teaspoon oregano

sea salt

black pepper freshly ground

1 clove garlic

2½ cups vegetable stock

4 ounces feta cheese crumbled

½ cup heavy whipping cream
Instructions
Heat a large, heavy saucepan over medium heat. Add the butter and avocado oil. After butter has melted, stir in the onion. Cook onion until soft and translucent.

Stir in the zucchini squash and oregano. Sprinkle lightly with salt (optional) and pepper. Don't overdo the salt as the feta and the stock will also add saltiness.

Cook the squash until starting to soften, stirring frequently. Add the garlic and cook for about one minute. Pour the stock over.

Cover the pot, leaving the cover slightly off center to allow steam to vent. Simmer until vegetables are soft, about 25 minutes. Stir in the feta cheese and allow to melt slightly. Puree the soup using an immersion blender, or in batches, using a traditional blender.

Stir in the heavy whipping cream and simmer a few minutes. Taste and adjust seasoning if desired. Soup may be thinned with additional stock if desired.
Nutritional Facts
Amount Per Serving (8 ounces)
Calories 219
Calories from Fat 162
Fat 18g
Saturated Fat 9g
Polyunsaturated Fat 1g
Monounsaturated Fat 5g
Cholesterol 42mg
Sodium 240mg
Potassium 749mg
Carbohydrates 9g
Fiber 1g
Sugar 2g
Protein 10g
Vitamin A 36%