Butternut Squash Soup
|
author/source:
Jamie Swartz
Prep time: 10 MINUTES
Cook time: 50 MINUTES
Total time: 1 HOUR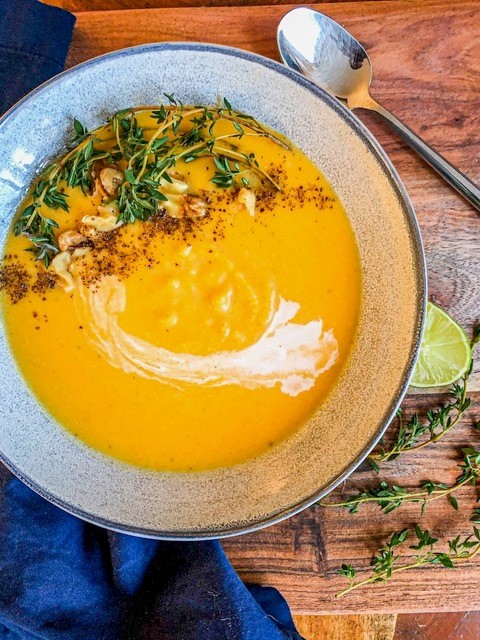 Ingredients
1 large butternut squash, peeled and cubed or you can buy them pre-cut at the grocery store

1 tbsp olive oil

Salt & pepper

1 large shallot, diced

2 cloves of garlic, minced

1 red apple, peeled, cored, diced

3 cups of chicken or vegetable stock

1/2 cup of coconut milk

1 tsp paprika

1/2 tbsp cumin
Garnish
1 tsp of minced fresh ginger

4-5 sprigs of fresh thyme, leaves only

juice from 1/2 lime
Instructions
Preheat your oven to 400 degrees. In a large mixing bowl, add your cubed butternut squash along with olive oil and salt. Mix together to make sure all the squash is coated in oil.

Transfer squash to a large sheet pan and roast for 20-25 minutes or until squash is soft and tender.

When there's about 5 minutes left on the squash, in a large dutch oven or soup pot, heat 1 tbsp of olive oil over low-medium heat. Add the shallots. Sprinkle 1/4 tsp of salt to let them sweat. Cook for about 2 minutes

Add the garlic. Cook for another minute or until golden. Don't let it burn.

Once your squash is ready, remove from oven and transfer to dutch oven/soup pot.

Add apple, stock of choice, coconut milk, paprika, cumin, ginger, thyme, lime juice.

Let ingredients simmer for 20 minutes on low heat.

Let soup cool and transfer to a blender. Blend until smooth

Garnish with toppings of choice.