Best Chicken and Rice Created in One Pan (No Ads)
|
author/source:
Recipe by: Lisa Bryan Shared By: Jamie Swartz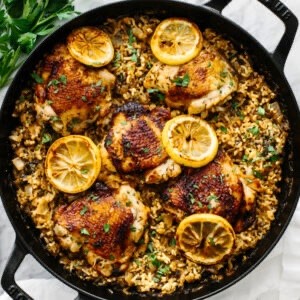 Chicken and rice is an easy, one-pan recipe that shines with bright Mediterranean flavors and juicy chicken thighs.
PREP TIME: 20 mins
COOK TIME: 45 mins
TOTAL TIME: 1 hr 5 mins
SERVINGS: 5 servings CALORIES: 423kcal
AUTHOR: Lisa Bryan
Ingredients
Chicken
5 chicken thighs skin-on and bone-in

2 tablespoons olive oil
Marinade
2 lemons juiced and zested (approx.. 1/4 cup of juice)

2 teaspoons Dijon Mustard

3 garlic cloves minced

1 teaspoon dried oregano

1 teaspoon dried thyme

1/2 tsp salt

1/4 tsp black pepper

1 tablespoon olive oil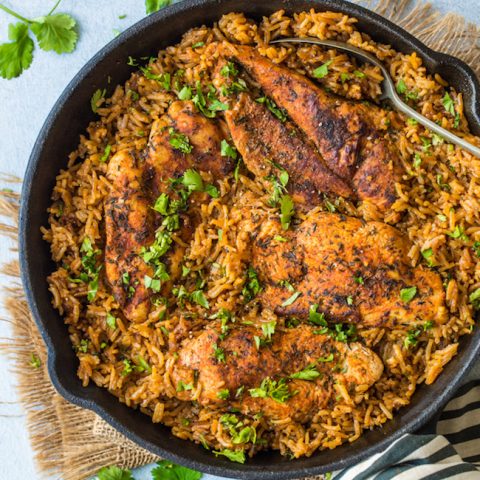 Rice
1 yellow onion diced

2 cups baby spinach lightly packed and roughly chopped

2 garlic cloves minced

1 teaspoon dried oregano

1 cup long grain white rice

2 cups chicken stock

1/2 teaspoon salt

1/4 teaspoon black pepper

chopped parsley for garnish

lemon zest or slices for garnish
Instructions
Marinate the Chicken
Add all of the marinade ingredients to a bowl and stir together.

Place chicken thighs in a glass dish, pour marinade over the chicken, and turn each piece to coat. Cover dish and marinate chicken in the fridge for at least 30 minutes and up to overnight.
Cook the Chicken and Rice
Preheat your oven to 350 degrees Fahrenheit. In a large ovenproof skillet, heat 2 tablespoons olive oil on medium-high heat. Add chicken thighs skin-side down and cook until skin is golden brown, about 5 minutes. Reserve the leftover marinade as you'll add that back in later.

Flip the chicken and cook another 5 minutes. Remove chicken thighs from skillet and set aside.

Use your tongs to scrape and remove any browned bits, and bunch up a couple of paper towels to soak up some fat from the pan, but not all. Reserve a little bit of grease to cook the onions.

Add the diced onions and stir for 1-2 minutes, or until they start to become translucent.

Add the chopped spinach, garlic, oregano, salt, pepper, and reserved marinade. Stir for another 30 seconds or until the spinach starts to wilt.

Add the rice to the skillet, and stir well to coat the rice with the oil.

Pour the chicken stock into the skillet and stir well. Bring this to a simmer on the stove.

Arrange chicken thighs on top of the rice, then cover the skillet and place in the preheated oven. Bake for 35 minutes. Remove the lid, return the skillet to the oven, and bake until chicken is cooked through and rice is tender, about 10 minutes more.

Let the chicken and rice rest for 5 to 10 minutes. The rice will look really dark as the spinach and onions rise to the surface. Just fluff the rice up with a fork to mix everything back together before serving.

Top with chopped parsley and grilled lemon slices or fresh lemon zest.
Notes
To store: You can store any leftover chicken in the refrigerator in a covered container for 3-4 days.
To freeze: Place leftovers in a freezer-safe container and store in the freezer up to 2 months.
For reheating: Microwave the chicken for 2 to 3 minutes. If you want to crisp up the skin, run the chicken under a broiler for a couple of minutes. Just watch it carefully to make sure it doesn't burn.
Nutrition
Calories: 423kcal | Carbohydrates: 19g | Protein: 23g | Fat: 29g | Saturated Fat: 7g | Cholesterol: 114mg | Sodium: 725mg | Potassium: 509mg | Fiber: 2g | Sugar: 4g | Vitamin A: 1213IU | Vitamin C: 29mg | Calcium: 65mg | Iron: 2mg