Books for Happiness
|
author/source:
Lyvia Feraco
"Unfiltered: How to Be as Happy as You Look on Social Media" by Jessica Abo
A Year From Now You'll Be Happy You Started Today
Unfiltered: How to Be as Happy as You Look on Social Media is for anyone who needs to be reminded that we're all a work in progress, no matter what judgments we make when measuring our lives against what others share online.
In her debut book, award-winning journalist and sought-after speaker Jessica Abo addresses the relationship between our psychology and technology and how we can take back our happiness IRL (in real life) without falling into the compare and despair trap.
Jessica helps you push the reset button with bite-sized chapters full of practical insights from experts and psychologists, as well as funny anecdotes and inspiring stories from celebrities like Alysia Reiner of "Orange is the New Black" and Baked by Melissa CEO Melissa Ben-Ishay. You'll learn how to:


 Identify what's really at the root of your unhappiness
 Stay positive when you're feeling lost and rejected
 Build a life that makes you happiest
 Navigate toxic relationships and inevitable friendshifts
 Master the art of letting go
 Turn setbacks into stepping stones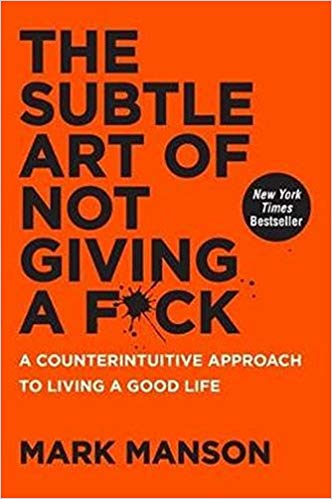 "The Subtle Art of Not Giving a F**k" by Mark Manson
#1 New York Times Bestseller - Over 3 million copies sold
In this generation-defining self-help guide, a superstar blogger cuts through the crap to show us how to stop trying to be "positive" all the time so that we can truly become better, happier people.
For decades, we've been told that positive thinking is the key to a happy, rich life. "F**k positivity," Mark Manson says. "Let's be honest, shit is f**ked and we have to live with it." In his wildly popular Internet blog, Manson doesn't sugarcoat or equivocate. He tells it like it is—a dose of raw, refreshing, honest truth that is sorely lacking today. The Subtle Art of Not Giving a F**k is his antidote to the coddling, let's-all-feel-good mindset that has infected modern society and spoiled a generation, rewarding them with gold medals just for showing up.
Manson makes the argument, backed both by academic research and well-timed poop jokes, that improving our lives hinges not on our ability to turn lemons into lemonade, but on learning to stomach lemons better. Human beings are flawed and limited—"not everybody can be extraordinary, there are winners and losers in society, and some of it is not fair or your fault." Manson advises us to get to know our limitations and accept them. Once we embrace our fears, faults, and uncertainties, once we stop running and avoiding and start confronting painful truths, we can begin to find the courage, perseverance, honesty, responsibility, curiosity, and forgiveness we seek.
There are only so many things we can give a f**k about so we need to figure out which ones really matter, Manson makes clear. While money is nice, caring about what you do with your life is better, because true wealth is about experience. A much-needed grab-you-by-the-shoulders-and-look-you-in-the-eye moment of real-talk, filled with entertaining stories and profane, ruthless humor, The Subtle Art of Not Giving a F**k is a refreshing slap for a generation to help them lead contented, grounded lives.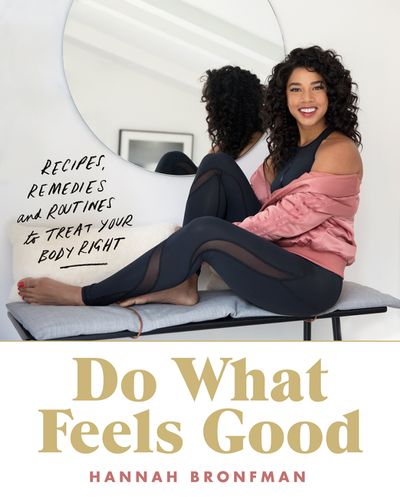 "Do What Feels Good" by Hannah Bronfman
From Instagram influencer and lifestyle and fashion it-girl Hannah Bronfman, a guide to finding a health and wellness routine that doesn't punish or deprive, but works and feels good to you, including over 70 recipes from HB's kitchen
Whether walking a red carpet, shooting a campaign for Adidas, or posting a workout to her nearly half a million Instagram followers, Hannah Bronfman is the picture of health. But she'll be the first one to admit that the road to wellness and self-acceptance isn't easy. As a woman of color who grew up watching a close family member struggle with an eating disorder, she's had to forge her own path and create her own standards of beauty. And what she's learned is this: wellness should not be an unachievable aspiration, and self-care should not feel self-punishing. Healthy is beautiful. And healthy should feel good.
In Do What Feels Good, Hannah offers up a buffet of self-care practices that are not only good for you but are also fun and pleasurable—things you'll want to do for yourself instead of things that feel like chores. As a model, exercise junkie, food-lover, beauty product addict, and wellness entrepreneur, Hannah has access to the latest trends and the best experts. She's tried it all, and she shares it all because she knows that there is no one-size-fits-all equation for health and happiness.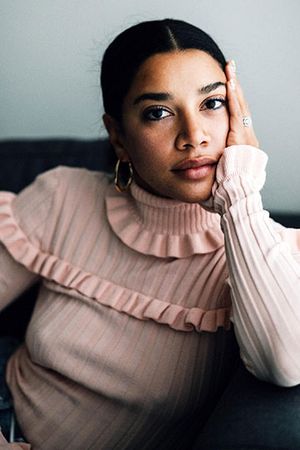 Divided into three parts: BODY, FOOD, and LIFE, Do What Feels Good shows, readers, how to get in touch with their body's natural rhythms and identify what they crave as what they need. There are no rules, just information, advice, and tools—including over 70 recipes from Hannah's kitchen repertoire—that empower readers to make to make small changes that align with their body's needs. Because the ultimate measure of wellness isn't how you look, it's how you feel.
Bio:
Hannah Bronfman is a New York-based DJ, social media influencer, brand ambassador, fitness advocate, and entrepreneur. She is the founder of HBFIT.com, an online forum and community for health, beauty and fitness. She is also an investor in several restaurants such as ACME and Hotel Griffou and co-founded the app Beautified. She lives in Manhattan with her husband, Brendan Fallis.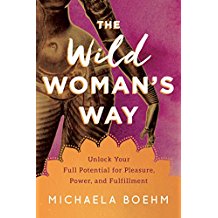 "The Wild Woman's Way, Unlock Your Potential For Pleasure, Power, and Fulfillment" by Michaela Boehm
Discover how to create and enjoy a pleasure-filled and meaningful life with this practical tantra handbook for the high-achieving modern woman.

For women today, achieving a successful career, a fulfilling romantic relationship, and a rewarding personal life can feel like opposing goals, leaving their deepest yearnings just beyond reach. It has even become difficult to enjoy the simplest pleasures of our lives. We are stuck in "go-mode," damaging our romantic relationships, pleasure, and creativity.

But what if there were a way to experience the simplest pleasures of our lives on a deeper level, freeing the body and psyche from these damaging patterns?

Beyond our current stereotypes about femininity lies the ancient wisdom of the Wild Woman archetype, a model of building a feminine "body intelligence." By embodying this archetype and using tantra—not just in the bedroom, but also to build intimate connections to our senses and physical movements, bringing bliss to smaller or more mundane activities like taking a sip of tea or walking down the street—we can break harmful psychological patterns.

In The Wild Woman's Way, Michaela Boehm shares practical rituals and exercises drawn from years of experience as a celebrity relationship and life counselor and an expert in tantric yoga. She reveals the power of different types of touch, while also training you in forms of meditation and stretching that increase activity and sensual pleasure.

Soon, you will learn to switch effortlessly between the aggressive "go-mode" required to compete successfully at work, and the feminine "flow-mode" of softness and receptivity. By harnessing the duality of the Wild Woman, you will attract and inspire meaningful relationships with romantic partners, your own body, and with life itself.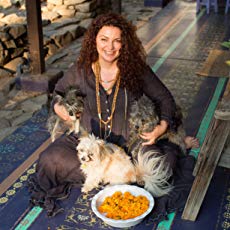 Bio:
Michaela Boehm teaches and counsels internationally as an expert in intimacy and sexuality. Born and raised in Austria, Michaela combines degrees in psychology and extensive clinical counseling experience with her in-depth training in the yogic arts as a classical Kashmiri Tantric lineage holder. Michaela's approach empowers her students through an eclectic mix of education, experiential exercises, and guided explorations. Known for her work with high-performing individuals, her ongoing private clients include Oscar-winning actors, producers, business pioneers, and multiple Grammy-winning musicians. Michaela lives on an organic farm in California where she rescues and rehabilitates animals.