August Book List
|
author/source:
Lyvia Feraco
"Do What Feels Good" by Hannah Bronfman
From Instagram influencer and lifestyle and fashion it-girl Hannah Bronfman, a guide to finding a health and wellness routine that doesn't punish or deprive, but works and feels good to you, including over 70 recipes from HB's kitchen
Whether walking a red carpet, shooting a campaign for Adidas, or posting a workout to her nearly half a million Instagram followers, Hannah Bronfman is the picture of health. But she'll be the first one to admit that the road to wellness and self-acceptance isn't easy. As a woman of color who grew up watching a close family member struggle with an eating disorder, she's had to forge her own path and create her own standards of beauty. And what she's learned is this: wellness should not be an unachievable aspiration, and self-care should not feel self-punishing. Healthy is beautiful. And healthy should feel good.
In Do What Feels Good, Hannah offers up a buffet of self-care practices that are not only good for you but are also fun and pleasurable—things you'll want to do for yourself instead of things that feel like chores. As a model, exercise junkie, food-lover, beauty product addict, and wellness entrepreneur, Hannah has access to the latest trends and the best experts. She's tried it all, and she shares it all because she knows that there is no one-size-fits-all equation for health and happiness.
Divided into three parts: BODY, FOOD, and LIFE, Do What Feels Good shows, readers, how to get in touch with their body's natural rhythms and identify what they crave as what they need. There are no rules, just information, advice, and tools—including over 70 recipes from Hannah's kitchen repertoire—that empower readers to make small changes that align with their body's needs. Because the ultimate measure of wellness isn't how you look, it's how you feel.
Bio:
Hannah Bronfman is a New York-based DJ, social media influencer, brand ambassador, fitness advocate, and entrepreneur. She is the founder of HBFIT, an online forum, and community for health, beauty, and fitness. She is also an investor in several restaurants such as ACME and Hotel Griffou and co-founded the app Beautified. She lives in Manhattan with her husband, Brendan Fallis.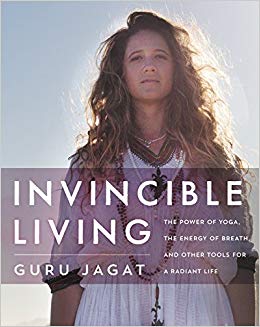 Invincible Living: The Power of Yoga, The Energy of Breath, and Other Tools for a Radiant Life by Guru Jagat
From acclaimed yoga teacher, Guru Jagat comes a wildly cool, practical, and beautifully illustrated guide to applying the simple and super-effective technology of Kundalini Yoga and Meditation to everyday life, upgrading your "operating system" inside and out.
With Invincible Living, Guru Jagat shares a radical way of understanding yoga—not just as something to do in practice, but as a broader principle for living. Candid, encouraging, and irreverent, Guru Jagat shows how Kundalini Yoga—which forgoes complex poses for energy-boosting, breath-driven exercises, quick meditations, and simple poses most of which you can do at your desk—can reset your life and well-being, regardless of your age or background.
Designed explicitly for everyday people, not ashram-going or gym-bodied yogis, fast, effective Kundalini techniques can be done anywhere, from the car to the conference room. There's no need to have a bendy back or toned arms. You don't even need a mat: just a quiet space to clear your head, and as little as a minute out of your day.
From beauty and self-care to work and relationships, Invincible Living tackles both the mind—from mood elevation and stress reduction to renewed mental clarity—and the body—from anti-aging, and increased metabolism to amped-up energy. Packed with tips, exercises, and step-by-step instructions and fully photographed and illustrated in Guru Jagat's fresh, handmade-meets-hipster style, Invincible Living is fresh take on ancient wisdom: a must-have guide for anyone who wants simple, effective, tools for a supercharged life as taught by a uniquely compelling teacher who upends all preconceptions about yoga.
Bio:
Guru Jagat is the founder of RA MA Institute for Applied Yogic Science and Technology, a Kundalini yoga school with locations in Venice, California; Mallorca, Spain; and New York City, and the author of the bestselling book Invincible Living: The Power of Yoga, The Energy of Breath, and Other Tools for a Radiant Life (available in English, French and German).
Guru Jagat first met Yogi Bhajan in 2002 and that encounter crystallized her prior spiritual explorations and launched her on the path of a Kundalini yoga teacher. As the Piscean patriarchal energies fade into history, Guru Jagat has emerged as a leading global figure helping to create, delineate and refine the new feminine matriarchal archetype. In 2017 Guru Jagat created the Aquarian Women's Leadership Society, which has members in over 20 countries.
Guru Jagat is also the founder and CEO of RA MA TV; RA MA Records; and RA MA Foundation.
"Disrupt-Her: A Manifesto for the Modern Woman" by Miki Agrawal
From the co-founder of THINX and hellotushy.com, start-ups collectively valued at more than $150 million, comes DISRUPT-HER, a rallying cry for women to radically question the status quo.
Miki Agrawal has faced patriarchal pushback, fought girl-on-girl hate, ridden the roller coaster of building businesses as a female CEO, and even overcome an attempt to burn her for witchcraft (figuratively).
In order to navigate the complicated--at times maddening--struggles of contemporary femininity, we need an unabashed manifesto for the modern woman that inspires us to move past outrage and take positive steps on the personal, professional, and societal levels.
This manifesto galvanizes us to action in 13 major areas of our lives with as much firepower as possible. These are the credos we live by, the advice we give to friends, the tenets we instill in our companies and peers on a daily basis. Stories of badass female movers and shakers are shared in this book too to give you an extra jolt of "I've got this." It's a whole-body F*CK YES to your work, your love, your relationships, and your mission--while doing it all authentically, unapologetically, and with full integrity.
"Do Cool Sh*t: Quit Your Day Job, Start Your Own Business, and Live Happily Ever After" by Miki Agrawal
Is it possible to make a career out of something you love? Miki Agrawal, entrepreneur, angel investor, and cool-sh*t doer, has figured it out and now shows you how.
In Do Cool Sh*t, she shares her adventures in entrepreneurship and life, from learning to step out of her comfort zone in a foreign country to achieving her dream of playing soccer for the New York Magic to partnering with Tony Hsieh of Zappos.com to launch her dream business. Now Miki shows you how to start a business, fund it on a shoestring budget, brainstorm a business plan, test a product, get great (free) press coverage, and more—all while living a life to be proud of.
Bio:
Miki Agrawal (www.mikiagrawal .com) is a serial social entrepreneur. She was the recipient of The Tribeca Film Festival's "Disruptive Innovation Award", she was named "2017 Young Global Leader by World Economic Forum", "Social Entrepreneur of the Year" by the World Technology Summit, she was one of INC Magazine's "Most Impressive Women Entrepreneurs of 2016", Forbes' "Top 20 Millennials on a Mission", and made the cover of Entrepreneur Magazine in 2016. Most recently, she was named Fast Company's Most Creative People in 2018.
She is the founder of the acclaimed farm-to-table, alternative pizza concept called WILD with 3 locations in New York City, one in Guatemala and more on the way.
She co-founded THINX, a high-tech, period-proof underwear brand and led the company as CEO to a valuation of over $150 Million and to Fast Company's Most Innovative Companies of 2017, all while helping tens of millions of women period better. She also co-founded Icon, a high-tech pee-proof underwear brand that helps women manage light bladder leakage.
She most recently founded TUSHY, a company that is revolutionizing the American toilet category with a modern, affordable, designer bidet attachment that both upgrades human health & hygiene as well as the environment from wasteful toilet paper consumption. She and her team are also helping fight the global sanitation crisis by bringing clean latrines to underserved communities in India through their partnership with Samagra.
Harper Collins published her first book entitled "DO COOL SH*T" on entrepreneurship and lifestyle design and Hay House is publishing her second book "Disrupt-Her" coming out in the fall of 2018.
Miki is an identical twin, half-Japanese, half-Indian French Canadian, former professional soccer player, graduate of Cornell University and proud new mama of Hiro Happy.
"So Who's Counting?: The Little Quote Book About Growing Older and Still Kicking Ass"

by

Erin McHugh and Emily Luchetti
So long nostalgia, and goodbye resignation! This book of quotes reminds us that growing old isn't about slowing down and taking it easy—it's a chance to ask, "What's next?"
"Aging is an extraordinary process where you become the person you should have been." —David Bowie
Sixty is the new fifty, seventy's the new sixty, and older is getting younger every day. With fun, forward-looking, and inspiring quotes, So Who's Counting is the ideal gift for baby boomers or anyone reaching a major age milestone. Instead of cloying sentimentality or the standard sagging-body-part jokes, it strikes the perfect balance of humor, guidance, reflection, bon mots. Quotes are divided into nine sections, such as "As Old as You Feel," "Laughter: The Best Prescription," and "Aged to Perfection." So Who's Counting is all about aging with gusto and celebrating what lies ahead.
Erin McHugh is a former publishing executive and award-winning author of more than two dozen books of popular nonfiction, including trivia, history, humor, children's books, and much more. She lives in South Dartmouth, Massachusetts.
Bio:
Emily Luchetti has helped define what great pastry means in America. She is currently the Chief Pastry Officer for Big Night Restaurant Group in San Francisco. Before that, she was the Executive Pastry Chef at Stars, Farallon, and Waterbar Restaurants.
In 2004 she received the James Beard Foundation Award for Outstanding Pastry Chef and in 2012 was inducted into the James Beard Foundation's Who's Who of Food & Beverage in America.
Luchetti is the author of 5 dessert cookbooks (Stars Desserts, Four Star Desserts, A Passion for Desserts, A Passion for Ice Cream, and The Fearless Baker), and co-author of So Who's Counting? The Little Quote Book About Getting Older and Still Kicking Ass.
From 1994 to 1999, she served as Chairwoman of Women Chefs & Restaurateurs
Luchetti is a trustee of The James Beard Foundation and a Dean of the International Culinary Center. She founded dessert worthy a movement to empower individuals to be mindful of their dessert indulgences.