Bangin' Coconut-Lime Skirt Steak
|
author/source:
Jamie Swartz
WHOLE30 and KETO APPROVED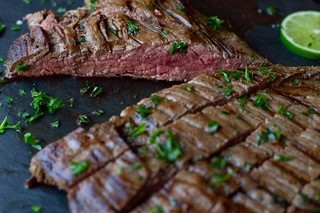 This tender coconut lime skirt steak is packed with the flavors of smooth coconut, zesty lime, spicy red pepper flakes, and a little fresh ginger.
Prep Time: 10 minutes
Cook Time: 30 minutes
Total Time: 40 minutes
Yield: 4 Servings
INGREDIENTS
1/2 cup coconut oil, melted

2 tbsp freshly squeezed lime juice from one lime

zest of one lime

1 tbsp minced garlic

1 tsp grated fresh ginger (I used the fresh stuff in the tube)

1 tsp red pepper flakes (depending on how spicy you like it)

3/4 tsp sea salt

2 lbs grass-fed skirt steak (can be cut into sections)
INSTRUCTIONS
In a large bowl, combine the coconut oil, lime juice, and zest, garlic, ginger, red pepper flakes, and salt. Mix.

Add the steak toss/rub with the marinade (the coconut oil will harden after you're done, that's OK).

Let meat marinate for about 20 minutes at room temperature (important to marinate!)

Transfer steak to a large skillet set over medium-high heat. If it doesn't fit, cut in half against the grain. If some of your marinade is still stuck to the bowl, spoon it out into the pan to cook with the steak.

Sear the steak on both sides until it's cooked to your desired doneness, 4-5 minutes per side (skirt steak cooks quickly!)

Slice and serve!
Nutrition
Serving Size: 4
Calories: 661
Fat: 54g
Carbohydrates: 5g
Fiber: 0g
Protein: 35g
Recipe Creator: Amanda C. Hughes