Women Pioneer Series - Simone Askew
|
author/source:
Lyvia Feraco
West Point Cadet, Simone Askew, Breaks the Racial and Gender Barrier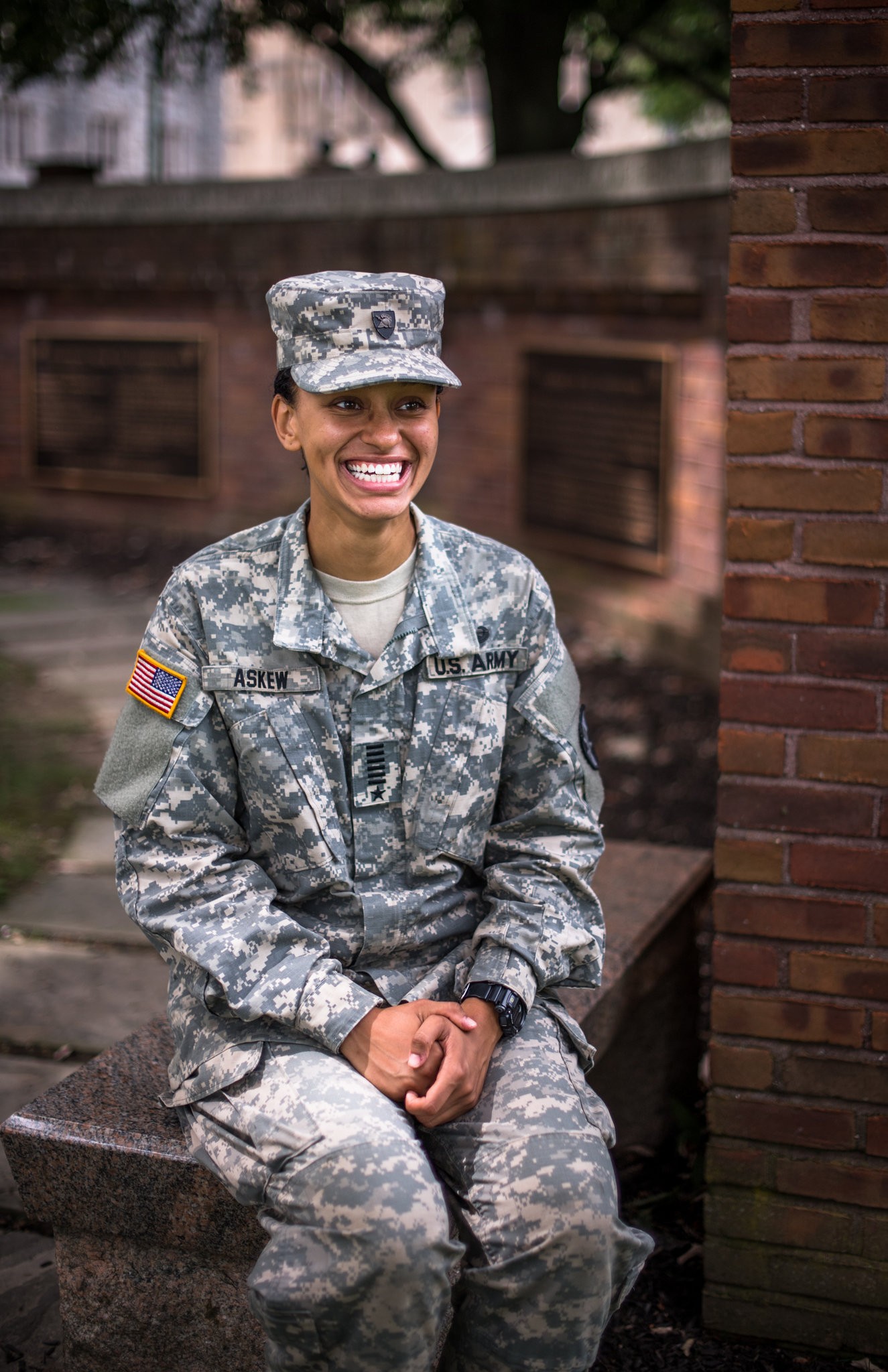 Simone Askew became the first African-American woman to hold the highest student position at the United States Military Academy at West Point.CreditCreditHilary Swift for The New York Times
By Emily Cochrane, Aug. 14, 2017
WASHINGTON — As a 6-year-old child camping in the Virginia woods, Simone Askew marched for fun, wielding a plastic gun and leading her young sister and friends in formation. A few years later, the sight of Navy midshipmen striding across an Annapolis football field solidified her desire to be the person who led troops.
"What does it take," she asked her mother at the football game, pointing to the cadets, "to lead that?"
On Monday, more than a decade after her pretend marches in the woods, Cadet Askew, now 20, led the freshmen Army cadets for 12 miles — the first African-American woman to hold the highest student position at the United States Military Academy. As the West Point corps of cadets first captain, the Northern Virginia resident will not only be at the forefront of every academy event, but she will set the class agenda and oversee the roughly 4,400 students.
"You're selected for this role, that's not the end of it," said Cadet Askew, speaking Monday after she had finished overseeing the return of the freshmen cadets from their initial summer of training. "That's just the starting line, and it's more so, 'Hey, what do you do with this role? What are you able to accomplish alongside your teammates?' And I'm very, very fortunate to be around some awesome people."
It is a significant step for West Point. The larger Army has historically been at the forefront of military integration, but West Point has yet to see more than 20 African-American women graduate in a single class.
"Simone looks like America," said Pat Walter Locke, the first African-American woman to graduate from West Point and one of Simone's mentors. She didn't think she would see an African American woman hold the coveted position in her lifetime. "Everybody can see themselves in Simone."
"This is such a historic moment," added Ms. Locke, who retired as an Army air defense artillery major in 1995.
The first captain position is often a herald of successful Army careers. Cadet Vincent K. Brooks held the title in 1980, becoming the first African-American to serve as West Point first captain — and he now is a four-star general commanding American forces in South Korea. Cadet John W. Nicholson Jr. was first captain in 1982, and he also wears four stars today as the senior American and NATO commander in Afghanistan.
CBS This Morning: Meet Simone Askew, the West Point cadet making history
Few people are surprised that Cadet Askew, who graduated from Fairfax High School outside of Washington in 2014, earned the first captain position, which also serves as a liaison between the West Point student body and the military administration. As a high school student, she spent summers volunteering at orphanages in the Dominican Republic, became school student body president and captain of the volleyball team, and started the school's Black Student Union.
"This is a kid who did well academically, who did well athletically and also did well from a community standpoint," said Christine Zanellato, who coached her as part of the volleyball team at Fairfax High School for three years. "It's very hard to have all three."
Ms. Zanellato still has the list of the four nominations Cadet Askew earned as part of her application to West Point and the Naval Academy: three legislators, including Senator Tim Kaine, Democrat of Virginia, and one from the West Point superintendent.
"To achieve what she's achieved, it takes thoughtful, long-term planning," Ms. Zanellato said. "It's not something that just happens. It's something she worked for."
While she was initially drawn to the Naval Academy, Cadet Askew became set on West Point after watching a volleyball game at the school, drawn to the intensity and leadership she saw in the women on the court. She missed her crowning as Fairfax High homecoming queen to attend a West Point recruiting event but was there to crown her successor a year later, the faux diamond tiara hidden under her dress gray Army uniform hat.
"She would say she felt more like a homecoming queen being at the West Point weekend because she was achieving goals she wanted to achieve," Pam Askew said of her daughter. "And that made her feel like a queen."
The accolades continued at West Point: a successful walk-on member of the crew team, an Air Assault graduate and a record score in field training.
Youtube / Ken Kraetzer: UNITED STATES MILITARY ACADEMY
West Point First Captain Simone Askew Comments Post USMA Graduation

Col. Diane Ryan, who also sponsored Cadet Askew, said it became clear at the beginning of last year that she was going to be a competitive candidate.
"Some cadets that are really high performing, they just go about their own business," said Colonel Ryan, of the department of behavioral sciences and leadership at West Point. "She is just a leader in every sense of the word, figuring out how she can connect people together and serve others."
Cadet Askew's mother, who works to develop affordable housing, is white and is divorced from Cadet Askew's father, who is African-American. The mother is nervous about the pressure she knows her daughter will put on herself, aware of the spotlight she's under at West Point.
"I look forward to the end of her term in this position where many say she was an amazing first captain, not just she was an amazing African-American female first captain," she said.
Cadet Askew is considering military intelligence as a career after she graduates in the spring.
The significance of Cadet Askew's achievement has resonated with many black women who have graduated from West Point; most attended the school when a white male held the prestigious and competitive role.
Youtube / Business Insider: What New Army Cadets Go Through On Their First Day At West Point
It took Ms. Locke more than 20 years to celebrate breaking the first barrier at West Point by becoming the first African-American woman to cross the academy graduation stage in 1980, with the other first African-American woman, Joy Dallas, just a few steps behind. Having followed and supported Cadet Askew's path to West Point since the beginning of the application process, Ms. Locke knew there was a possibility that Cadet Askew was poised to break the leadership barrier.
But when she got the call confirming Cadet Askew's selection, she did not hesitate to celebrate. "The nation needs to know what she's done," Ms. Locke said. "She's done her part, and now it's time for us to step up and do our part."
Shalela Dowdy, a 27-year-old West Point alumni living in Columbia, S.C., said she had heard about Cadet Askew's appointment from a mentor still involved with the school. Having often been the only woman and the only minority in her classes before graduating in 2012, Ms. Dowdy said she was overcome with joy to hear that another milestone had been accomplished at her alma mater.
"It gave me hope as a female alumnus," she said. "It shows me that the academy truly believes that their leaders can come from all cultures."
Check out this video with Reese Witherspoon Talking about leadership:
Askew is the first African American woman to serve as First Captain of the U.S. Military Academy's Corps of Cadets, the highest-ranking student post, overseeing 4,400 students.
Askew, who shared with Glamour Magazine that she was sexually assaulted in basic training at West Point, summarized her thoughts on the ideas she tried to implement as First Captain.
"The most important thing for us is not to define West Point as a boys' club. The boys aren't in charge here. I'm in charge," she said. "For me, it's about, how can we be good to one another? I'm focused on incorporating into our curriculum what right looks like, instead of just avoiding what wrong looks like."
In November, Askew was one of 32 students in the U.S. to be selected as a Rhodes Scholar. One hundred Rhodes Scholars are selected worldwide. The scholarships are worth about $68,000 a year and cover postgraduate studies at Oxford University in England. – armytimes.com source
Askew graduated from the U.S. Military Academy on May 26th, 2018.
Source / Credit: New York Times, Armytimes