A Mother's Day Necklace
|
author/source:
Rosie's Place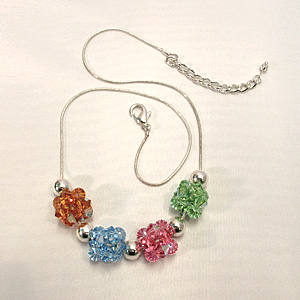 HONOR YOUR MOTHER AND SUPPORT THE WOMEN OF ROSIE'S PLACE
To celebrate Mother's Day, Rosie's Place Women's Craft Cooperative (WCC) is offering a special, limited-edition necklace. For a donation of $65 or more, this one-of-a-kind statement necklace, crafted by six guests employed by the WCC. It's the perfect gift for your mother, wife, special someone or even yourself. By honoring the women who are important to you, you help make life better for the 12,000 women Rosie's Place serves each year.
This year we have created a birthstone necklace that you can customize in countless ways! Twelve Swarovski crystals are fashioned into clusters in gemstone colors corresponding to each month. The clusters are separated by a small metal ball and sit on a chain 18" in length with a 3" extension. You can select the birthstones of Mom's children, or even add clusters representing the parents' birth months as well.  The clusters are arranged on your choice of sterling silver chain with silver plate balls or 24K gold-filled chain with gold plate balls.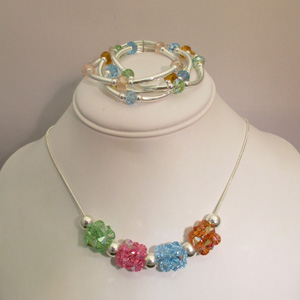 The shades and sparkle of these crystals are so brilliant you may want to create your own necklace combinations with your favorite colors, regardless of your birth month!
We have also created silver plate tube bracelets–perfect for stacking–that feature the same variety of colored Swarovski crystals available in our necklace. The bracelet is $20 alone or paired with the necklace for a special price of $80.
Gift wrap and a card informing the honoree of your thoughtful generosity will accompany your purchase.
Please be sure to get your orders in by May 4.
To order, visit Rosie's Place rosiesplace.org/shop to view these and other jewelry and gift items or contact Lori Shoyer at [email protected] or 617.318.0272.