Midtown Manhattan - Exporing the Heart of New York
|
author/source:
James View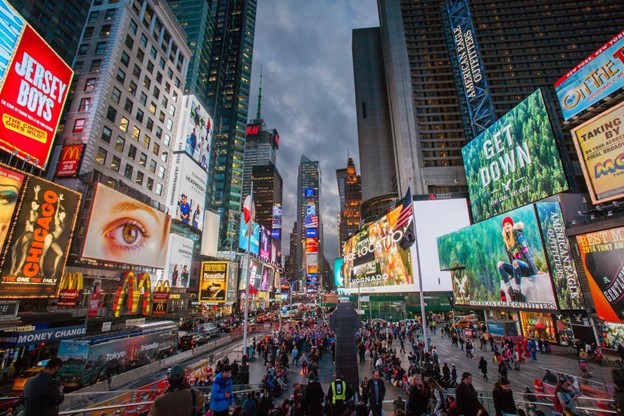 Home to several famous landmarks, skyscrapers, and around 3 million workers, whenever you think of New York as a bustling metropolis, you're probably picturing Midtown Manhattan. As the city's largest business district, encompassing 5.838km² of color, noise, and chatter; it is a must-see area for any tourist visiting New York searching for the authentic experience.
There is plenty to do in the region between Uptown and Downtown Manhattan, almost all of which is embedded within the iconography of "The City That Never Sleeps." Some of the most notorious of these attractions synonymous with NY include, but are not limited to:
Times Square
Located between 7th Avenue, 42nd Street, and Broadway, Times Square is arguably the epicenter of all things New York. Also known as "The Center of the Universe," where roughly 335,000 people pass through a day, this intersection is a marvel of advertisement boards, one-of-a-kind characters and shopping.
Whether you're looking to visit the hidden bars, take in a musical, or sit and simply watch the sea of people flow through the streets, this is a must-visit for any traveler venturing into New York.
Grand Central Terminal
Featured in several blockbuster films such as Men In Black 2 and Madagascar, Grand Central Terminal is a place that holds its own unique sense of charm and magic.
Any visitor will tell you it's more than just a rail station and was acknowledged as such when it became a landmark in 1967. It doesn't matter whether you're traveling out of New York or popping in to look around, be sure to take your time inside and take in all the terminal has to offer.
Morgan Library and Museum
Another building that displays similar (this time Reinassnace-styled) magic is the Morgan Library and Museum, just a 7-minute walk away from Grand Central Station. Originally the private property of Pierpont Morgan, the library was opened to the public in 1924 and has since displayed galleries of rare books, drawings, and prints.
The library holds different exhibitions and tours across the year; if you are planning on traveling to New York and visiting, keep an eye out for tickets to experience the Library and Museum.
Chrysler Building
Built in 1930, the Chrysler Building, immediately recognizable in the Manhattan skyline, is often considered the art-deco skyscraper. At 319 meters, with 77 floors of elegance, the Chrysler building is admirable from both the inside and out and epitomizes the affluence of "The Big Apple."
Unfortunately, whether visitors can enter the lobby to explore can vary; therefore, it is wise to research and purchase tickets whenever necessary. Unfortunately, the Chrysler Building doesn't boast its own observation deck; however, there are plenty available throughout New York that provide spectacular views.
Visiting The Big Apple
New York is a city with much to offer, and though Midtown Manhattan is synonymous with the city's culture, it is just the tip of the iceberg. Be sure to visit all areas of Manhattan, as well as Midtown, for the complete experience when visiting this world-famous city.
For a similar guide dedicated solely to exploring The Bronx, click here.