Heart Home
|
author/source:
Laurie O'Neil
Today we celebrated my late niece, Terri Luanna's, 46th Birthday...
Here she is ringing in 37—pre-cancer, a little over a year after her mother died, teeming with life.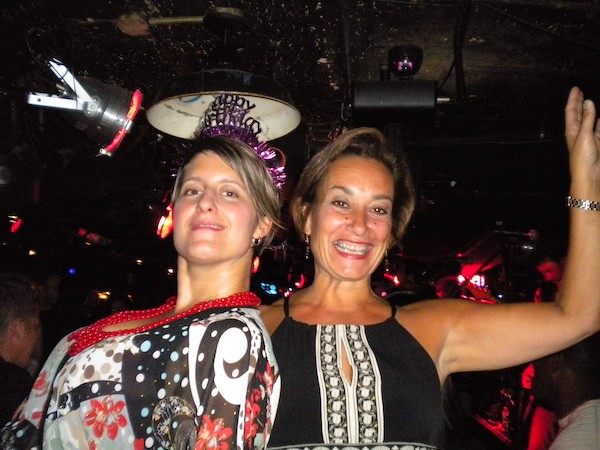 Hands down, that was my favorite birthday celebration with her. Terri had an enhanced capacity for cultivating contagious bliss, so naturally, when she invited us to celebrate in her beloved heart home, NYC, we all followed.
So, what's a heart home you might be wondering?
Her then seven-year-old daughter, Marisa, and I coined the term the day Marisa moved from her beloved Niantic, CT to Dartmouth, MA a little over three years ago.
Walking hand in hand through the searing grief of saying goodbye yet again (Marisa's Mom died when she was five), I tried to lighten the mood in the car by turning on her new favorite Pandora station, Kelly Clarkson.
At one point, Marisa commented, "These songs are talking about our day."
The name of the song she was referring to? Home...
"You're right," I replied. "I think it's Mamãe's way of telling us she understands we are sad about leaving CT but she is so happy you are moving to Dartmouth. And you know what, honey? Home is really where the people you love are. And Mamãe is always with you. No matter where you are."
I could tell she wasn't fully buying it.
"Have you ever heard of a heart home?" I asked.
"What's a heart home?"
"There are certain places in our lives that stay with us forever. When I was eight and my Dad died, we had to move from Chatham to Dartmouth. I was so sad, just like you. To this day, of all the places in the world that Auntie's been, Chatham is my heart home. It's the place that holds my most precious memories. Where I was the happiest. Chatham will always be my heart home because that's where I have the most memories of my Dad."
"Niantic is definitely my heart home," she immediately replied.
"Yes, it is. Where do you think Mamãe's heart home was?"
Without a moment's hesitation she exclaimed, "New York!"
"Absolutely! Mamãe LOVED New York. The people, the culture, the energy. And most importantly, she loved it because that's where you were born."
Thinking back to that conversation, the solution to what to do for Terri's birthday this year finally materialized. I immediately google duoed Marisa. For those of you wondering what the hell google duo is, I had no idea either till Marisa enlightened me. Think Facetime for androids!
"So, Papai told me you guys are planting tulips for Mamãe's birthday?"
"Yup! We bought red ones!"
"She'll love those! Do you have any idea what you and I should do? We were at Runway for Recovery last year, remember?"
"Yah, that was awesome! I'm not sure what we should do this year..."
"Well, since Mamãe's memorial bench at Astoria Park is still surrounded by construction, I wasn't sure either. But I had a visit from Mamãe yesterday. I'll tell you about that later. And I think she'd like it if we went to your heart home."
"My heart home?"
"Yes... Your heart home."
"Ohhhhh!!! You mean Niantic??"
"Yes! I called Judy, and she and Kylie are free so I thought we could go to Rocky Neck for a picnic and a hike. What do you think?'
"YES!!" she squealed.
Later that afternoon I stopped by Marisa's to help her pick out a few outfits for her empowerHER interview on Saturday. She was intent on looking FAB when she shared how critically important empowerHER had been in helping her cope with the loss of her mother. Fashion decisions complete, we agreed we had to invite Kristina and Isaak to join us for Mamãe's birthday celebration. When they exuberantly replied in the affirmative, this is the photo Miss M and I sent them in response—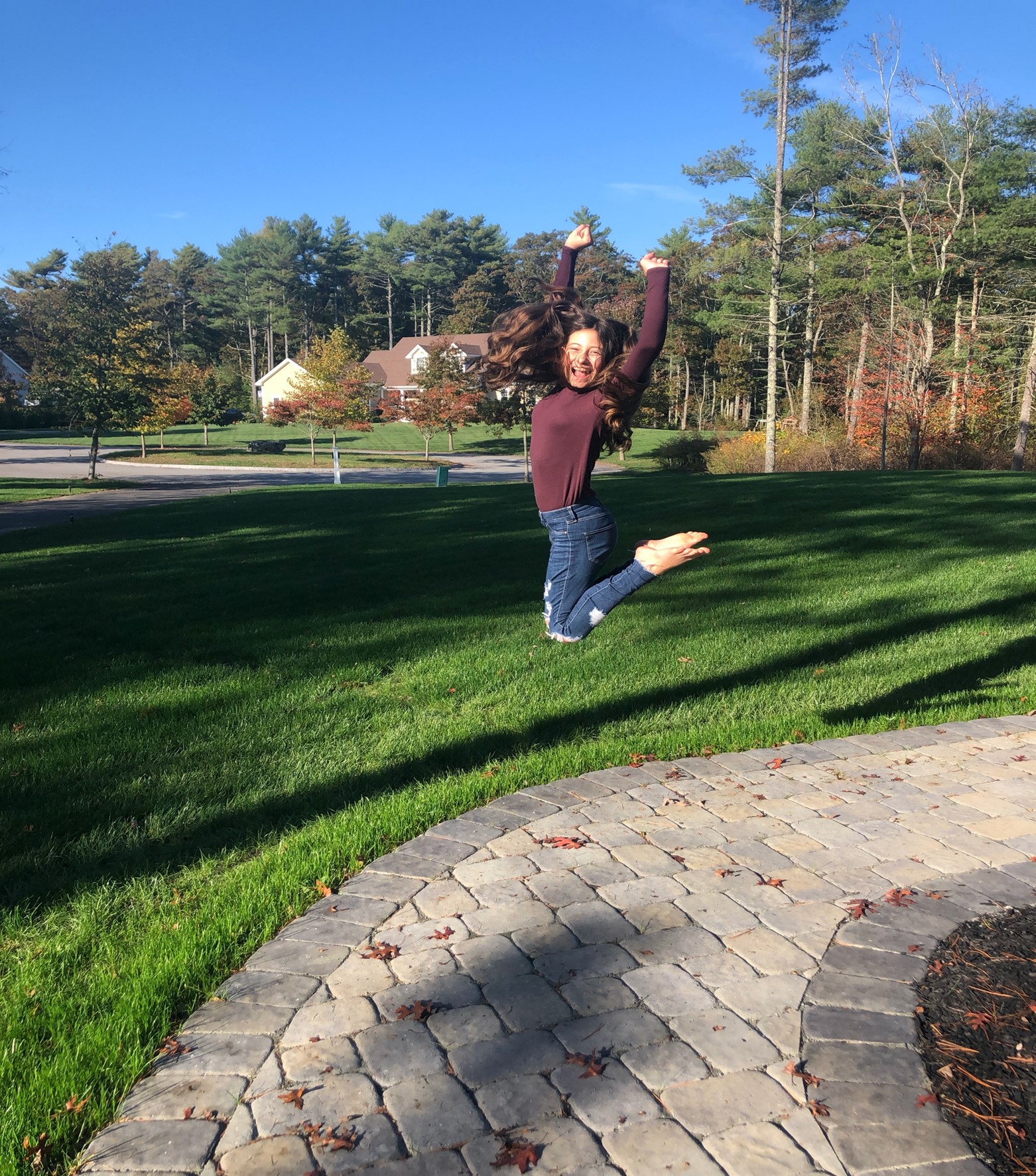 As always, Terri Luanna orchestrated a magical day for us. Sitting on the exact same rock where she loved to meditate, we laughed, we loved, we remembered, and we celebrated.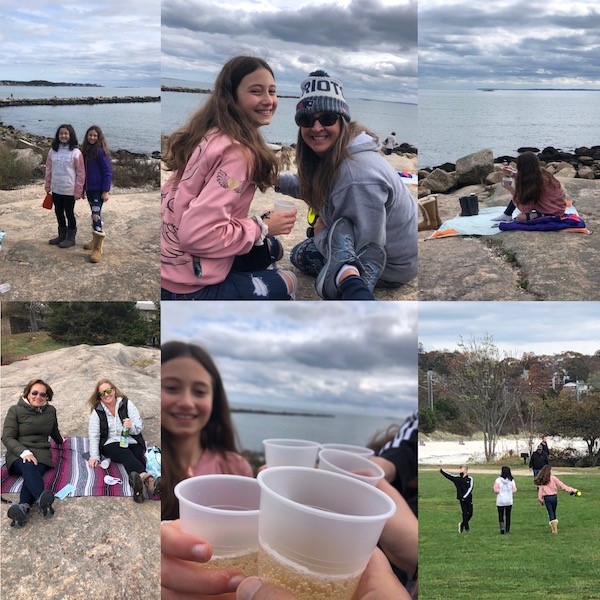 But it was later, when I dropped Marisa off at home, that Terri's spirit truly embraced us with her radiant love.
Placing a larger than life pink Story Wear book on the counter, I asked Marisa and her Papai if they remembered what was in it. Papai knew it was a gift from my late sister, Nana Canada, and Marisa added it held a fluffy, white, coat and hat she wore as a baby.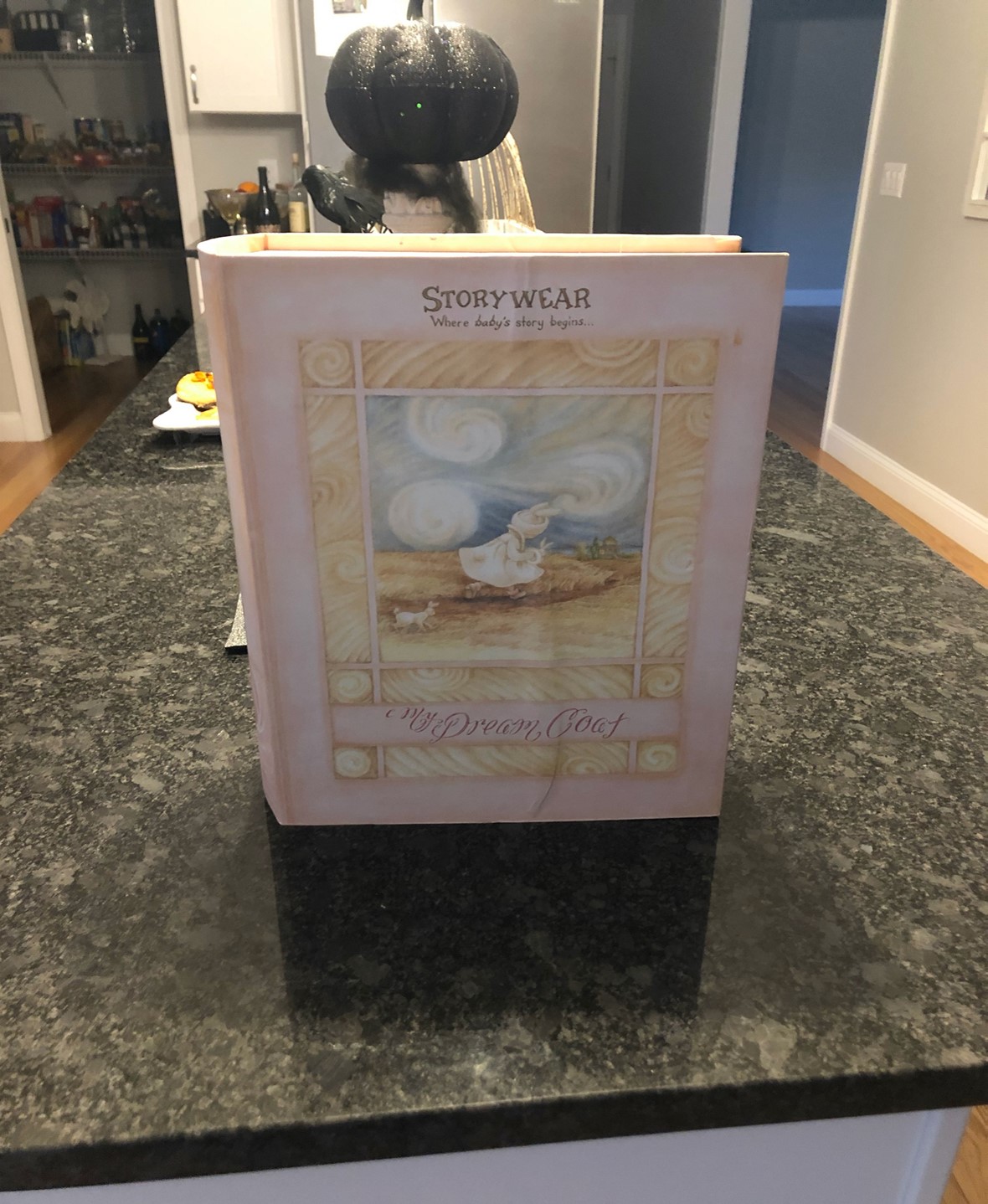 I then proceeded to tell them about my Mamãe visit.
The pink book sat atop a tall bookcase in Marisa's bedroom at my house. It was, indeed, a gift from Nana Canada for Terri's baby shower.
One that I found in an airport in Alaska.
While waiting for a connecting flight home from Vancouver, I had a heart-wrenching conversation with my sister, Jeanne, whom I had just left. Jeanne was beside herself because she wouldn't be able to attend Terri's shower due to her recent abdominal surgery to excise the raging cancer that had overtaken her body. Needless to say, my fellow travelers sitting at the bar didn't know whether to comfort the sobbing woman next to them or look the other way.
Heading to my gate, I noticed the book in a window. As if drawn by a magnet, I entered the store and once I laid eyes on its contents, I immediately knew I was destined to buy it for Jeanne.
As you can see, it was a huge hit...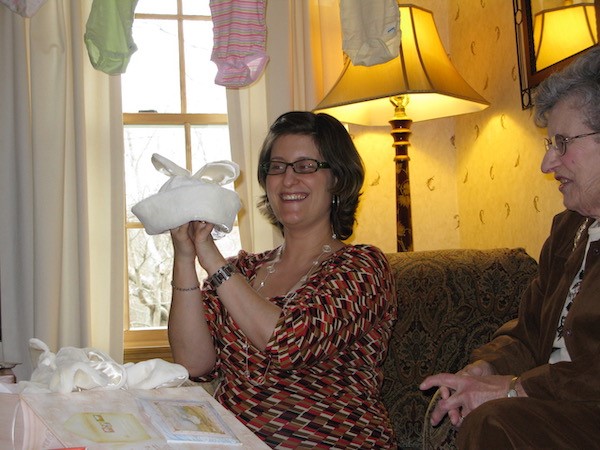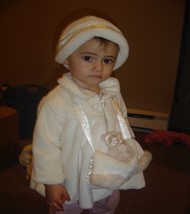 Back to my visit with Terri.
Reaching for what looked like a towel on the floor of Marisa's bedroom, I realized it was, in fact, not a towel, but Marisa's fluffy white coat that had somehow fallen out of the box. Looking up, the cover to the Story Wear book was wide open...
Mind you, that box had been sitting atop that bookcase for years. Closed.
Taking it down, I lay it on the bed to put the coat back in. Terri's presence suddenly filled the room. Gazing inside, the box seemed surprisingly full given the coat lay beside it. Lifting out the matching hat and muff, I reached for the remaining garment.
Tears sprang to my eyes as I beheld Terri Luanna's whimsical wedding dress created for her by Nicole Miller. A vague memory emerged of placing it in the box when we cleaned out Terri's closet. Terri's voice whispered in my ear and I knew where it belonged.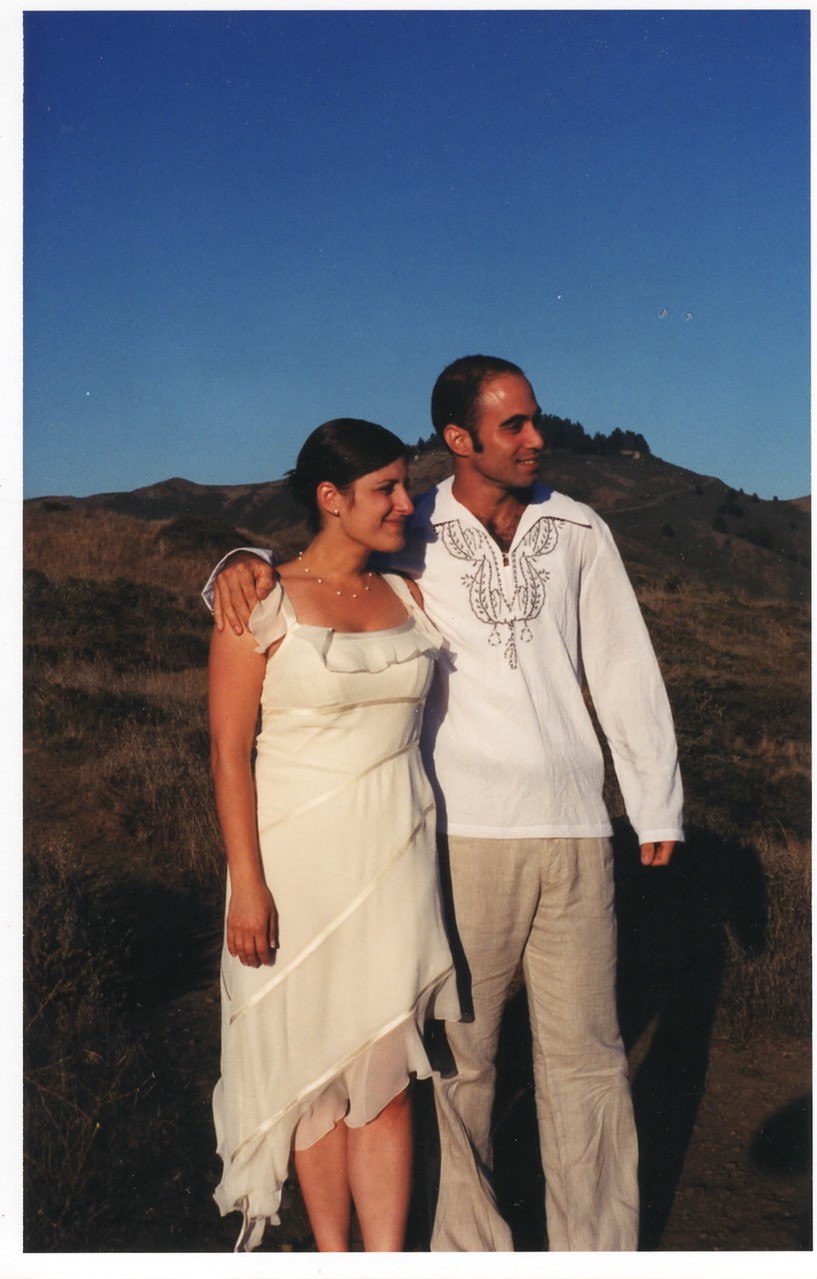 Marisa adoringly took Mamãe's wedding dress from the box, wondrously holding it up to her lithe body, where it finally found its heart home...
In the arms of her cherished daughter.
Happy 46th birthday my love❤️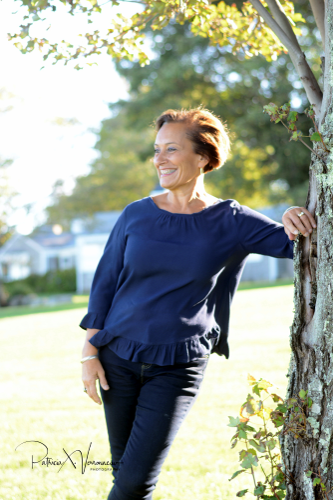 Laurie O'Neil is a social worker, author, speaker, and writer who has devoted her 40-year career to enlightening, empowering, and engaging others in the critical power of loving connection. Co-author of Graceful Woman Warrior: A Story Of Mindfully Living In The Face Of Dying, and creator of the accompanying Grace Lessons Workshop, Laurie also contributes to the online magazine, Herself360 and has appeared on WJAR NBC 10's Studio 10, NPR's The Point, 95.9 WATD-FM's Powerful Women Revealed, Cape Cod Writer's Center's, Books and the World, and the Engaging Voices, Positive News Now and Widowed Parent podcasts. A graduate of Boston University, Laurie specializes in grief and loss, giving voice to the transformative and healing power found within our shared loss stories.