Women in History - One Giant Step for Womankind
|
author/source:
Cathie Briggette
According to Wikipedia, there have been a total of 537 total space travelers. Of them, 60 have been women. There have been one each from France, India, Italy, South Korea, and the United Kingdom; two each from Canada, China, and Japan; four from the Soviet Union/Russia; and 45 from the United States.
Here are just a few of the 60 women, who broke through with first records as women in space.
Soviet Cosmonaut Valentina Tereshkova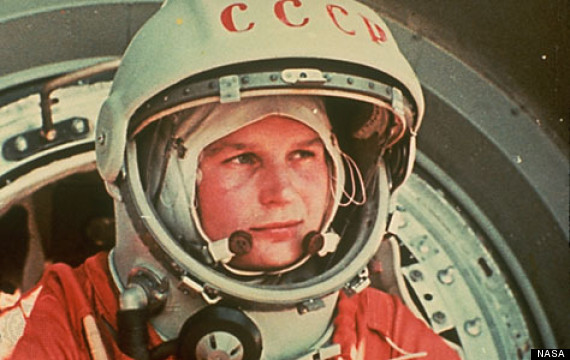 Valentina was the first and the youngest women ever (26 years old) to be launched into space, and this March during National Women's History Month, she turns 80 years old (March 6, 2018). From June 16th through the 19th, 1963 Valentina piloted the Vostok 6 and completed 48 orbits around the earth during her three-day mission. She was chosen because of her expertise in skydiving, that she obtained on her own through a local Aeroclub when she was 22 years old. She was a factory worker when she was chosen. The mission was part of Russia's research on the influence of the space environment on a woman as compared to the influence of the same conditions on a man. It was a time when all the countries came together and united and worked together not for money but for an objective in mind. NOTES
It was another 20 years later, almost to the day when the United States sent their first woman into space. Her name was Sally Ride.
Sally Ride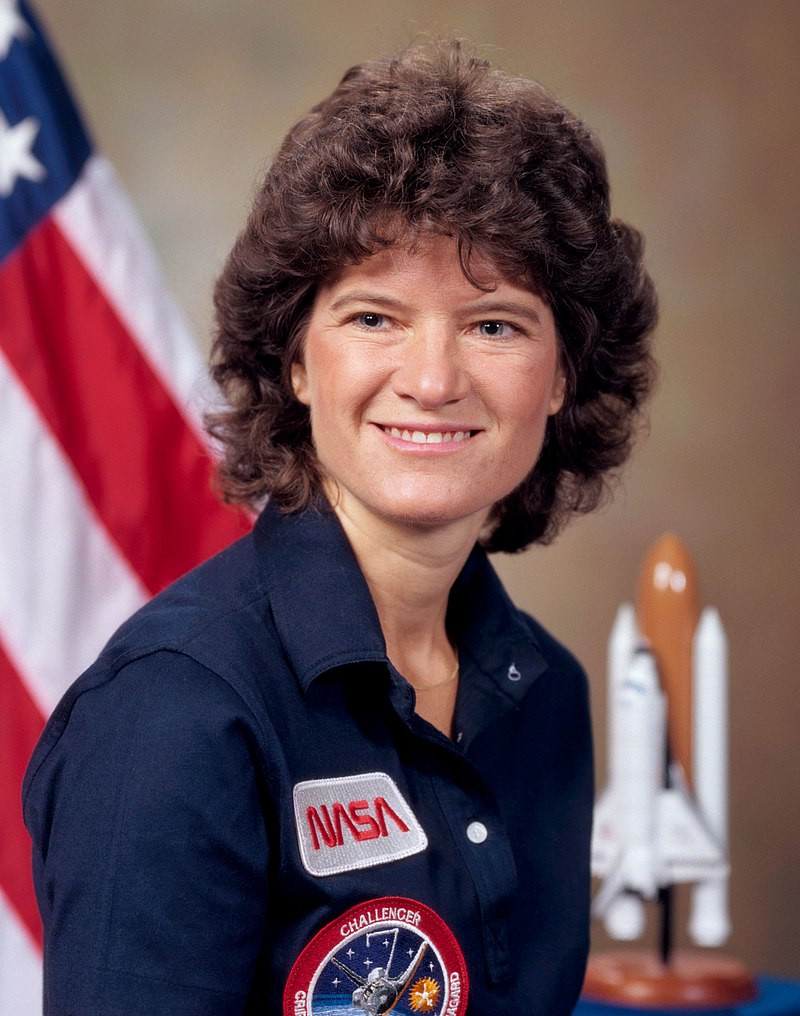 Sally Ride became the first American woman to go into space when she flew on the space shuttle Challenger June 18, 1983. She made two shuttle flights, and later became a champion for science education and a role model for generations. Ride died of cancer in 2012. Born in Encino, Calif., on May 26, 1951, Sally Kristen Ride was the older of two daughters of Dale B. Ride and Carol Joyce (Anderson) Ride. Her father was a professor of political science and her mother was a counselor. While neither had a background in the physical sciences, Sally credited them both with fostering her deep interest in science by encouraging her to explore.
Ride attended Westlake High School for Girls, a prep school in Los Angeles, on a partial tennis scholarship. She graduated in 1968. After a brief foray into professional tennis, she returned to California to attend Stanford University. There she received a Bachelor of Science degree in physics and a Bachelor of Arts degree in English in 1973. Furthering her studies at Stanford, she obtained a master of science degree in 1975 and a doctorate in physics in 1978, according to a NASA biography of Ride.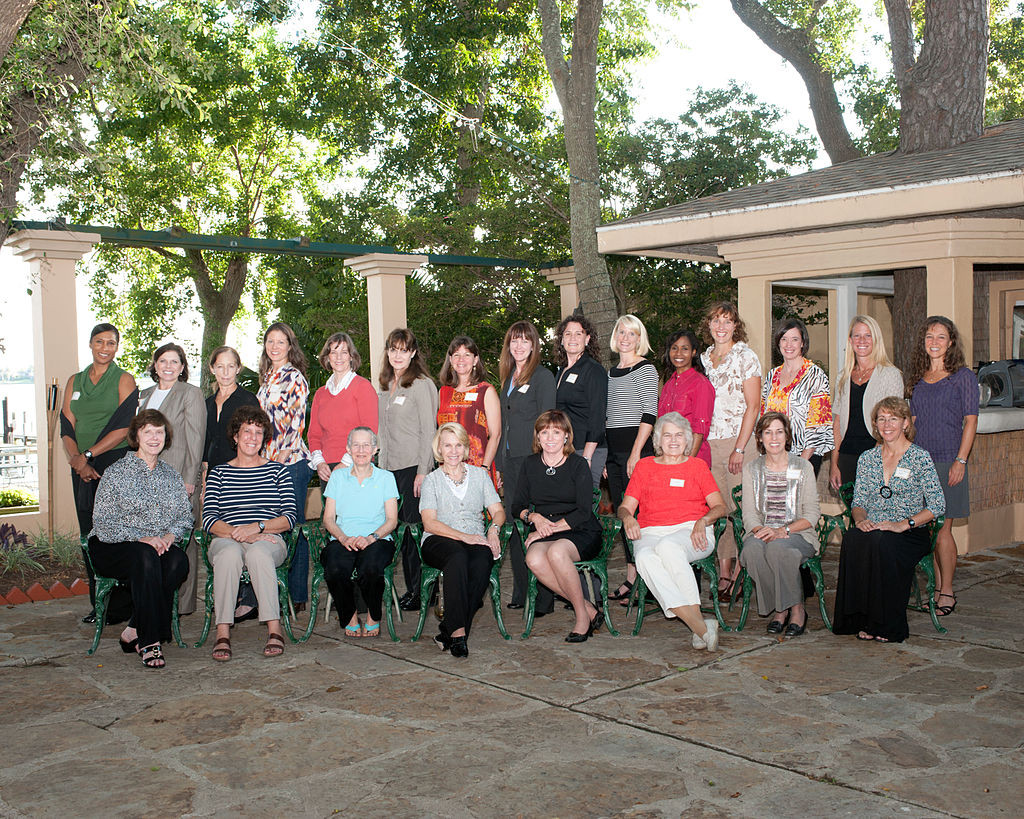 In 2012, twenty-two female astronauts, including the Johnson Space Center's first female director,
Carolyn Huntoon met to honor the late astronaut Sally Ride and her legacy of being
the first Female United States Resident to enter space. This is a Group Picture By NASA-JSC,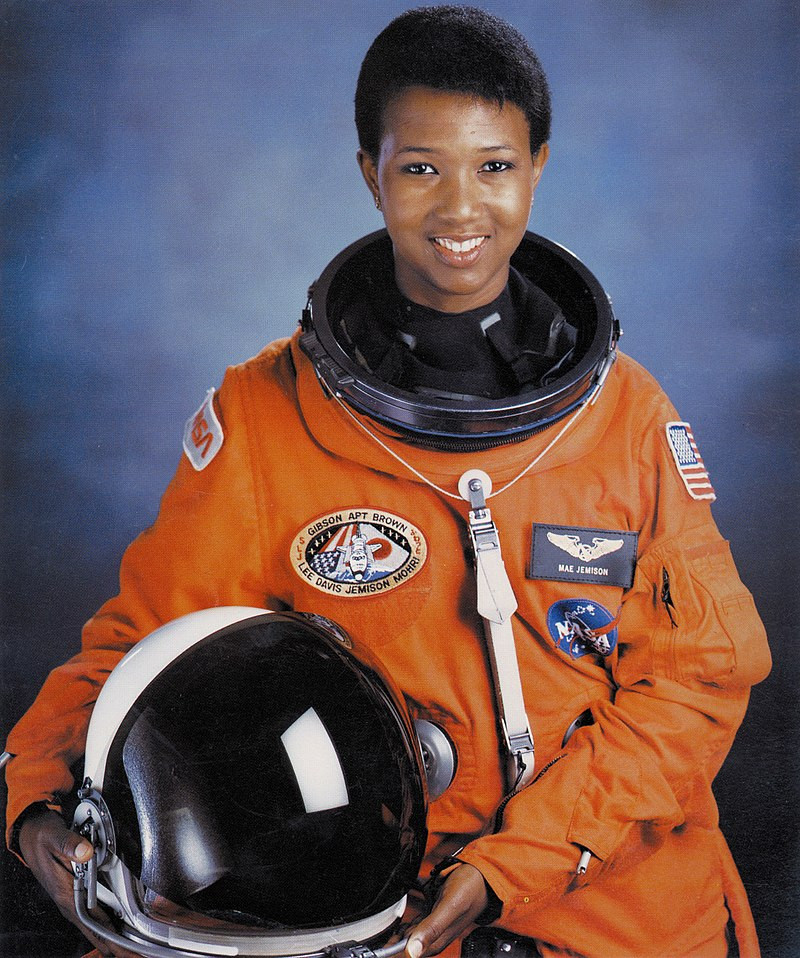 Dr. Mae C. Jemison Born October 17, 1956, is an American astronaut and physician who, on June 4, 1987, became the first African-American woman to be admitted into NASA's astronaut training program. On September 12, 1992, Jemison finally flew into space with six other astronauts aboard the Endeavour on mission STS47, becoming the first African-American woman in space. During her eight days in space, Jemison conducted experiments on weightlessness and motion sickness on the crew and herself. In all, she spent more than 190 hours in space before returning to Earth on September 20, 1992. Following her historic flight, Jemison noted that society should recognize how much both women and members of other minority groups can contribute if given the opportunity. In recognition of her accomplishments, Jemison received a number of accolades, including several honorary doctorates, the 1988 Essence Science and Technology Award, the Ebony Black Achievement Award in 1992 and a Montgomery Fellowship from Dartmouth College in 1993. She was also named Gamma Sigma Gamma Woman of the Year in 1990. In 1992, the Mae C. Jemison Academy, an alternative public school in Detroit, Michigan, was named after her. NOTES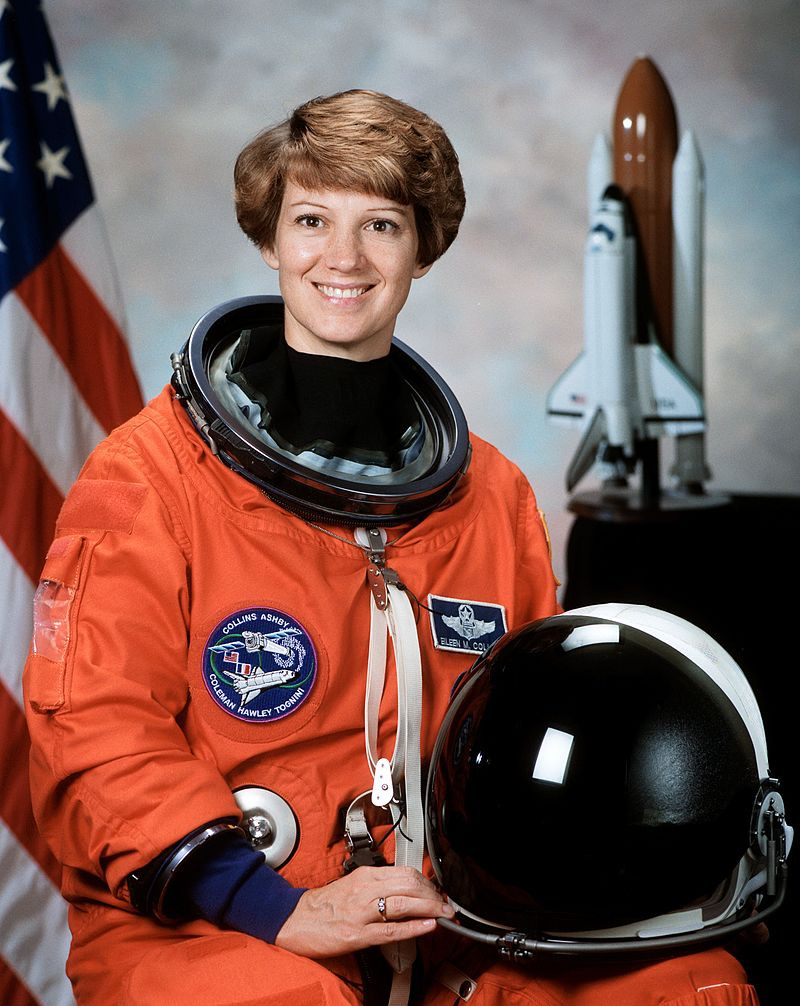 Eileen M Collins. When the space shuttle Columbia blasted off in July of 1999, Pilot Eileen Collins became NASA's first female shuttle commander. Collins was the first woman to command a Space Shuttle mission. In 1990, Eileen was only the second woman to graduate as a test pilot and be selected as a NASA astronaut. She became the first woman to pilot a space shuttle mission during the Discovery's rendezvous with the Mir space station in 1995. By 1999, she had logged 419 hours in space and was given command of the space shuttle Columbia, another first for a woman. NOTES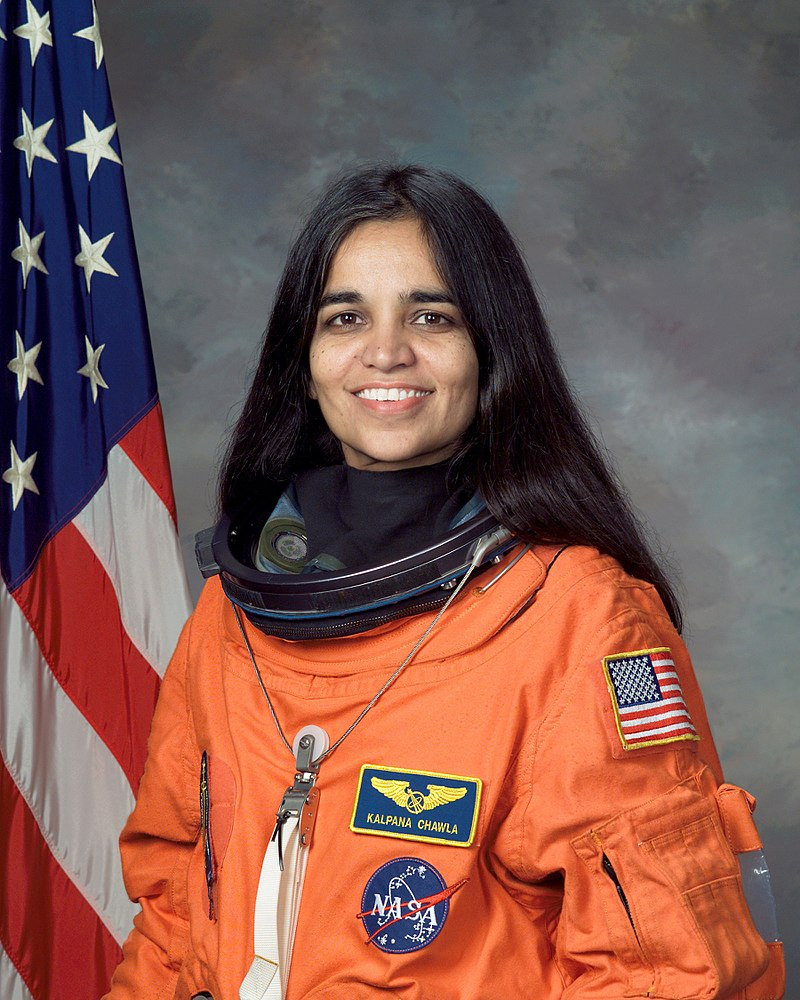 Kalpana Chawla was the first Indian-American woman in space. Born March 17, 1962, in Karnal, India. She moved to the US to become a NASA scientist. After completing her degree from Punjab Engineering College, she applied for a Master of Science at the University of Texas. After finishing her masters in 1984, to increase her prospects of becoming an astronaut at NASA she enrolled for a Ph.D. In 1988 she completed her Ph.D. in aerospace engineering from the University of Colorado. Her first flight into space was on the Space Shuttle Columbia in 1997, as a mission specialist and primary robotic arm operator. She died during the failed re-entry of Space Shuttle Columbia, on February 1, 2003. She would have been 56 years old this year. There is a hill on Mars named after her. NOTES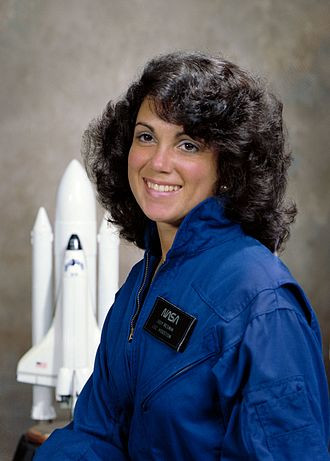 Judith Resnik was the second American female astronaut in space, logging 145 hours in orbit. She was also the first Jewish-American in space. She was also the first Jewish woman of any nationality in space. Born Judith Arlene Resnik on April 5, 1949, in Akron, Ohio, to first-generation Jewish Russian parents, Judith was a bright, curious child who, by kindergarten, could both read and solve simple math problems. She was a graduate of Carnegie Mellon University and had a Ph.D. in electrical engineering from the University of Maryland. The IEEE Judith Resnik Award for space engineering is named in her honor. Judith was one of the seven crew members who died in the tragic explosion of the space shuttle Challenger on January 28, 1986, Judith ("J.R.") Resnik was a pioneer for women entering NASA's space program. NOTES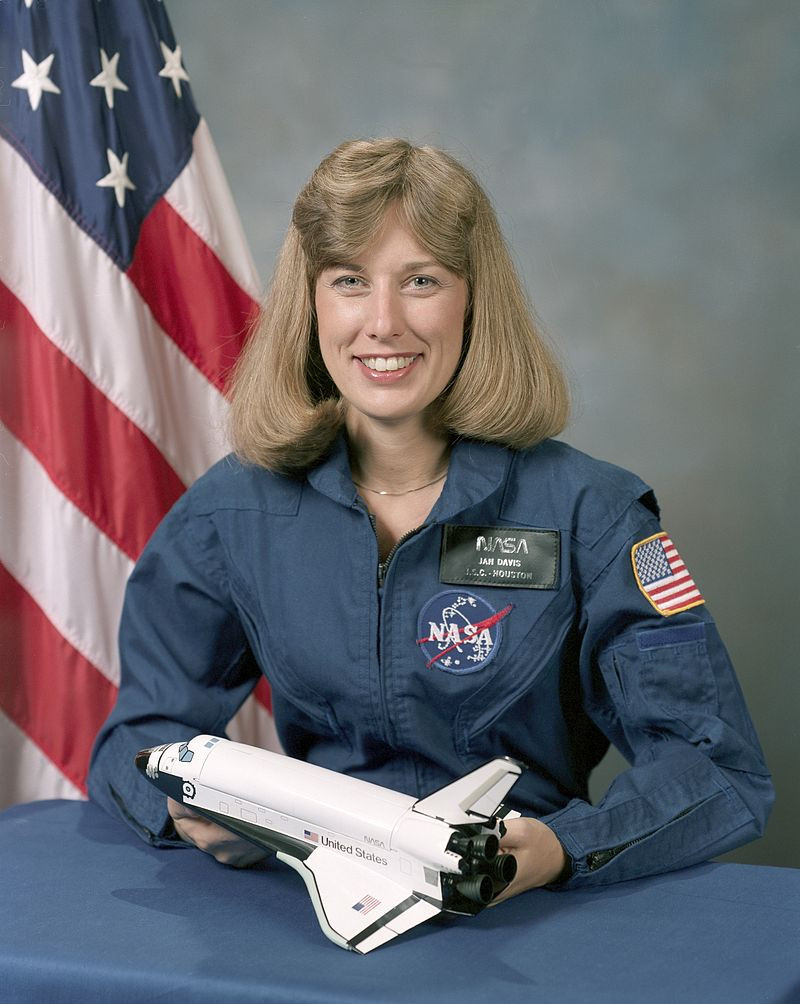 Jan Davis was the first woman to go to space with her husband, Mark C. Lee in 1992. They were the first married couple to go to space together. During the time NASA prohibited married couples from traveling on space research missions together because they felt that the presence of a married couple aboard a space mission could potentially become disturbing to the other astronauts. But in September of 1992, Mark Lee and Nancy Davis decided to defy the prohibition, they married each other a few weeks prior to the scheduled launch date of STS—47. NASA had already spent several months training the two for specific tasks during the mission, so there was no time left to train anyone else. Son on September 12, 1992 despite the regulation, NASA sent a married couple into low-earth orbit together aboard the Space Shuttle Endeavor. Surprise, there were no problems. NOTES
Christa McAuliffe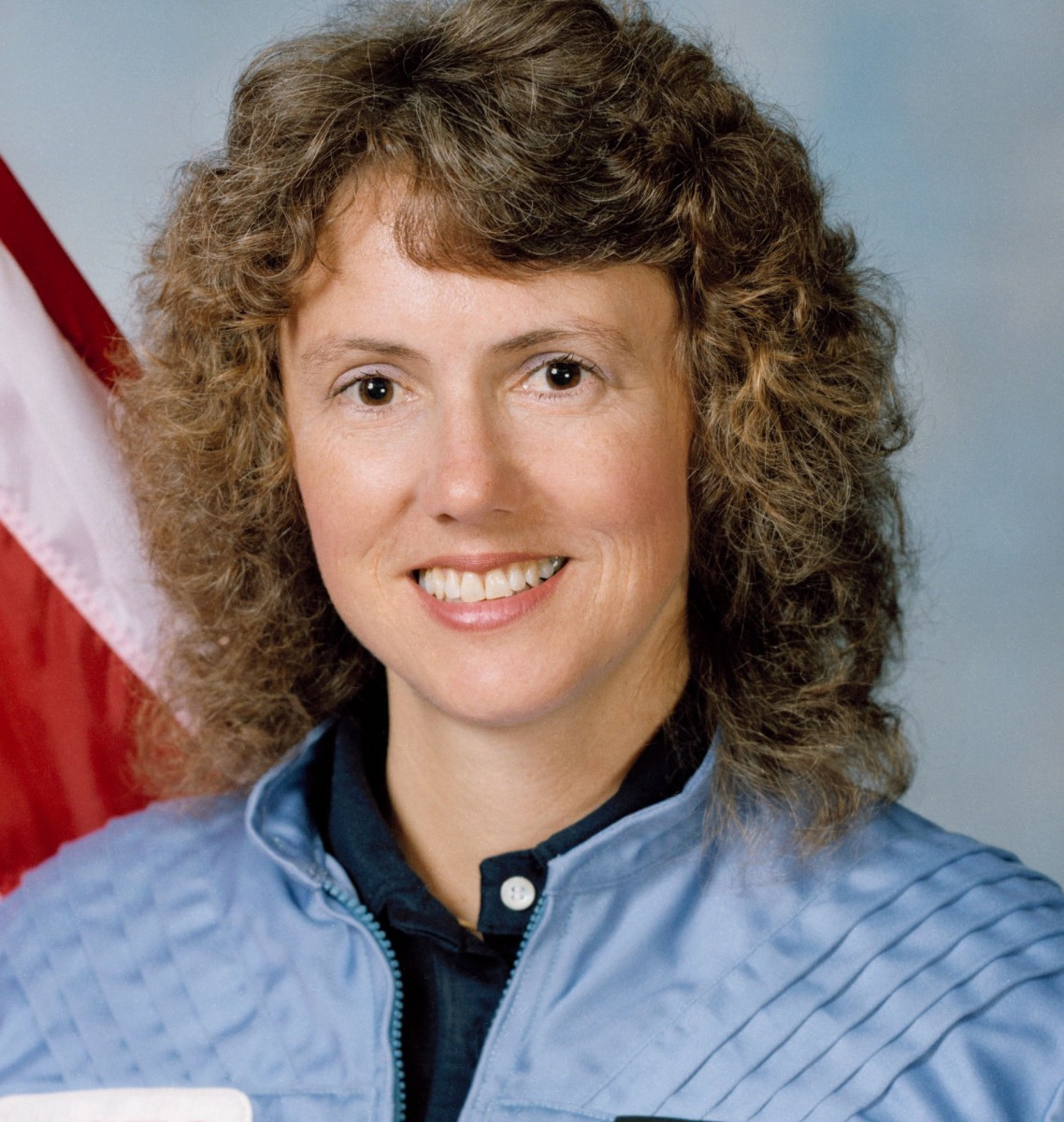 Originally from Massachusetts, she was the first American Civilian selected to go into Space. Her story still makes me cry today. Her mission in space: "Teach the children of the world about the new frontier". "An ordinary person doing an extraordinary thing" Born Sharon Christa Corrigan on September 2, 1948, in Boston, Massachusetts, Christa McAuliffe was the first of five children born to Edward and Grace Corrigan. When she was 5, she and her family moved to Framingham, Massachusetts.
McAuliffe was an extraordinary teacher with a dream of being a passenger on the space shuttle, so when NASA announced a contest to take a teacher into space, she jumped at the chance and applied. McAuliffe won the contest, beating out more than 11,000 other applicants. Vice President George H.W. Bush delivered the good news at a special ceremony at the White House, stating that McAuliffe was going to be the "first private citizen passenger in the history of space flight."
After NASA announced the selection of McAuliffe, her whole community rallied behind her, treating her as a hometown hero when she returned from the White House. As for McAuliffe, she saw the space mission as a chance to go on the ultimate field trip. She believed that by participating in the mission she could help students better understand space and how NASA works.
On January 28, 1986, McAuliffe's friends and family, including her two children, anxiously watched and waited for the Challenger space shuttle to take off from the Kennedy Space Center in Cape Canaveral, Florida. Her students in Concord also tuned in with the rest of the country to watch the history-making space expedition. However, less than two minutes after lift-off, the shuttle exploded, and everyone aboard died.
A shocked nation mourned the passing of the seven crew members of the Challenger. President Ronald Reagan spoke of the crew as heroes shortly after the accident: "This America, which Abraham Lincoln called the last, best hope of man on Earth, was built on heroism and noble sacrifice," he stated. "It was built by men and women like our seven-star voyagers, who answered a call beyond duty, who gave more than was expected or required and who gave it little thought of worldly reward."
NASA spent months analyzing the incident, later determined that problems with the right solid rocket booster had been the primary cause of the disaster. The findings revealed a gasket had failed on the rocket booster, the cold had affected the O-rings and a leak caused fuel to ignite.
After her death, this courageous educator received the Congressional Space Medal of Honor. As a tribute to her memory, a planetarium in Concord was named after her, as well as an asteroid and a crater on the moon. In addition, the Christa Corrigan McAuliffe Center at Framingham State College was established to carry on her legacy and support advancement of educational practices throughout the region. NOTES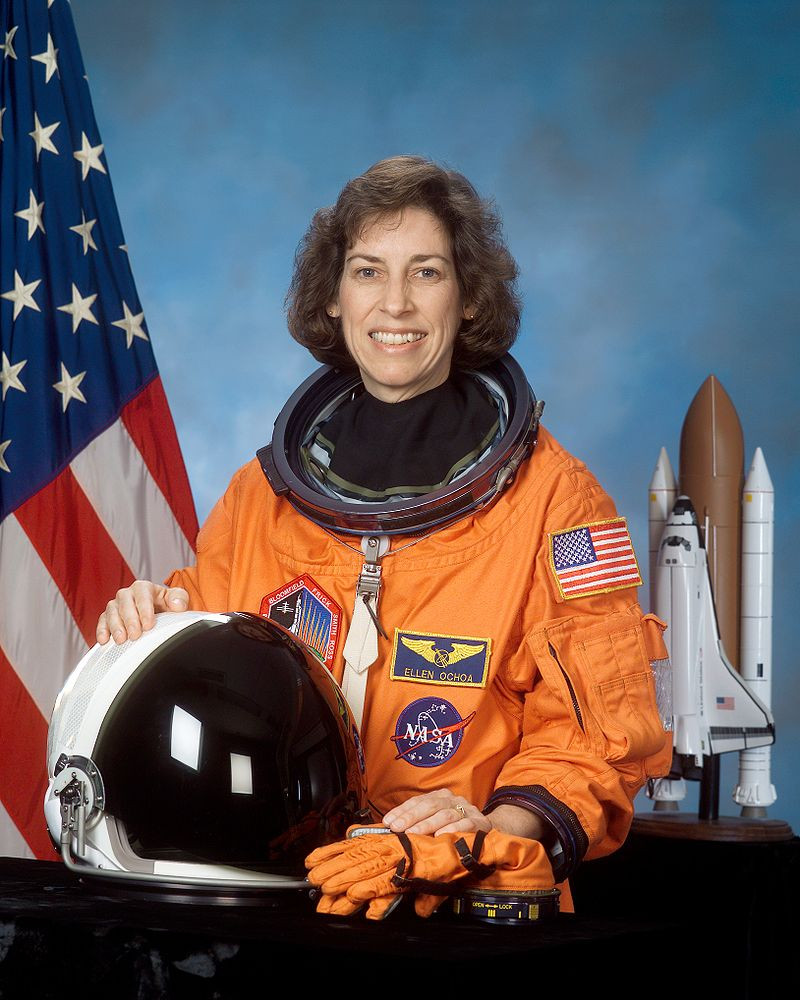 Ellen Ochoa was the first Hispanic woman in space. Born on May 10, 1958, in Los Angeles, California, Ochoa received her master of science and doctorate degrees at Stanford University. She was selected by NASA in 1990 and in 1991 became the world's first Hispanic female astronaut. A mission specialist and flight engineer, Ochoa is a veteran of four space flights, logging more than 950 hours in space. Her technical assignments have included flight software and computer hardware development and robotics development, testing and training. She has served as Assistant for Space Station to the Chief of the Astronaut Office, lead spacecraft communicator in Mission Control and Acting Deputy Chief of the Astronaut Office. She currently serves as Director of Flight Crew Operations at Johnson Space Center in Houston, Texas. STS-56 (Apr. 8, 1993), STS-66 (Nov. 3, 1994), STS-96 (May 27, 1999), STS-110 (Apr. 8, 2002) NOTES
Chiaki Mukai was the first Japanese Woman in space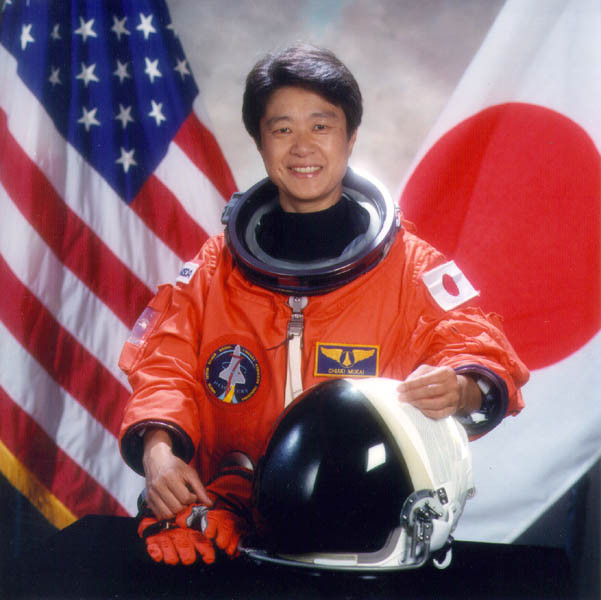 Chiaki was born in Tatebayashi, Japan, on 6 May 1952. She moved to Tokyo to further her education, and in 1977, she received her doctorate in medicine from Keio University. She could have stopped there, but she didn't. Instead, she completed 2 residencies and, in 1983, she was named Chief Resident in Cardiovascular Surgery at Keio University Hospital. From there, she became board certified in cardiovascular surgery and was promoted to the rank of Assistant Professor in the Department of Cardiovascular Surgery at the university. In 1988, she also earned a second doctorate, this time in physiology.
As impressive as Chiaki's accomplishments up to this point are, they were only the beginning. While she was working as a cardiovascular surgeon, Chiaki was approached by the National Space Development Agency of Japan. Recognizing the opportunity to combine her passion for medicine and scientific research, Chiaki jumped at the opportunity to expand her horizons and partner with the National Space Development Agency on antigravity research. In 1994, she joined the crew of the Columbia as a payload specialist, becoming the first Japanese woman to fly into space. STS-65 (Jul. 8, 1994), STS-95 (Oct. 29, 1998) NOTES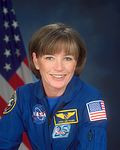 Anna Lee Fisher Born Aug. 24, 1949. First Mother in Space - In January 1978, NASA opened its doors to the very first female astronaut candidates, allowing six women to enroll in a training program that would last until August 1979. Anna Lee Fisher was one of them.
An expert in chemistry and medicine, Fisher had already received degrees in both fields, by the time she got accepted at NASA. Following the year of training, she became equipped for being a mission specialist among the crews in the space shuttle.
In 1983, she gave birth to her first daughter Kristin Anne. The following year, on November 8th, 1984, she flew into space as a mission specialist aboard the Discovery. The mission required a deployment of two satellites while also recovering two others which had previously failed to operate. Upon the completion of the space flight, Anna Lee Fisher had logged a total of 192 hours in space, becoming the first mother who flew. STS-51-A (Nov. 8, 1984) NOTES