Women Pioneer Series- Gertrude Bell
|
author/source:
Lyvia Feraco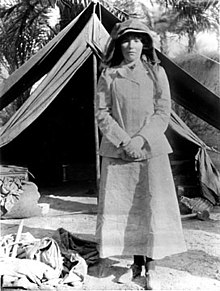 Gertrude Bell (14 July 1868 – 12 July 1926) was an English writer, traveler, political officer, administrator, and archaeologist who explored, mapped, and became highly influential to British imperial policy-making due to her knowledge and contacts, built up through extensive travels in Greater Syria, Mesopotamia, Asia Minor, and Arabia. Along with T. E. Lawrence, Gertrude helped support the Hashemite dynasties in what is today Jordan as well as in Iraq.
She played a major role in establishing and helping administer the modern state of Iraq, utilizing her unique perspective from her travels and relations with tribal leaders throughout the Middle East. During her lifetime, she was highly esteemed and trusted by British officials and exerted an immense amount of power.
She has been described as "one of the few representatives of His Majesty's Government remembered by the Arabs with anything resembling affection"*. – Wikipedia source
*4. [Meyer, Karl E.; Brysac, Shareen B. (2008), Kingmakers: The Invention of the Modern Middle East, New York: W.W. Norton & Co., p. 162]
A marvelous tale of an adventurous life of great historical import. She has been called the female Lawrence of Arabia, which, while not inaccurate, fails to give Gertrude Bell her due. She was at one time the most powerful woman in the British Empire: a nation builder, the driving force behind the creation of modern-day Iraq. Born in 1868 into a world of privilege, Gertrude turned her back on Victorian society, choosing to read history at Oxford and going on to become an archaeologist, spy, Arabist, linguist, author (of Persian Pictures, The Desert and the Sown, and many other collections), poet, photographer, and legendary mountaineer (she took off her skirt and climbed the Alps in her underclothes).
She traveled the globe several times, but her passion was the desert, where she traveled with only her guns and her servants. Her vast knowledge of the region made her indispensable to the Cairo Intelligence Office of the British government during World War I. She advised the Viceroy of India; then, as an army major, she traveled to the front lines in Mesopotamia. There, she supported the creation of an autonomous Arab nation for Iraq, promoting and manipulating the election of King Faisal to the throne and helping to draw the borders of the fledgling state.
Gertrude Bell, vividly told and impeccably researched by Georgina Howell, is a richly compelling portrait of a woman who transcended the restrictions of her class and times, and in so doing, created a remarkable and enduring legacy. - theworldwar.org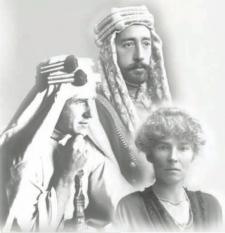 Born in 1868, British explorer, diplomat and accomplished archaeologist Gertrude Bell has been described as "the female Lawrence of Arabia."
Born into an affluent, progressive family, Gertrude Bell lived a life of adventure and intrigue. She defied the expectations of a woman in Victorian England, becoming a world traveler, a skilled mountaineer and an accomplished archaeologist. Well versed in the lands and cultures of Mesopotamia, Gertrude put her knowledge to work for the British government during World War I. After the war ended, she was instrumental in the creation of the country we now know as Iraq.
Gertrude's life found its way onto the big screen in the biopic Queen of the Desert, which premiered at the Berlin International Film Festival in February 2015. Nicole Kidman plays Gertrude Bell in the film. As she explained to The Guardian newspaper, she was thrilled to get the role. Kidman described Gertrude as "the female Lawrence of Arabia." She said that Gertrude "basically defined the borders between Iraq and Jordan that exist today." Before checking out Kidman's fictionalized version of Gertrude, please read below for the inside scoop on the real life of this extraordinary woman.
Gertrude was the first woman to earn first-degree honors in modern history at Oxford. At the time, few women attended college, but Gertrude was fortunate to have a supportive family who allowed her to advance her education. She attended Lady Margaret Hall, one of the only colleges in Oxford that accepted women.
Gertrude was unlucky in love. The first man she fell for was Henry Cadogan, a member of the foreign service she met while visiting Iran in 1892. The couple shared a love of literature, including the poetry of Rudyard Kipling and the stories of Henry James. Unfortunately for her, her father disapproved of the match. He objected to Cadogan's gambling habit and its accompanying debt.
Later Gertrude became enamored with a married British officer, Dick Doughty-Wylie. According to an article in the Telegraph newspaper, the pair exchanged numerous letters expressing their affection for each other. Gertrude wanted Doughty-Wylie to leave his wife for her, and his wife threatened suicide if he did. The whole tragic mess ended when Doughty-Wylie died in the battle at Gallipoli in 1915.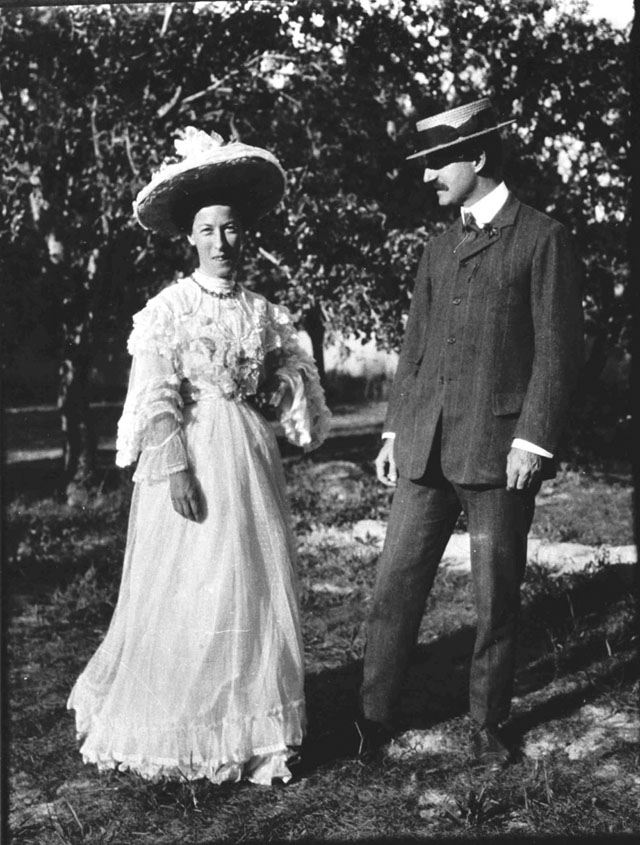 A skilled mountaineer, Gertrude almost met her end on a slope in 1902. She started climbing years earlier during a family holiday in La Grave, France, in 1897. She tackled greater heights with her 1899 ascents of the Meije and Les Ecrins in the French region of the Alps. Gertrude continued to challenge herself with other peaks in the Swiss Alps the following year. Becoming one of the leading female climbers of her day, she helped tackle some of the virgin peaks of the Engelhorner range. One of these previously uncharted peaks was named Gertrudspitze in her honor.
Gertrude, with her guides, tried to climb another mountain, the Finsteraarhorn, in 1902, when a blizzard hit. She spent more than 50 hours on a rope on the mountain's northeast side before she was able to make it back to a local village with her guides. The experience left Gertrude with frostbitten hands and feet, but it did not end her love of climbing. She went on to scale the Matterhorn in 1904. She described her experience in one of her letters, according to A Woman in Arabia: The Writings of the Queen of the Desert. "It was beautiful climbing, never seriously difficult, but never easy, and most of the time on a great steep face which was splendid to go upon."
Gertrude's fascination with the Middle East began with a visit to Iran in 1892. Her uncle, Sir Frank Lascelles, was the British ambassador at the time she made her first journey to the region. To prepare for the trip, Gertrude studied Persian and continued to actively work on learning the language while in Tehran. She later took up Arabic, a language she found especially challenging. As she wrote in one of her letters, "there are at least three sounds almost impossible to the European throat."
Later traveling extensively through the region, Gertrude found inspiration for several of her writing projects. She published her first travel book, Safar Nameh: Persia Pictures, in 1894. In 1897, her English translations of Poems from the Divan of Hafizwere published and are still considered some of the finest versions of these works today.
Gertrude was passionate about archaeology. She had developed this interest during a family trip in 1899, visiting an excavation of the Melos, an ancient city in Greece. Gertrude undertook several archaeology-related journeys, including a 1909 trek along the course of the Euphrates River. She often documented the sites she found by taking photographs. In one of her projects, she worked with archaeologist Sir William Mitchell Ramsey on The Thousand and One Churches (1909), which featured Bin-Bir-Kilisse, an archaeological site in Turkey.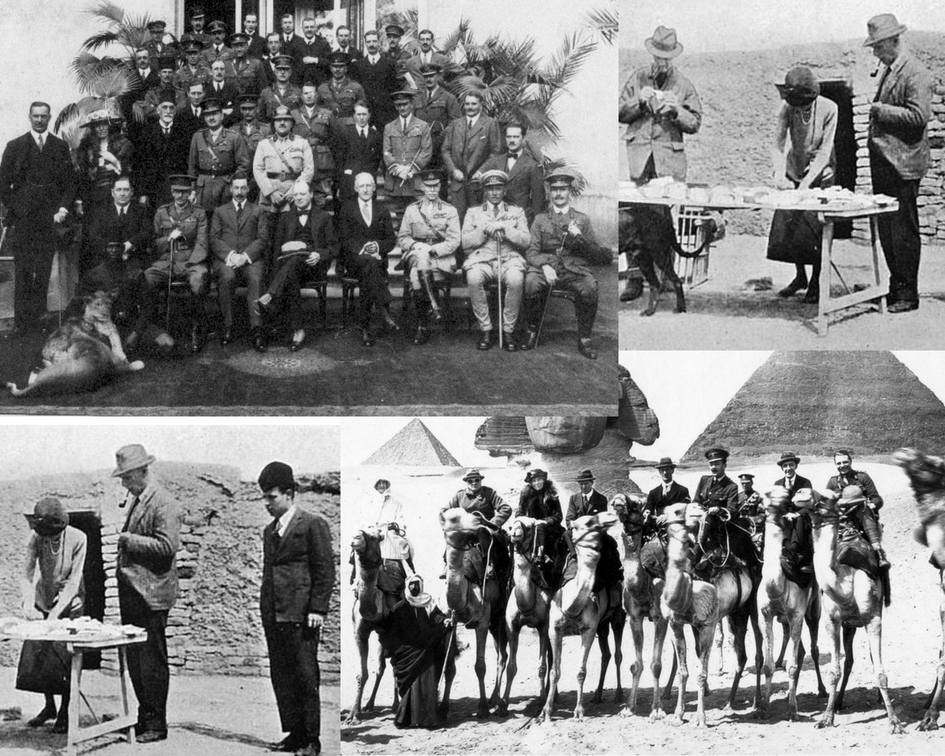 During her career in military intelligence and civil service, Gertrude was the only woman working for the British government in the Middle East. She worked with T.E. Lawrence, perhaps better known as "Lawrence of Arabia," in the Arab Bureau during World War I. Based in Cairo, the bureau gathered and analyzed information to help the British oust the Ottoman Empire from the region. The British had suffered several military defeats against them when Lawrence devised a new strategy. He wanted to recruit Arab peoples to oppose the Turks, and Gertrude helped him to drum up support for this effort.
After the war, Gertrude sought to help the Arabs. She wrote "Self-Determination in Mesopotamia," a paper that earned her a seat at the 1919 Peace Conference in Paris. She continued to explore related political and social issues in her 1920 work Review of the Civil Administration of Mesopotamia. She was involved in the 1921 Conference in Cairo with Winston Churchill, then colonial secretary, that established the boundaries of Iraq. Gertrude also helped bring Faisal I to power as Iraq's new king. For her work on their behalf, Gertrude earned the respect of the peoples of Mesopotamia. She was often addressed as "khutan," which means "queen" in Persian and "respected lady" in Arabic.
Gertrude helped establish what is now the Iraq Museum. She wanted to help preserve the country's heritage. In 1922, Gertrude was named the director of antiquities by King Faisal and she worked hard to keep important artifacts in Iraq. Bell aided in the crafting of the 1922 Law of Excavation. A few years later, the museum opened its first exhibition space in 1926. She spent the final months of her life working on the museum, cataloguing items found at Ur and Kish, two ancient Sumerian cities. Gertrude died on July 12, 1926, in Baghdad. - Biography. com