Trending 5-7-2018
|
author/source:
Renée Greene
HOW MUCH HATE DOES IT TAKE TO LYNCH AN 8 YEAR OLD?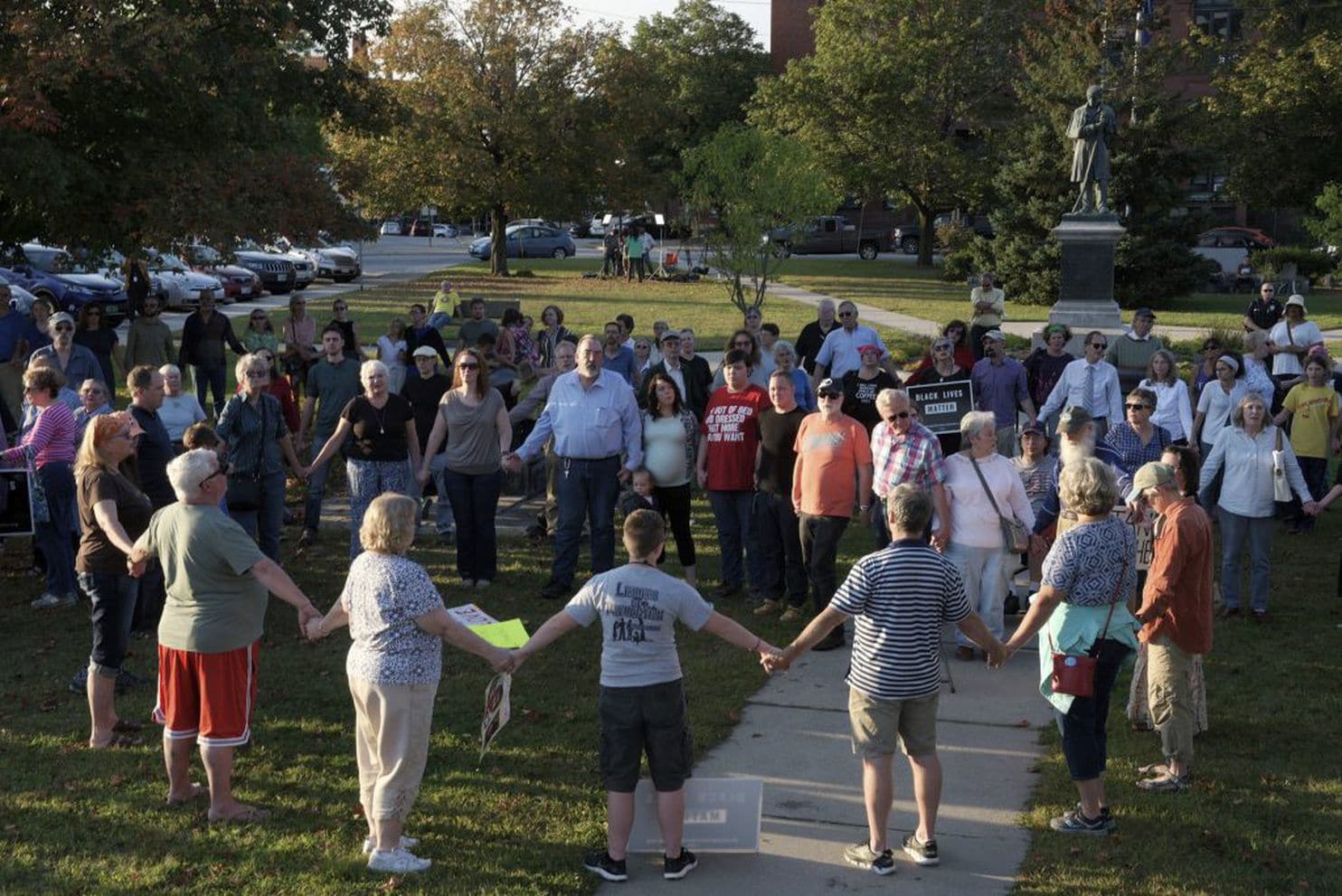 A Sept. 12 demonstration in Claremont, N.H., was inspired by violence last month against an 8-year-old bi-racial boy that occurred while he played with a group of teenagers outside his home. (James M. Patterson/Valley News via AP)
Nine months after an 8-year-old bi-racial boy was nearly hanged, a New Hampshire city is still healing from the incident and grappling with diversity and inclusion. Claremont Mayor Charlene Lovett said the incident in her city last August caused communitywide efforts to raise awareness on diversity-related issues.
''That wasn't my experience growing up in New Hampshire, so I just couldn't believe something like that could happen here,'' Lovett said Thursday night at a listening session organized by Republican Gov. Chris Sununu's Advisory Council on Diversity and Inclusion.
The council is traveling statewide to ask residents how New Hampshire communities can become more welcoming for minorities and to share any personal experiences with discrimination. Advisory council member Dottie Morris said the meeting gave her more insight into groups that have formed in response to the boy's near-hanging.
''They've been able to examine themselves in the process of establishing these amazing groups,'' Morris said. ''I can tell they've been working diligently to create a different reality.'' One example is the Racial Healing Working Group, which hopes to promote equality through education and community dialogue. Group member Reb MacKenzie said it has sponsored several events and rallies since last year to address white supremacy and racism in the community.
Council Chairman Rogers Johnson said Claremont was chosen for one of the forums partially because of the incident that injured the child in what the family called a racially motivated ''lynching.'' Allegations surfaced that several teenagers taunted the boy with racial slurs and then pushed him off a picnic table with a rope around his neck. The victim's injuries were treated at a hospital, according to the boy's grandmother, Lorrie Slattery. An expert on abuse who spoke to the boy at the hospital said he swung from his neck three times before being able to remove the rope, Slattery said. None of the teens came to his aid, she said.
Police Chief Mark Chase said few details can be released about the case because juveniles are involved. The Attorney General's office conducted its own investigation on whether the alleged attack would be treated as a hate crime or civil rights violation. It expects to release a report but hasn't said when. The parents of one of the accused teenagers said the incident was not motivated by racism and called it a tragic ''backyard accident.'' Chase said his department is investigating the Aug. 28 incident involving several juveniles. He declined to provide details and refused to confirm the case involved the 8-year-old boy. Chase did not respond to calls and e-mails from the Associated Press last August when the incident occurred.
The victim's family didn't attend the forum, but the incident remained close to everyone's minds and was referenced multiple times by residents, law enforcement and town officials. Cornish resident Mary Boyle said while she can't say for certain whether bias incidents are on the rise in the region, there is more attention on the ones that do come to light. She referenced an April incident where racially charged fliers were placed on people's cars in a Lebanon plaza parking lot and said that law enforcement did not consider it a crime, citing the First Amendment.
Another woman attending the session said that swastikas were drawn over her Black Lives Matter sign in her front yard back in December. ''We need to figure out a way to prevent these incidents from becoming hate crimes, and that's why I'm glad police officers were here today,'' Boyle said. ''Nothing ever happens when these things occur. They just fade away.''
Morris was surprised to learn about some of the more recent happenings in neighboring areas of Claremont and, as someone who lives nearby, said she was concerned. ''That's fear-producing for some of the people that live in this area,'' Morris said. The advisory council said it will be returning to Claremont before its statewide tour is over. ''My feeling is that people who are on the council are sincere and realistic that it might take three to five years to see actual change and results,'' Boyle said.
You down with the "Notorious RBG'?
For audiences who only know her as a T-shirt, an ironic rap-inflected signifier — the "Notorious RBG" — or the hip judicial granny gently spoofed by Kate McKinnon on "Saturday Night Live," the movie by Julie Cohen and Betsy West will come as a welcome deep dive into the actual Ginsburg's historic accomplishments and ongoing legacy. But it says something that the woman herself remains quietly and stubbornly unknowable, despite the film's sometimes hagiographic (and quite understandable) overreach.
A lot of people want to make Ruth Bader Ginsburg a rock star — indeed, that may be the only way a culture addicted to entertainment can understand her — but, thankfully, she lacks the outsize charisma and need for the spotlight. Instead, Ginsburg possesses something far more important: a groundbreaking legal mind.
Using a combination of archival sifting and interviews with friends, family, and associates — and with generous amounts of sit-down time with the lady herself — "RBG" assembles a portrait of a decorous, studious Brooklyn girl, the daughter of Jewish immigrants, who learned two lessons from her beloved mother: be a lady and be independent. In carving inroads into the male citadels of Harvard and Columbia Law schools during the 1950s, Ginsburg let hard work define her; if the dean of Harvard Law was going to tell her that she was taking a space from a deserving man, her response was to simply become more deserving.
That Ginsburg was named to the Harvard Law Review during her second year while raising two small children while caring for her husband, Martin, during his successful early battle with cancer while keeping him up to speed on his missed lectures while maintaining her own studies underscores the awe onlookers then and now have felt for her. (It also explains her night-owl tendencies.) "RBG" quickens its stride as it leads the audience through Ginsburg's work with the ACLU during the 1970s and 1980s, successfully challenging and overturning discriminatory gender-based laws in cases like Frontiero v. Richardson (1973) and Duren v. Missouri (1979).
In Weinberger v. Wiesenfeld (1975), Ginsburg cleverly exposed the absurdity of existing statutes by representing a widowed father, Stephen Wiesenfeld, who had been denied state benefits granted to surviving mothers. Other interviewees speak glowingly of her knack for long-range strategizing and laying traps of simple, inescapable logic. Ginsburg herself just smiles like the cat who has seen it all. Her stated philosophy: Take cases that make good laws.
She was named to the Supreme Court in 1993 by President Clinton and confirmed by a vote of 96 to 3 — remember those days? Similarly, "RBG" extols Ginsburg's fond, genuine friendship with the late conservative Justice Antonin Scalia — they shared an abiding love of opera, among other things — as proof of her resistance to partisanship.
But the film also notes how her position on the court has slowly shifted from center-left to far left as the rest of the bench has moved right, and it lionizes, as it should, the finely argued and legally excoriating dissents Ginsburg has authored in more recent cases like Citizens United v. FEC and Burwell v. Hobby Lobby.
The film's intended audience would like Ginsburg to be remembered as more than "the Great Dissenter," and the 85-year-old justice clearly shares hopes that she will make it, hale and hearty, to an administration more sympathetic to her own legal and social leanings. (We see Ginsburg in sessions with her physical trainer; she's inspiring here, as well.)
In person, she comes across as both shyer and slyer than the cherished cartoon of her public image, and the film's good cheer slips only once when Ginsburg's grown daughter, Jane — herself a Columbia law professor — is asked to describe her mother as a mother. After some thought, she says one word: "Exigent." It means urgent, pressing, demanding — not the nostalgic posy some might wish for but evidence of a pricklier and more interesting Ruth Bader Ginsburg than this documentary dares to entertain. The filmmakers apparently believe there will be time for warts and all later. They may be right.★★★ RBG
Directed by Julie Cohen and Betsy West. Starring Ruth Bader Ginsburg. At Boston Common, Coolidge Corner, Kendall Square. 97 minutes. PG (Some thematic elements and language).
Ty Burr can be reached at [email protected]. Follow him on Twitter @tyburr.
LAST WEEK AT 1600 PENNSYLVANIA AVE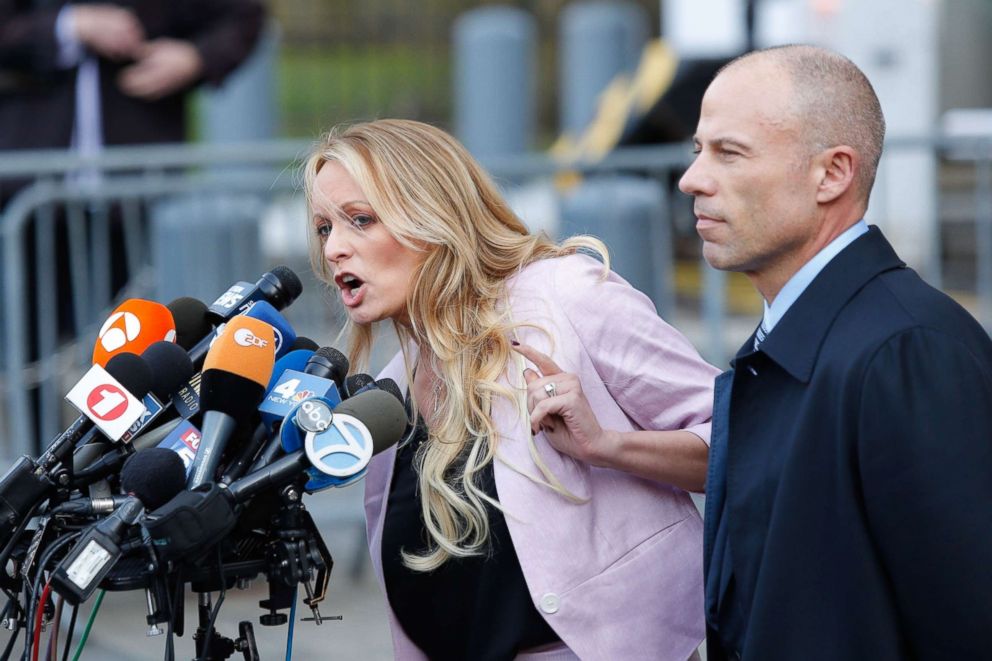 -- No one's sure what to make of the ongoing legal strategy of President Trump's lawyer Rudy Giuliani. He's now saying Trump may indeed plead the Fifth if subpoenaed by special counsel Robert Mueller. And he drops a bomb on This Week with George Stephanopoulos that Trump's lawyer Michael Cohen may have paid off other women on behalf of the President.

-- CIA director nominee Gina Haspel reportedly offered to withdraw her nomination after some White House officials raised concerns with her ability to get confirmed. But she's still in for now as the President said he still supports her.
--Trump's doctor, Dr. Harold Bornstein, said President wrote his own glowing medical report. Really?
-- The real Stormy Daniels, Stephanie Clifford, talked with the fake Donald Trump (better known as Alec Baldwin) on "Saturday Night Live," where she warned, "a storm's a-comin', baby."
…and so the story goes. This week should be full of more surprises. Will Giuliani have the shortest time on record on WH staff?