Trending 4-9-2018
|
author/source:
Renée Greene
TONY ROBBINS APOLOGY #MeToo TOUR
Tony Robbins has issued an apology for criticizing the #MeToo movement during one of his events last month in San Jose, California.
The self-help guru in a statement says "I apologize for expressing anything other than my profound admiration for the #MeToo movement. I teach that 'life happens for you, not to you' and what I've realized is that I've dedicated my life to working with victims of abuse all over the world, I need to get connected to the brave women of #MeToo."
Video of the March 15 event surfaced yesterday according to Deadline.com (see below), leading to the apology. Footage showed Robbins, who stands a muscle-bound 6-foot-7, pacing the aisles of a large arena during his "Unleash the Power Within" seminar, as is his custom, when a woman named Nanine McCool stood to speak. "I think you misunderstand the #MeToo movement," she began. Robbins then co-opted the conversation ("mansplaining," as many press accounts described it) and reeling off the issues he had with women affiliating with #MeToo.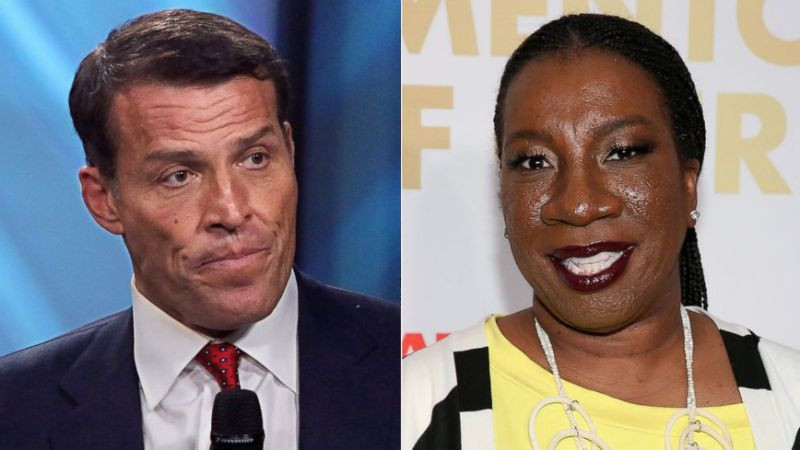 Insisting, "I'm not knocking it," he then went on to say that by identifying with the movement, "All you've done is basically use a drug called significance to make yourself feel good." He added that the reckoning could wind up having unfavorable consequences for women in the workplace. One "very famous, very powerful man," Robbins said, is among "a dozen" men in high places who have confided to him recently that they hired male candidates over better-qualified women. Why? In at least one case, "She was very attractive," Robbins said. "But he knew, 'I couldn't have her around because it's too big a risk.'"
Robbins delivered his booming take while also displaying what many observers saw as intimidating behavior toward McCool, physically backing her up the aisle as he spoke, actions that stoked further online outrage. Tarana Burke, an activist credited with founding #MeToo more than a decade ago, sent out a series of tweets tagging Robbins and expressing her anger at his opinions (see below.) Some initial responses to his apology noted that it did not specifically name McCool or express any regret about how her comments were handled in the auditorium. Photo Courtesy of Yahoo News
Here is the apology in full: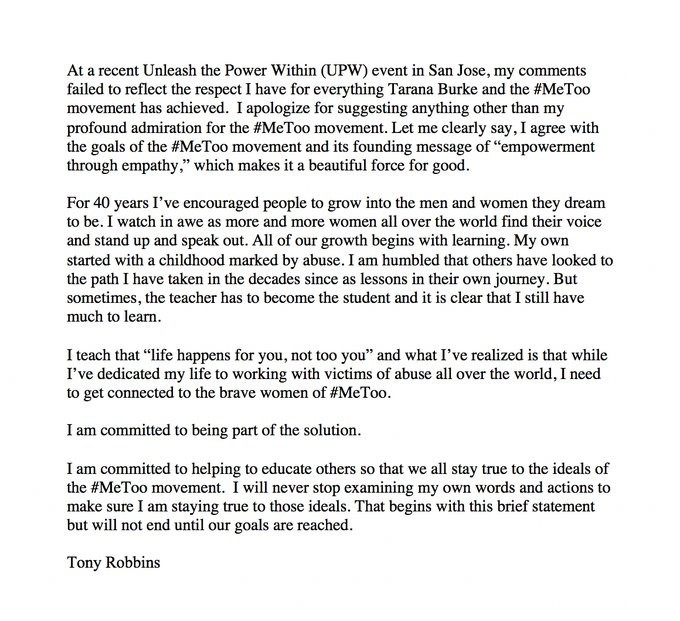 Here are some of Burke's many tweets from yesterday:
7 Apr Replying to @TaranaBurke And he is clear that he won't apologize so it is what it is. If you choose to keep supporting him it's with full knowledge of his views on women and survivors.
Tarana ✔@TaranaBurke @TonyRobbins If you talk to more SURVIVORS and less sexist businessmen maybe you'll understand what we want. We want safety. We want healing. We want accountability. We want closure. We want to live a life free from shame. That's the reality of the @MeTooMVMT sir, do better.
Michelle Obama talked affirmative action, student loans — and 2020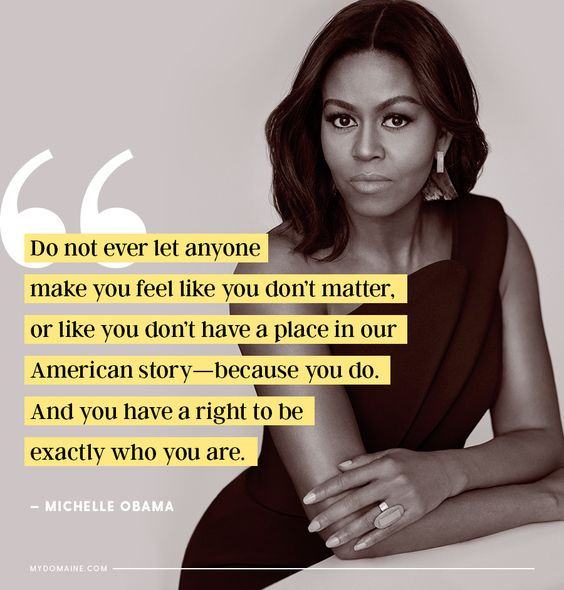 Michelle Obama was the featured speaker at the all-day women's empowerment event at Simmons College, annual women's leadership conference. The former First Lady talked about affirmative action, student loan debt and about a possible presidential run in 2020.
The event on Thursday drew thousands of attendees to the question and answer session moderated by Simmons president, Helen Drinan. Obama said "In our society, somehow, when affirmative action means color, it's deemed to be problematic," she said. "I have a problem with that, because affirmative action exists everywhere throughout society. It's called privilege." She added that minority and first-generation college students are often not comfortable on campuses. They don't feel welcome. Obama related to that saying she sometimes "felt like an affirmative action kid" as a freshman at Princeton University, contrasting her upbringing on the South Side of Chicago with that of some of her Ivy League classmates.
"Part of the job falls on colleges and universities to understand that," she said. "Diversity doesn't work if you're taking a small minority and scattering them among a majority, and saying, 'Ta-da! We have diversity.' Because it's hard being the only one."
Obama, who worked for a large law firm after graduating from Princeton University and Harvard Law School, said that she also struggled with loan debt. She offered, "I found that I couldn't take jobs that paid less because I had a mountain of debt".
During the Q&A when Drinan asked Obama to address speculation about a possible run for president in 2020, Obama quickly shot down the idea. First of all, you'd have to want to do it. It doesn't sound like she's up for it in 2020. Photo Courtesy of Love Happens
The Moms, Attorneys, Step Up to End Oklahoma Teacher Walkouts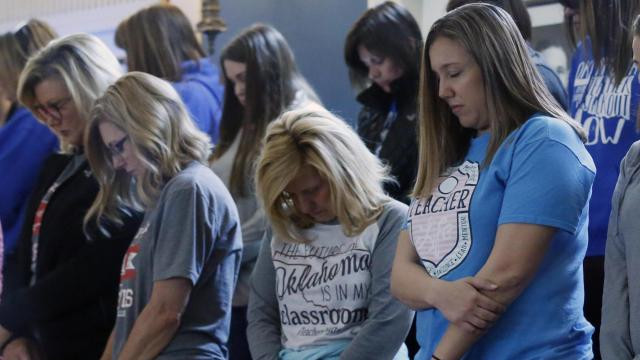 More than 100 women are expected to march almost a mile from the Oklahoma Bar Association to the state Capitol in Oklahoma City to aid negotiations between legislators and educators according to CNN. Teacher walkouts in the state continued into their fifth day Friday, expected to continue today over demands for increased education funding.
Monday's march is the brainchild of Becki Murphy, an adoption attorney from Tulsa who shared the idea in a Facebook group for female lawyers called Girl Attorney. Becki Murphy came up with the idea of a march to the state Capitol, and it attracted support online.
"Most of us are moms, so it's affecting our ability to work," she told CNN. Murphy headed into her firm Friday morning with her two children, her friend's two kids, and her two dogs."I thought, 'We are a strong group of intelligent women. Why aren't we coming together to do something about this? '" Others agreed as 120 women with a variety of backgrounds and areas of expertise signed up to participate.
The coalition is setting up group appointments with lawmakers to hear their concerns. It is also talking to educators about what they feel is needed for Oklahoma's public school system to flourish. "We have a specific skill set. Every single day we have people in opposing positions, and we try to bring them to a middle ground," Murphy said.
Each attorney is taking up a different project, such as drafting press releases, preparing talking points and writing a letter to Gov. Mary Fallin. And it's not just moms who are participating. Susan Carns Curtiss, the founder of Girl Attorney, said women without children are stepping up because they feel that Oklahoma's education system affects everyone.
"The current situation is not sustainable," she told CNN. "It's not good for the kids, it's not good for the teachers and it's not good for the state."
Curtiss' children attend public schools, but she also considers the crisis from beyond a parental perspective. "We are really wanting to support other professionals in our state who have been brave enough to walk out and stay out," she said, adding that she feels privileged to be able to stand behind educators on this issue. The conflict between teachers and legislators has been tense for the last week, but both Murphy and Curtiss emphasized that the women of Girl Attorney are not taking a political stance.
Their priority is to help both sides come up with a solution that considers everyone's best interest. they also want to show what can be accomplished when outspoken women work as a team -- which is why many, such as Murphy, are bringing their daughters.
Ragon Fancy, Murphy's 11-year-old daughter, is a student at Jenks Public Schools near Tulsa. Her fifth-grade teachers were at the Capitol all this week, and the mother-daughter duo hopes to link up with them on Monday. I think it's important, especially now, for her to see women come together," Murphy said. "I want her to see that we are powerful, we are strong and we can effect change." Photo Courtesy of WRAL.com
YouTube Tracking Your Kids?
Child consumer and privacy advocacy groups call out YouTube for illegally collecting data of under-age viewers. They are demanding that YouTube change how it handles content for children and that they should pay a fine up to "tens of billions" of dollars for allegedly profiting off young viewers, according to CNN. In a complaint filed Monday, 20 advocacy groups asked the FTC to investigate the Google subsidiary for violating the Child Online Privacy Protection Act (COPPA), which limits how a company can collect data about kids under 13. Under the law, companies have to notify parents and get their consent before collecting data on children.
"Google has made substantial profits from the collection and use of personal data from children on YouTube. Its illegal collection has been going on for many years and involves tens of millions of US children," reads the complaint, which was led by the Center for Digital Democracy and Campaign for a Commercial-Free Childhood. YouTube's terms of service say it is not for anyone under 13. To sign up for a Google account, which is used to log into YouTube, a person must say they are older than 13.
But anyone can watch YouTube videos without an account or logging in. Parents can let their children use their accounts, or kids can lie and claim to be older when creating an account. According to Trendera research, 45% of kids between 8- and 12-years-old have a YouTube Account. Kid-focused channels can have huge subscriber bases and make significant amounts of money on ads. LittleBabyBum churns out animated nursery rhymes. It has 14 million subscribers and its videos have been viewed more than 16 billion times. Ryan ToysReview, which features a 6-year-old kid testing toys, made $11 million in ad revenue in one year.
While Google doesn't let advertisers select age groups under 18, the complaint says there are still a number of ways to target ads at children, like select keywords related to kids such as "toddler" and "toy." "Protecting kids and families has always been a top priority for us. We will read the complaint thoroughly and evaluate if there are things we can do to improve," a Google spokesperson told CNN. "Because YouTube is not for children, we've invested significantly in the creation of the YouTube Kids app to offer an alternative specifically designed for children."
Non-profit group Common Sense Media is a signer on the FTC complaint. It reviews and rates media like TV shows and movies for parents.
"We don't want to get rid of kids' content, and fear that an age gate could just lead to lying and then no protections for the kids' information since they say they are 13," said Common Sense Media VP Corbie Kiernan. "We'd rather Google have this content for kids but then comply with COPPA." YouTube tracking kids, today you could find out if FaceBook is tracking you. Stay tuned.