Events
|
author/source:
Lyvia Feraco
BOOKS
BOSTON BOOK FESTIVAL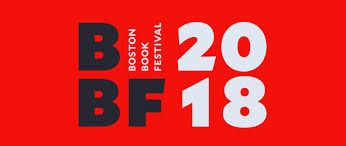 French Authors at the Boston Book Festival
Saturday, October 13th
Copley Square
At the occasion of the Boston Book Festival, French Author Hubert Haddad will present his book "Desirable body" along with plenty of other Authors from various styles and backgrounds will be sharing their books and creation processes. Celebrating the power of words to stimulate, agitate, unite, delight, and inspire, the Festival presents year-round events culminating in an annual festival that promotes a culture of reading and enhances the vibrancy of the city of Boston.
Authors such as the French-Canadian Joseph Leveillé and Charles Etienne Ferland will come and share their books.
The event is also hosting exhibitors, sessions for writers, Kids activities, etc... It's all about the power of literature!
Emmanuelle Loyer
Monday, October 15th, Harvard University
Tuesday, October 16th, MIT
Wednesday, October 17h, Dartmouth College
Historian and professor of contemporary History at Sciences Po Paris also specializes in the cultural history of contemporary societies. At the occasion of the event "tournée des auteurs," she will present and discuss her book "Claude Lévi-Strauss". This biography presents a new way of thinking in a context of a century turned upside down by history: the energy of new beginnings in Brazil and the effervescence of the World of European exile to New York, between surrealism and the birth of structuralism. This biography underscores the anthropologist's political and intellectual eccentricity. His decentralized life with regards to Europe, his comings and goings between the old and new worlds, and his fondness for elsewhere render Lévi-Strauss an unforgettable voice who invites us to rethink man's problems and our sense of progress.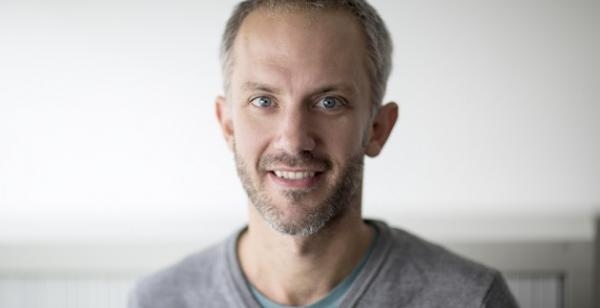 Gérôme Truc
Wednesday, October 17th
5:00 p.m - 7:00 p.m
Harvard University - Barker Center 110
Gérôme Truc is a sociologist, tenured research fellow at the CNRS and member of the Institut des Sciences Sociales du Politique. He teaches at the Ecole Normale Supérieure Paris-Saclay. Truc's work focuses primarily on social reactions to terrorist attacks, paying particular attention to moral and political sociology. What is it that leaves us shell-shocked in the face of the massacres carried out in New-York on 9/11 or in Paris on November 13th, 2015? In "Shell Shocked" Gérôme Truc sheds new light on these events, returning to the ways in which ordinary individuals lived through and responded. This timely and path-breaking book will appeal to students and scholars in sociology and politics and to anyone interested in understanding the impact of terrorism in contemporary societies.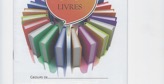 Do you like to read in French?
La Bibliothèque Orange offers an easy and inexpensive option to read in French in Boston!
IFor the past 6 years la Bibliothèque Orange has had Boston branch which allows Francophiles to read in French at a low price (around 75$/year for 18 books).
Styles are multiples which allow everybody to find their happiness among the diversity and discover new authors and unusual literary genres. At this time, there are 12 participants and everyone is giving each other the Books following a pre-determined agenda.
Should you have any question, please do not hesitate to contact Sophie Beaudron: [email protected] or phone 617-650-2308.
MUSIC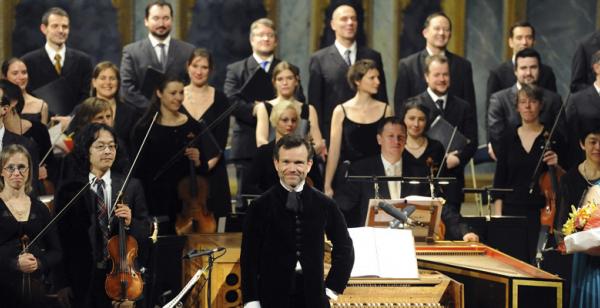 L'ensemble "Les Talens lyriques" in Boston
Sunday, October 14th
4:00 p.m
Emmanuel Church, Boston
From light to shadow : Music of François Couperin with Christophe Rousset as a director.
Thrill to this music as we approach the Baroque master's 350th birthday in this intimate program featuring some of the composer's most lyrical masterpieces. For more than a quarter century harpsichord virtuoso Christophe Rousset and his ensemble "Les Talens lyriques" have been heralded around the globe for their musical sensitivity and finesse. Pre-concert Talk at 3:00p.m
SHOWS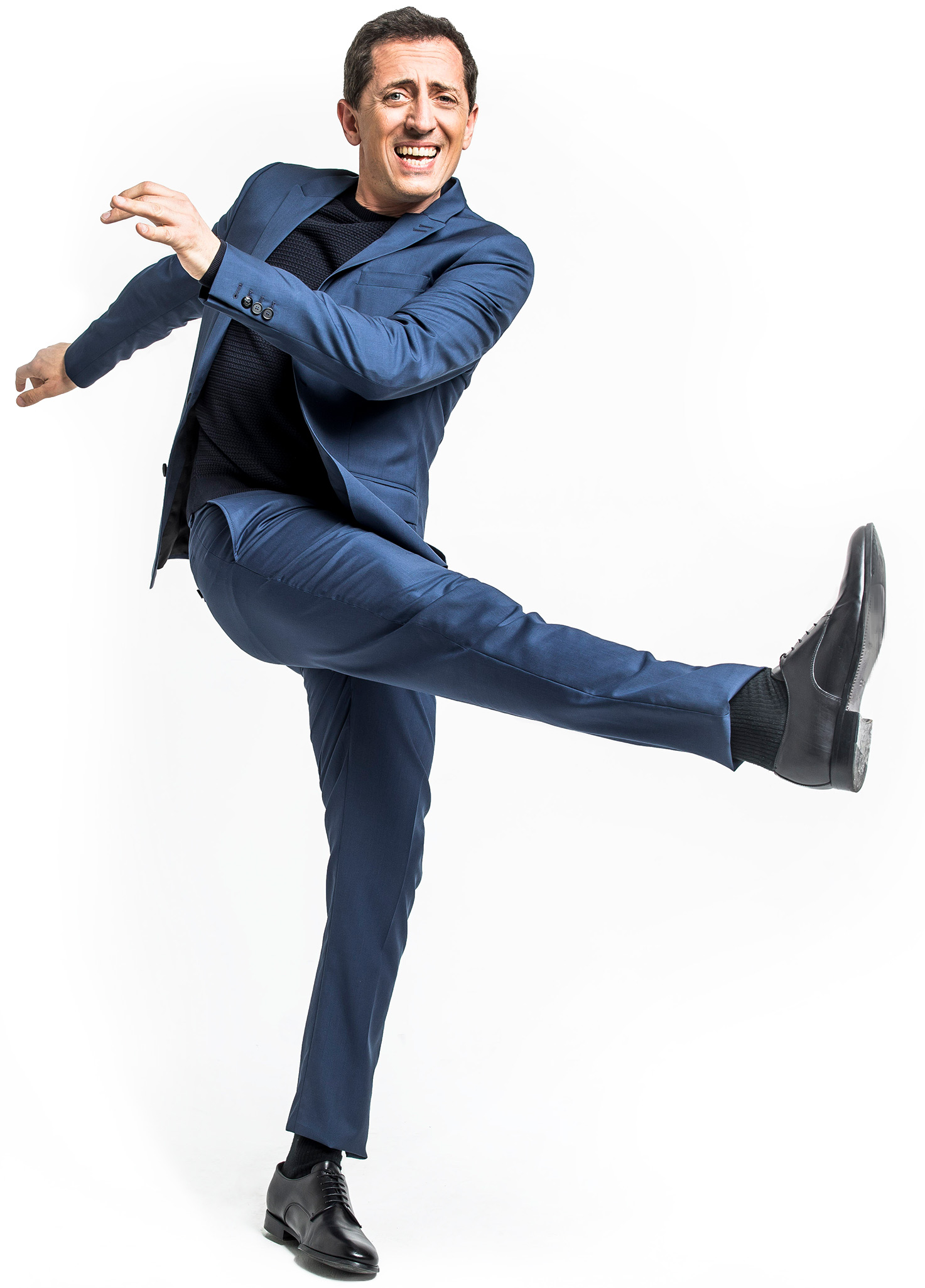 Gad Elmaleh: The Dream Tour
Tuesday, October 16th, 8:00 p.m
Wilbur Theater 246 Tremont, Boston, MA 02116
The famous French stand-up comedian Gad Elmaleh is coming to Boston to perform his stand-up comedy show called "The Dream Tour" in English! Gad Elmaleh is one of the biggest and most recognizable comedic talents in the world, with a great number of exciting projects. Gad's first English language special, Gad Elmaleh: American Dream, is now available on Netflix. This performance tells the experience of a French person from Paris arriving in the United States and highlights the cultural differences between the French culture and language, and the American one. Gad Elmaleh manages to depict in a very comical and amusing way, the French foreigners' experience in the United States.
MOVIES (THEATRE & DVD)
THE BOOKSHOP COLETTE
THE WIFE WHAT THEY HAD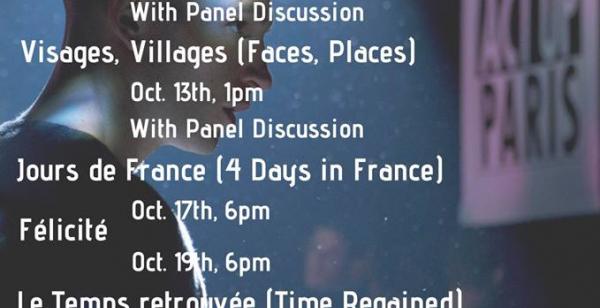 TOURNEES FILM FESTIVAL (MOVIE TOUR FESTIVAL)
Boston University Films selection
October 12th - Early November
Boston University
Tournées Film Festival is a program of the FACE Foundation in partnership with the Cultural Services of the French Embassy, which aims to bring French cinema to American colleges and university campuses. The objective is to raise, with nearly 200.000$ in the festival every year, a future permanent and self-sustaining festival. Founded in 1995 this year is the 23rd season. The festival has partnered with over 600 Universities, reaching an audience of half a million students and community members all across the United States. It reflects the diversity and the richness of French cinema through various genres: fiction, documentary, animation... giving the opportunity for the audience to experience French cinema through a wider lens.
For this event Boston University is planning to screen films like 120 battements par minute; Visages, Villages; Jours de France; Le Temps retrouvé... each followed by Panel Discussion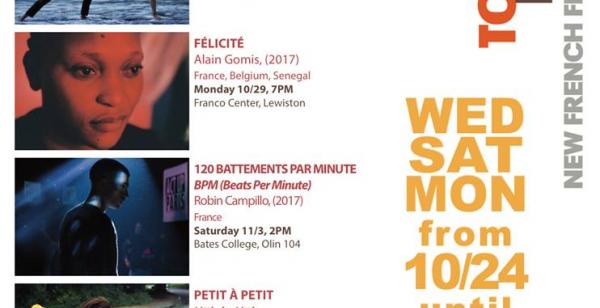 Bates College Films selection
October 24th - November 7th
Bates College Olin 104 or Franco Center, Lewiston
Bates College will also present a selection for the event "Tournées film festival" in cooperation with the Cultural Services of the French Embassy in the US. Followed by a Q&A, films like The Workshop (L'atelier), Felicitéor 120 Battements par minute will be screened either at the Bates College or at the Franco Center in Lewiston