Working Mama Guru
|
author/source:
Lori Mihalich Levin
I am an entrepreneur, lawyer, mama, a leader who turned my pain into purpose. I experienced two stressful back-to-work transitions after my sons were born. I found that there were (appropriately) many resources available to support baby, but seemingly none to support my own transition to working parenthood. I was completely burnt out and found myself crying too many times on the kitchen floor. I kept this struggle private until I was surprised to learn that other mothers in my office were suffering too and no one was talking about how hard the transition back to work after baby could be...
Out of desperation from not being able to find resources to help me navigate parenthood while maintaining my career and also being concerned about the leaky women's leadership pipeline, I decided to do something about it. (Did you know that according to Ovia Health, only 66% of moms return to their employer after parental leave?)
First, I founded a parent group at my office,, and we had many conversations about the struggles we all had coming back to work after parental leave. In 2015, I launched a 4-week e-course called "Mindful Return," which helps new moms, new dads, and parents of special needs children navigate their way back to work and transition from parental leave.
Recently, to combat sadly prevalent maternal wall bias and after hearing from so many parents that their managers were the key factor determining whether their leave and return would go smoothly, I decided to launch a manager training program to recognize and help with this struggle.
I've been leading Mindful Return for 6+ years now, and 75 employers now offer the program as a parental leave benefit. Of the more than 1,000 parents who have been through the program, 85% are still with their same employer, and 93% are still in the workforce. The bottom line is that I am heartened that the work I'm doing truly makes a difference both for employers and in the lives of working parents. I am deeply committed to ensuring parents value the skills they have gain as caregivers, and to preventing the leaky pipeline of amazingly capable women leaders.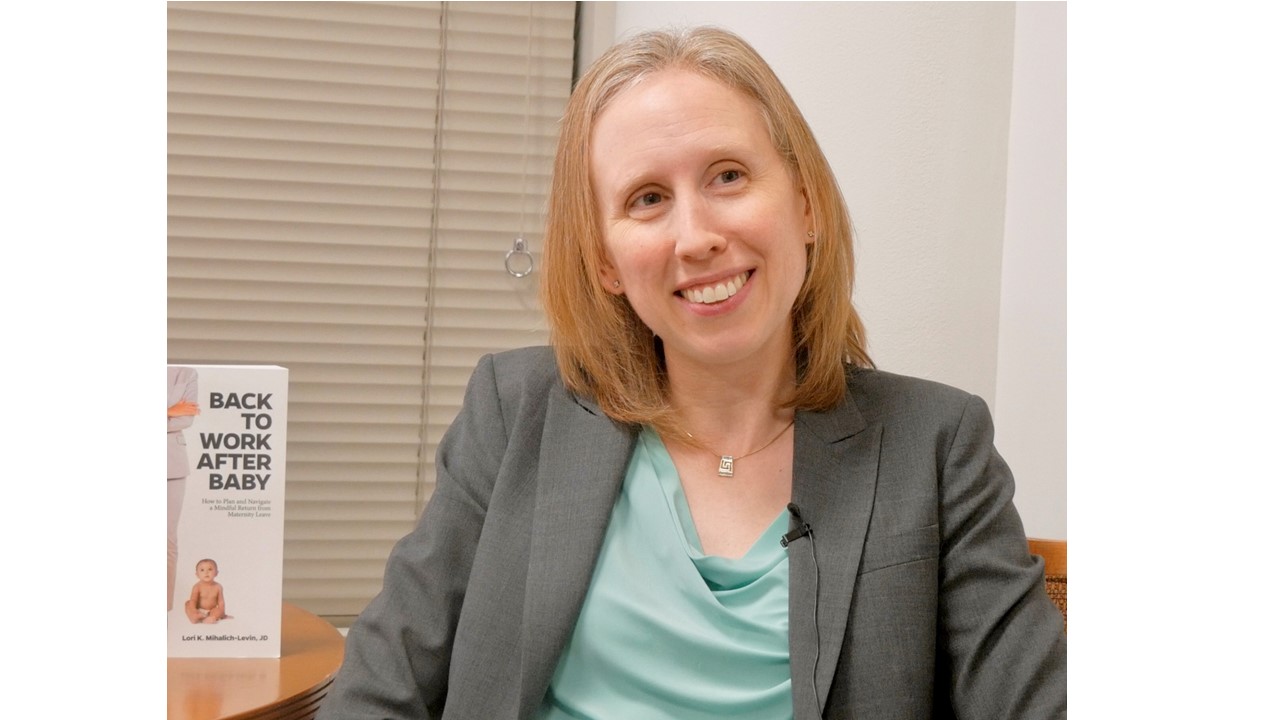 BIO:
Lori Mihalich-Levin, JD, believes in empowering new working parents. She is the founder of Mindful Return, author of Back to Work After Baby: How to Plan and Navigate a Mindful Return from Maternity Leave, and creator of the Mindful Return Maternity Leave E-Course. She is mama to two beautiful red-headed boys (ages 7 and 79) and is a partner in the health care practice at Dentons US LLP. Her thought leadership has been featured in publications including Forbes, The Washington Post, New York Times Parenting, Thrive Global and The Huffington Post.
Called a "working mama guru" by Working Mother Magazine, Lori has been committed to promoting women's equality and leadership throughout her career. Most recently, she founded and served for two years as the Co-Chair of Dentons' Parent Professional Network (now ParentsLEAD). In her prior job, she founded both the Returning to Work Community (RWC) for mothers at the Association of American Medical Colleges (AAMC) who return to work from maternity leave and a D.C. Health Policy Lean in Circle. As an undergraduate at Princeton, she wrote her thesis on immigrant women in France who were victims of domestic violence. At Georgetown Law, she was the co-President of the Women's Legal Alliance and represented clients through the Domestic Violence Clinic.
At Dentons, Lori advises health care clients on issues relating to graduate medical education reimbursement and inpatient and outpatient hospital payment policies. She also served as the Chair of her firm's Flexibility and Parental Leave Task Force. Prior to joining Dentons, Lori worked as the Director of Graduate Medical Education and Hospital Payment Policies at the AAMC, and as a healthcare attorney at Vinson & Elkins, LLP and King & Spalding, LLP.
Lori holds a law degree from the Georgetown University Law Center (check out the Georgetown Alumni Career Spotlight on Lori here) and completed her undergraduate studies at Princeton University's Woodrow Wilson School of Public and International Affairs. Before beginning her health law career, she was a Rotary Ambassadorial Scholar in France, studying at the Institut d'Etudes Politiques d'Aix-en-Provence, and she served as a law clerk to the Hon. Neal E. Kravitz of the Superior Court of the District of Columbia.
Lori loves tickling her cuddly boys, reading them The Book With No Pictures thousands of times, sharing parenting adventures with her amazing husband, building supportive communities, and practicing yoga.
https://www.linkedin.com/in/lorimihalichlevin/
https://www.linkedin.com/company/mindful-return/
https://www.facebook.com/mindfulreturn
https://twitter.com/mindfulreturn
https://www.instagram.com/mindfulreturn/
https://www.pinterest.com/mindfulreturn/
https://podcasts.apple.com/us/podcast/parents-at-work/id1239258343