HUSTLE X SQUARED
|
author/source:
Shana Bryant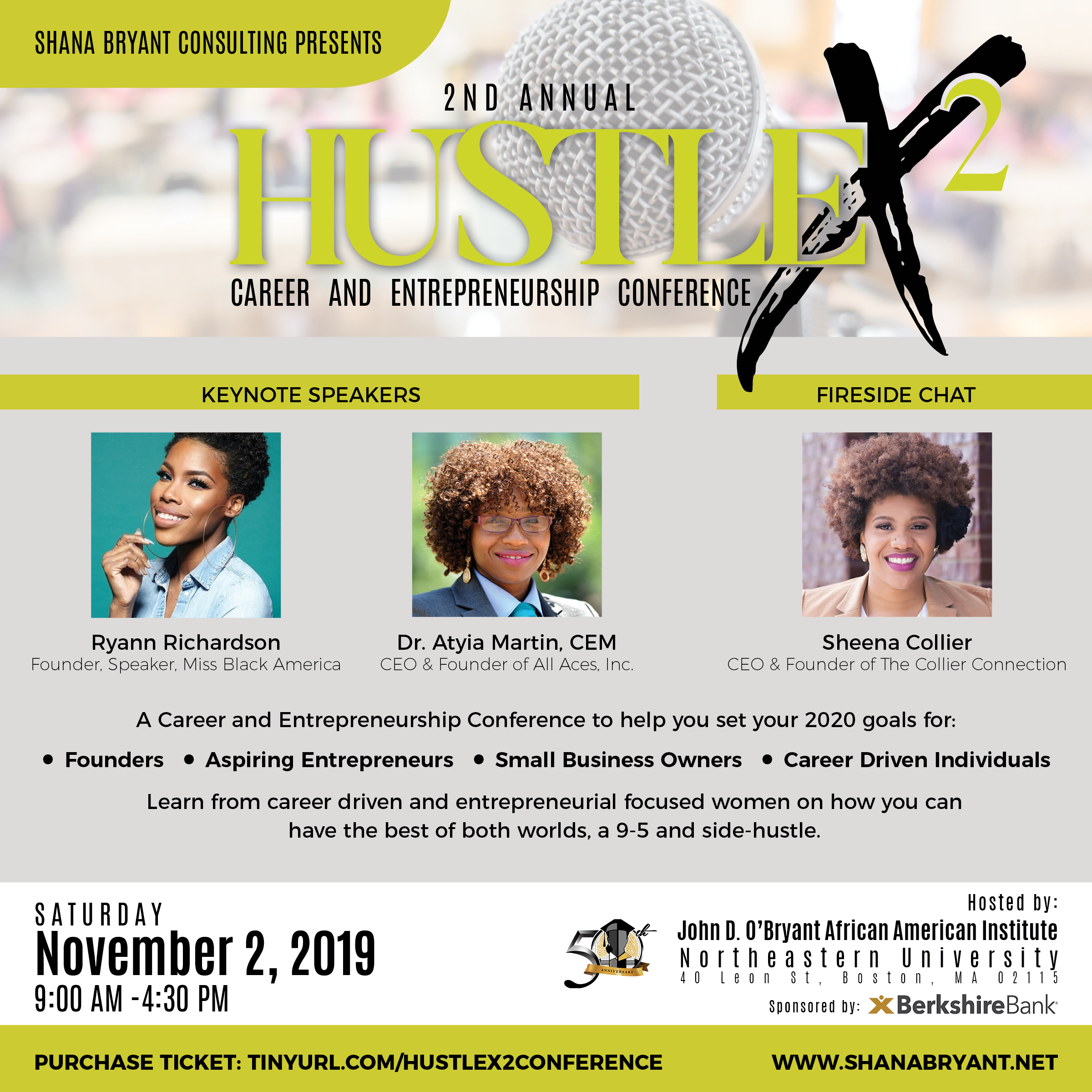 2nd ANNUAL HUSTLEx2: CAREER AND ENTREPRENEURSHIP CONFERENCE
Attendees of HUSTLEx2 Conference will leave with tools and resources to implement their 2020 career and entrepreneurial goals. Bring your best friend or business partner so you can take your career and business to the next level together. Attendees are encouraged to bring resumes, business cards, and ideas.
**Due to limited space attendees are encouraged to register early!!!**
Insight: Building a side hustle is hard but rewarding, especially when you are working a full-time job. Having the ability to identify if you are ready to become an entrepreneur and understand who is in your network, as, well as your "tribe" so you can be successful is crucial. Attendees will also learn how to manage their vision, goals, and priorities.
Career Development: The skills learned as an entrepreneur have tremendous benefits for your career. Sometimes we forget, however, that the abilities we learned and acquired along the way give us a leg up as entrepreneurs. Being able to understand how they are transferable connection points to leverage is vital.
Technical Assistance: Resource panel and table from organizations and institutions that provide educational, financial and guidance to entrepreneurs and small business owners to help them start and grow scalable businesses. The resources will allow aspiring founders to be proactive about their needs as they start to build a business.
Balance: The team #NoSleep movement is a lie and so is the over-emphasis on self-care. Entrepreneurs that succeed know how to be disciplined enough to grow past moments of challenge and frustration, but are self-aware enough to know when to rest. Being physically, emotionally, and spiritually fit is part of the secret sauce to side hustle success. Attendees will learn side hustler secrets to all three.
ATTENDEES WILL LEARN ALL THE ABOVE AT THIS DAY OF EMPOWERMENT!
This conference will answer questions like:
"How do I design a side hustle that works with my schedule but makes money?"

"How do I find customers if I have to work all day and I have a family life?"

"I hate my job, should I quit and start a business?"

"I love my job, but I am still passionate about building a side hustle. What do I do?"

"How do I know when it's time to let my side hustle or my job go?"
CONFERENCE TICKET INCLUDES:
Meet and greet with Ryann Richardson, Miss Black America

Continental breakfast and catered lunch

Resume review (Provided by a Career Coach)

Vision board (all supplies provided)

Goal setting worksheets

A full day of empowerment with Keynote speakers, fireside chat, workshops and panel discussion with organizations and institutions that provide technical assistance.

Raffles prizes

Post-conference networking at Darryls Corner Bar & Kitchen - Includes 1 drink ticket and light appetizers
CONFERENCE SCHEDULE:
REGISTRATION/BREAKFAST: 8:30- 9:15AM
CONFERENCE 9:30 AM-4:30 PM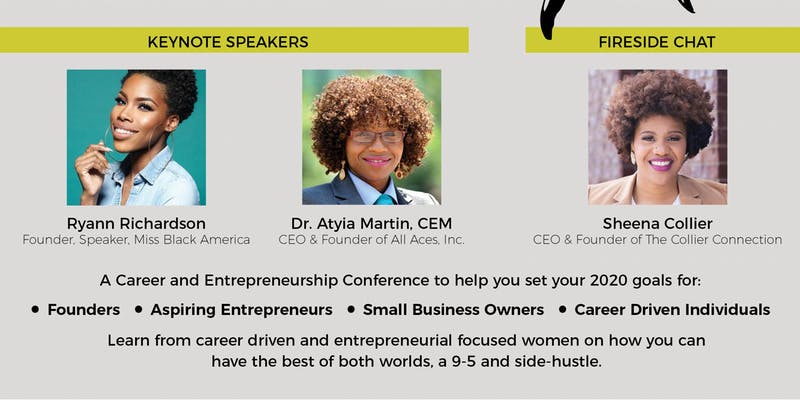 Keynote Speakers
Ryann Richardson, Founder. Speaker. Miss Black America
In 2018, Ryann Richardson made history, becoming the 50th Anniversary Miss Black America. Before that, the tech marketer-turned-founder and Diversity & Inclusion advocate spent 10 years building brands and culture for companies spanning early-stage startups (Victor) to billion-dollar "unicorns" (Uber) to the Fortune500 (T-Mobile/Deutsche Telekom
Dr. Atyia Martin, CEM, CEO & Founder of All Aces, Inc.
Dr. Atyia Martin is currently the CEO & Founder of All Aces, Inc., a social enterprise consulting firm that deals a controlling hand to clients. They accomplish this outcome by activating the power of consciousness, critical thinking, and community to catalyze the transformative action necessary to advance equity and resilience. Most recently, Dr. Martin was the City of Boston's first Chief Resilience Officer appointed by Mayor Martin J. Walsh to focus on making advancing racial equity the foundation of Boston's Resilience Strategy, Resilient Boston: An Equitable, Connected City.
Fireside Chat Speaker
Sheena Collier, Founder & CEO of The Collier Connection
Sheena Collier, CEO & Founder of The Collier Connection, is a super-connector, facilitator, and host. After attending Spelman College in Atlanta, GA, she moved to the Boston area to attend Harvard Graduate School of Education in 2004. Through The Collier Connection (TCC), Sheena is creating a home for content, programming, and physical spaces to enhance the ways that black people experience Boston. TCC is building an ecosystem that connects black people to information, resources, experiences, and each other and teaches you how to find your tribe, activate your network, navigate the city, and have fun.
Morning Workshops:
Transferable Skills - Shemika L. Moore, MBA. Founder/Certified Career Coach, Moore Impactful Career Consulting, LLC

Salary Negotiations and Advocacy - Shanna E. Hines, Human Resource Consultant, and Leader

Build Stuff that Matters - Ryann Richardson, Founder. Speaker. Miss Black America
Afternoon Workshops:
Vision Board and Goal Setting Workshop - Shana Bryant, Founder and CEO Shana Bryant Consulting (all supplies provided)

Collaborative Leadership - Aba Taylor, Racial Equity & Training Practice Lead, Interaction Institute for Social Change

How to align many products or services with your Brand Strategy - Veronica N. Chapman, Founder & Chief Designer, Boxxout Enterprises
Technical Assistance Panel hosted by Berkshire Bank, Malia Lazu, Executive Vice President, Chief Experience and Culture Officer
MEET THE ORGANIZER:
Shana Bryant "Goal Getter", Founder & CEO of Shana Bryant Consulting