Monthly Virtual Events Page
|
author/source:
Membership
Live July 28th @ 12 PM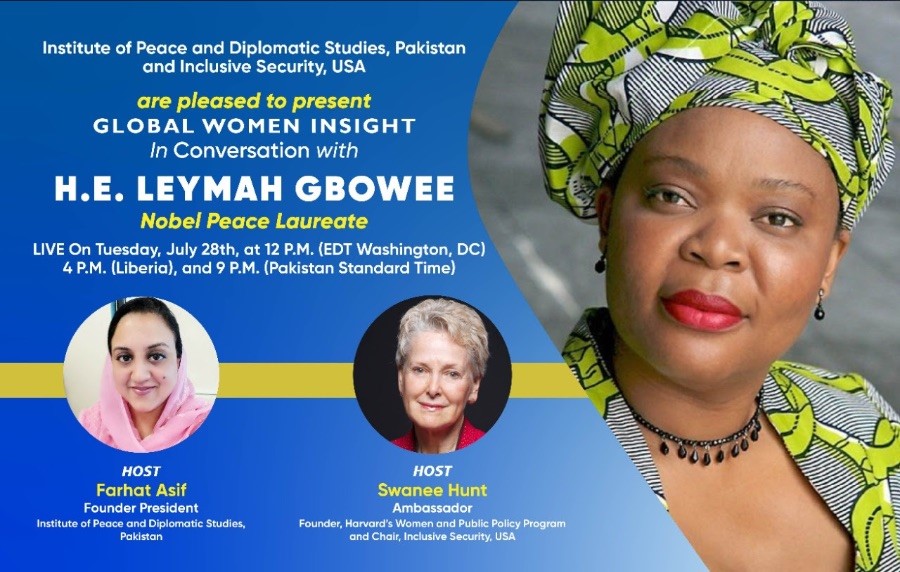 (EDT Washington, DC Time)
The Institute of Peace and Diplomatic Studies, Pakistan and Inclusive Security, USA are pleased to present Global Women Insight in Conversation with H. E. Leymah Gbowee, Nobel Peace Laureate
Host Swanee Hunt
Join us to hear how Liberian women organized a sex strike to end a war. Click here to register.
~~~~~~~~~~~~~~~~~~~~~~~~~~~~~~~~~~~~~~~~~~~~~~~~~~~~~~~~~~~~~~~~~~~~~~~~~~~~~
LIVE, ONLINE CONVERSATION with Elaine Kamarck, author of Picking the Vice President -Wednesday, July 29, 2020
Overjoyed to hear from my brilliant friend Elaine Kamarck, the engine behind a certain American Vice President (Al Gore). Tune in to our conversation! See the invitation below and register here.

During the past three decades, two important things have changed about the U.S. vice presidency: the rationale for why presidential candidates choose particular running mates, and the role of vice presidents once in office. This is the first major book focusing on both of those elements, and it comes at a crucial moment in American history.
Until 1992, presidential candidates tended to select running mates simply to "balance" the ticket, sometimes geographically, sometimes to guarantee victory in a must-carry state, sometimes ideologically, and sometimes for all three reasons.
Bill Clinton changed that in 1992 when he selected Al Gore as his running mate, saying the experience and compatibility of the Tennessee senator would make him an ideal "partner" in governing.
What enabled this change in the vice presidency was not so much the personal characteristics of recent vice presidents but instead changes in the presidential nomination system.
This book appears as Joe Biden prepares to choose his own running mate. No matter who wins the November 2020 elections, what Elaine Kamarck writes will be of interest to anyone following current affairs, students of American government, and journalists whose job will be to cover the next administration.
Featuring:
Elaine Kamarck,
Senior fellow in Governance Studies, Brookings,
Author, Picking the Vice President
Hosted by:
Ambassador Swanee Hunt,
Chair, Hunt Alternatives
Time:
Jul 29, 2020, 04:00 PM in
Eastern Time (US and Canada)
~~~~~~~~~~~~~~~~~~~~~~~~~~~~~~~~~~~~~~~~
FEMININE

POWEr PRESENTS
WOMEN ON THE EDGE OF EVOLUTION
23 Women Leaders, Visionaries, Artists and Change-agents

Reveal their Personal Keys to Authentic Success, Love, and Feminine Power
You came into the world with great purpose and NOW is the time to step forward . . . To rise into visibility, unleash your voice, expand your creativity, and share your unique gifts with the world!

We want to share this exclusive opportunity for the women in our community to join an incredible community of women leaders, visionaries, artists, and change-agents!
~~~~~~~~~~~~~~~~~~~~~~~~~~~~~~~~~~~~~~~~~~~~~~~~~~~~~~~~~~~~~~~~~~
Powerful Women Rise
Who We Are ~ Our team is comprised of women within our surrounding communities who want to build their business connections while simultaneously evolving on a personal level. We are all about supporting ourselves, our businesses, and our futures. Our simple yet powerful team meeting style helps us support each other during our personal and professional journeys.
Plymouth 1st Thursday of the Month (August 6th)
Braintree 2nd Thursday of the Month (August 13th)
Taunton 3rd Thursday of the Month (August 20th)
Cohasset 4th Thursday of the Month (August 27th)
CLICK HERE for more information
~~~~~~~~~~~~~~~~~~~~~~~~~~~~~~~~~~~~~~~~~~~~~~~~~~~~~~~~~~~~~~

POLKA DOT POWERHOUSE
Our August Meetings
In August, Carlee Myers will speak on Alternative Ways to Reduce Stress: One Size Does NOT Fit All".
Meeting Dates for August are:
Wednesday, August 5th (Evening)
Thursday, August 6th (Lunch)
These meetings are planned via the Zoom platform. We will return to in-person meetings when it is declared safe to do so by the state.
Register HERE or on the Hanover Area Chapter page of the Polka Dot Powerhouse website to attend. Zoom links will be sent via email to the email address associated with your membership shortly before the meeting.