Delicious and Delightful Carrot Cake Twists for Easter
|
author/source:
StatePoint Media and McCormick Brands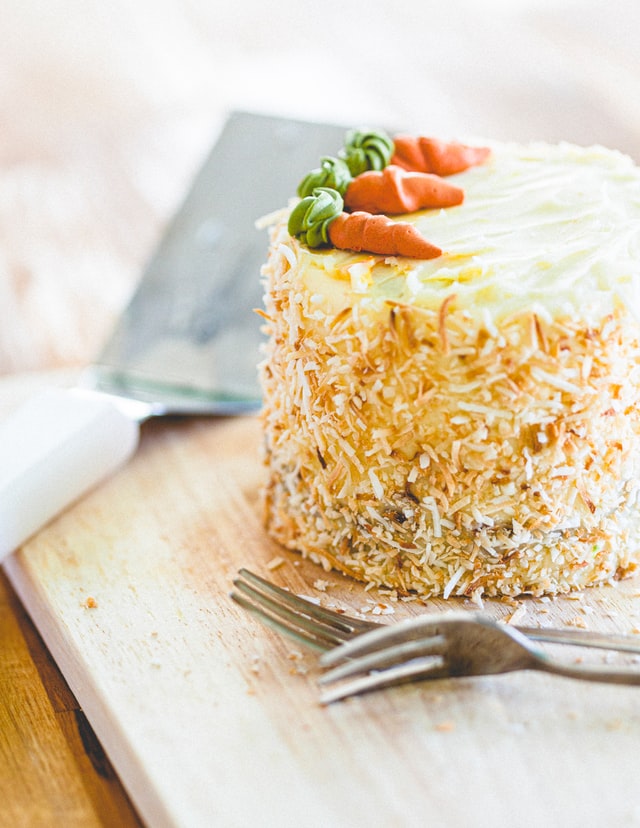 Carrot cake has been an Easter staple for years, so why not serve some fun takes on this popular dessert for your celebration?
With Easter landing on International Carrot Day, April 4, John Kanell, culinary expert and founder of Preppy Kitchen, partnered with McCormick spices to create exclusive Easter dessert recipes that put a delightful twist on the classic carrot cake.
"Growing up, desserts were always the highlight of Easter, with my mother and grandmother making wonderful carrot cakes from scratch," says John Kanell.
Because carrot cake brings back great memories, Kanell wanted to channel that nostalgia, while adding whimsical touches. His resulting creations are fun, family-friendly, and beyond-delicious.
As darling as they are tasty, Carrot Cake Cookies bring all the flavors of carrot cake in a fun, handheld way that allows the whole family to get involved in the kitchen. Big and little kids alike can help frost and decorate!
Make room at the dessert table for Carrot Cake Roll with Lemon Cream Cheese Filling – a fluffy spiced cake loaded with carrots and the warm flavor of McCormick spices. Rolled up with a light and airy lemon and cream cheese filling, it's a sweet way to celebrate the season.
"As a nod to my Greek heritage, my family always incorporated lemon into our dessert recipes. Adding it to the cream cheese filling provides a bright complement to my slightly sweet and tender Carrot Cake Roll recipe," says Kanell.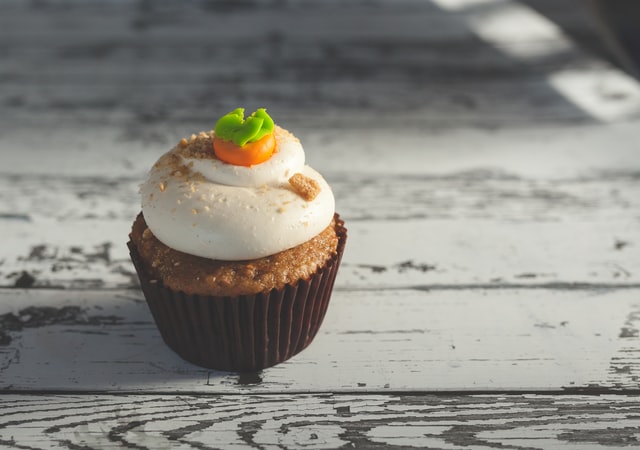 Kanell is also sharing his top baking tips for success.
• Feature carrots front-and-center in desserts. Beyond their beautiful orange color, they add moisture to baked goods.
• Too much flour makes for dense, gummy baked goods. Always measure your flour correctly by using a scale or fluffing the flour and sprinkling it into your measuring cup before leveling off.
• Don't over-mix your batter. It will activate the gluten in the flour and cause your baked goods to go from tender and airy to tough and overly chewy. Mix your dry and wet ingredients until just combined.
• Use room temperature butter and cream cheese – left out of the refrigerator for about 30 to 60 minutes. They should show a slight indent when pressed, yet still, hold shape. Remember that consistency is important when creaming butter with sugar and it should be visibly fluffy and not cling to the side of your mixing bowl.
• Stock your spice rack with McCormick pure vanilla extract, cinnamon, ginger, allspice, and nutmeg so it is ready for all your baking needs. Spring is all about nature waking up after a long slumber and these essential spices brighten and add warmth to seasonal dishes.
• Even if your little ones are too young to make a recipe, they can still help measure, mix and combine ingredients, and of course decorate cakes, cupcakes, and cookies.
For these exclusive Easter carrot cake-inspired recipes, crafting ideas for kids and kids-at-heart, and everything else you need to complete your Easter celebration, visit www.mccormick.com/easter.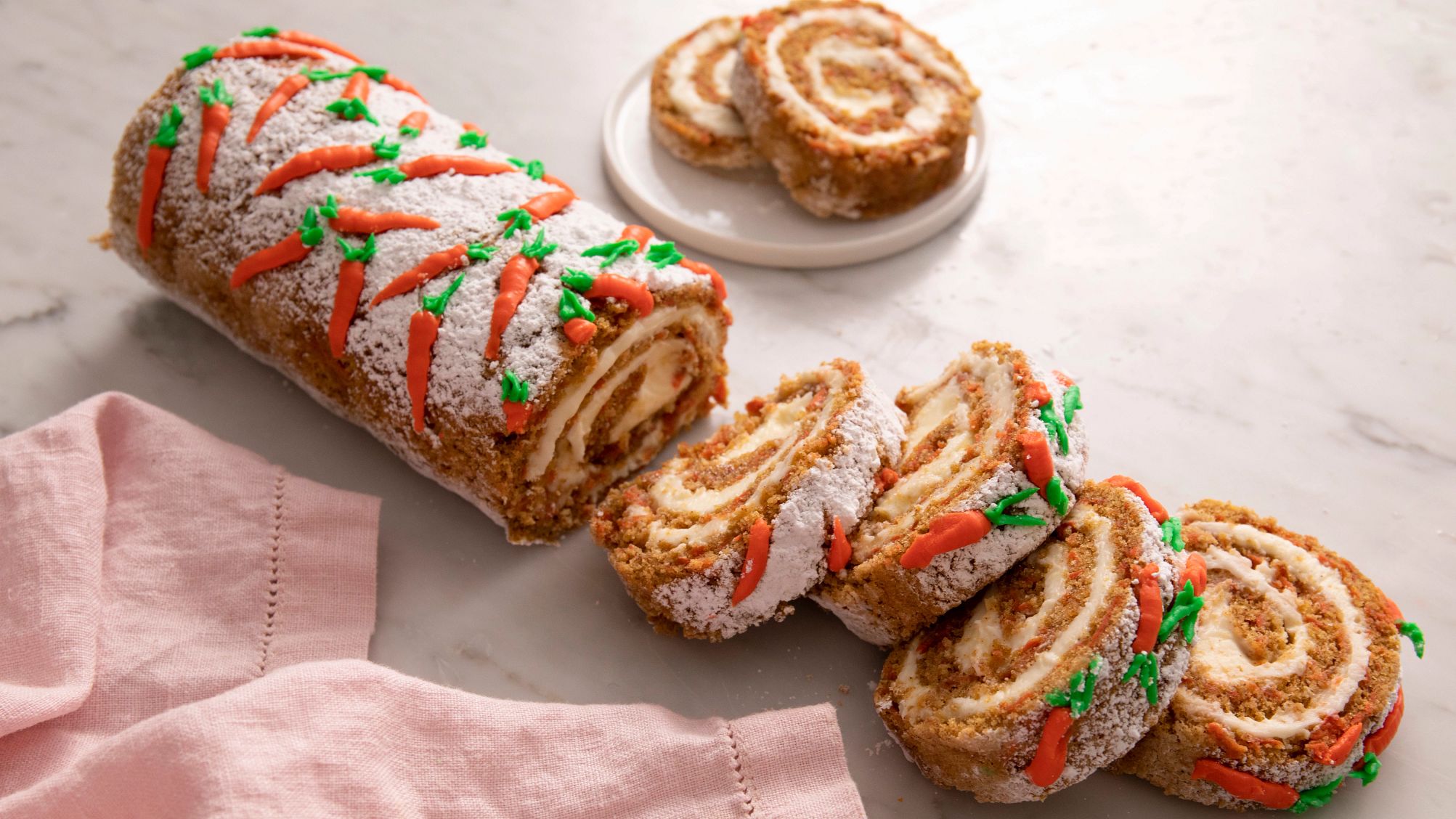 With delicious takes on the classic carrot cake, your family can hit the sweet spot between nostalgia and whimsical fun this Easter.
DESSERT
JOHN KANELL'S CARROT CAKE ROLL WITH LEMON CREAM CHEESE FILLING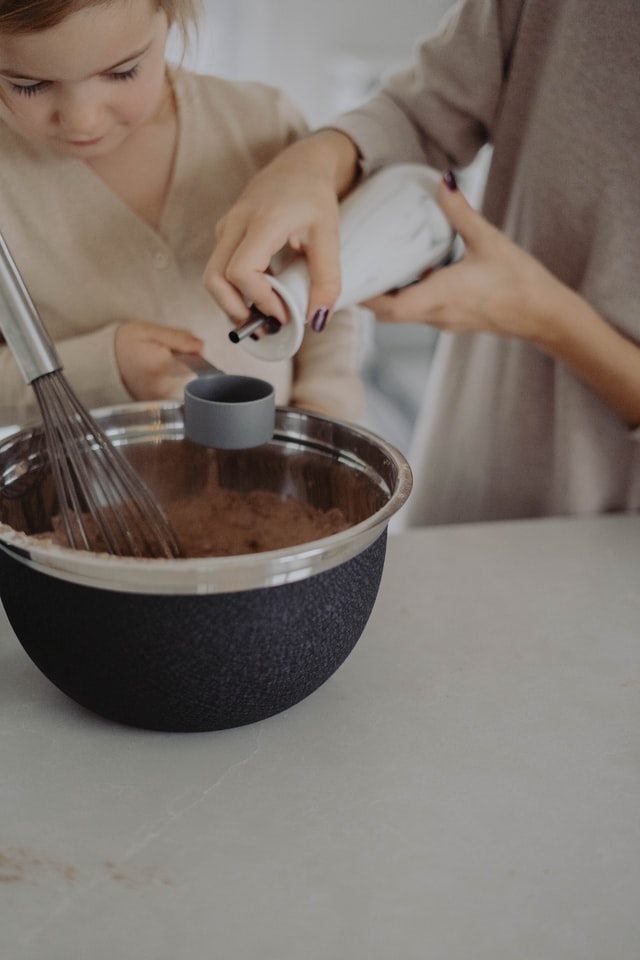 Make room at the dessert table for this fluffy spiced cake loaded with carrots and the warm flavor of McCormick® spices. Rolled up with a light and airy lemon and cream cheese filling, it's a sweet way to celebrate the season. Recipe and photo credit: John Kanell @preppykitchen.
20m PREP TIME

15m COOK TIME

19 INGREDIENTS

12

Servings
CARROT CAKE ROLL
3/4 cup flour

2 teaspoons

Ground Cinnamon

1/2 teaspoon

Ground Allspice

1/2 teaspoon

Ground Nutmeg

1/4 teaspoon

Ground Ginger

1 teaspoon baking powder

1/2 teaspoon salt

3 eggs

2/3 cup granulated sugar

2 teaspoons All Natural Pure Vanilla Extract

2 cups shredded carrots, (about 2 to 3 medium carrots)

2 teaspoons vegetable oil

2 tablespoons confectioners' sugar, plus more to serve
LEMON CREAM CHEESE FILLING
1 package (8 ounces) cream cheese, softened

1/2 cup (1 stick) butter, softened

1 teaspoon All Natural Pure Vanilla Extract

1/2 teaspoon Pure Lemon Extract

2 cups confectioners' sugar, sifted, plus more for serving

Assorted Food Color & Egg Dye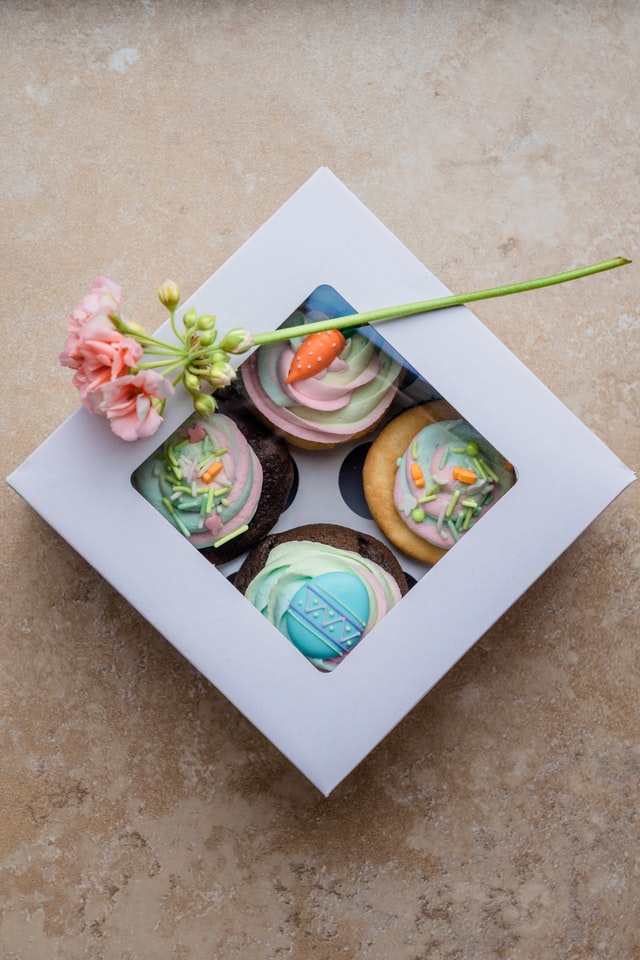 DIRECTIONS
Preheat oven to 375°F. Line 15x10x1-inch baking pan with parchment paper, extending paper 1-inch past ends of the pan to use as handles. Sift flour, spices, baking powder, and salt into a medium bowl; set aside. Beat eggs, sugar, and vanilla in a large bowl with an electric mixer at high speed for about 5 minutes or until very thick and pale in color, scraping sides of the bowl occasionally. Stir in carrots and oil. Gradually add flour mixture, stirring just until blended. Spread batter evenly in the prepared pan.
Bake 13 to 15 minutes or until a toothpick inserted in the center comes out clean and the center springs back when pressed lightly.
Place a clean kitchen towel on the work surface; dust with 2 tablespoons confectioners' sugar. Loosen cake around sides of pan with a small knife. Turn out onto the sugared towel, parchment paper side up. Fold 1 side of the towel over the short side of the cake, then roll up the cake jelly-roll style. Cool cake completely on wire rack.
For the Frosting, beat cream cheese, butter, and extracts in a large bowl with an electric mixer on medium speed until well blended. Gradually add confectioners' sugar, beating well after each addition, until smooth. Reserve 1/4 cup frosting; set aside for decorating.
Unroll cake onto towel. Peel off parchment. Spread remaining cream cheese frosting evenly over cake, leaving a 1/2-inch border unfrosted. Using a towel, roll up the cake and place seam-side down on a large sheet of plastic wrap. Wrap cake firmly to keep the shape. Refrigerate for 1 hour to allow frosting to set.
Divide reserved frosting evenly into two separate small bowls. Tint one bowl green (1 drop Green Food Color) and one bowl orange (1 drop Red + 2 drops Yellow Food Color). Transfer tinted frosting to piping bags fitting with a medium round tip. Remove cake from plastic wrap and place seam-side down on a serving platter. Dust cake with confectioners' sugar and pipe carrot shapes on top and sides, as desired, using tinted frosting.
Decorating Tip: To pipe the icing carrots, start with the thick top of the carrot and finish with the pointy part. Squeeze a bit more at first, then release and pull the tip away after you've stopped squeezing the piping bag. Then pipe little green leaves on top of the carrot, using a small leaf tip, if desired, or simply snip the tip off your piping bag and decorate away!