Best Friends Pear Tart
|
author/source:
Carol, Susan, Cathie and Diane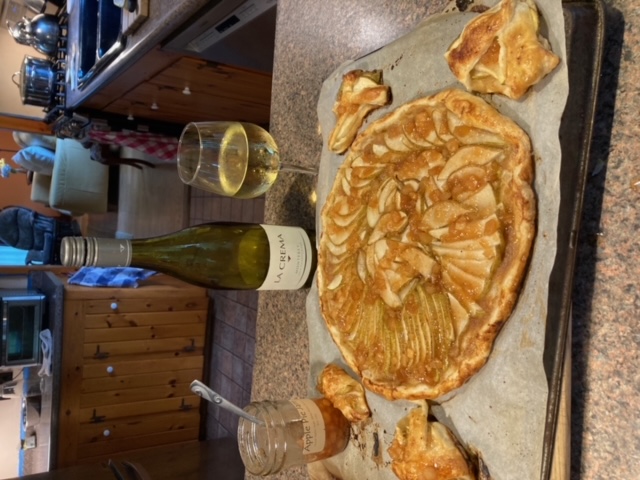 This past weekend, some friends and I met for a long-awaited mini-vacation at a friend's house in Maine. It was an amazing time, and I was so happy to see everyone. I think I may have said that multiple times. We walked in the woods, we sat and talked and talked, we drank wine and we cooked for ourselves. One of the recipes we decided to create was a pear tart because there were pears in a tree out in the yard. After searching and finding a pear recipe, we found that the pears in the yard weren't quite ready for picking so we went shopping to purchase the pears, puff pastry, apple jelly, and whipped cream, and a little more wine to create our own masterpiece. Here is that pear tart. I shared pictures on Facebook while we were creating it and got such a great response, I decided to share it here in the magazine too.
For the apple Jelly, we did a walk around Naples, Maine, and came upon the cutest little shop called Tasteful Things, they had a homemade apple pie jam, that we thought would be perfect for our tart. We stopped at the Umbrella Factory Supermarket (UFO) for the wine, pears, apple sauce, and whipped cream.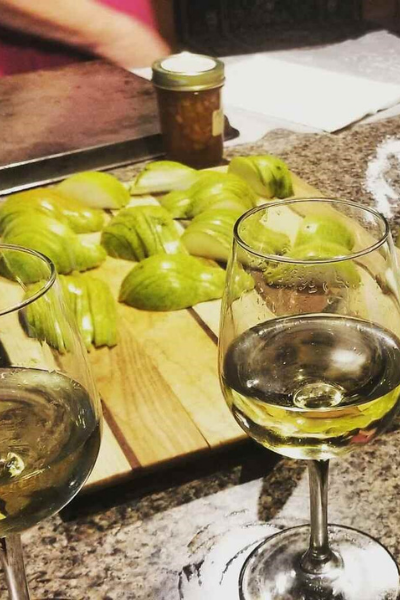 INGREDIENTS
FOR TART
1 store-bought puff pastry sheet

½ cup (120 ml) unsweetened apple sauce

¼ tsp (1.25ml) cinnamon

3 ripe pears of any kind will do

1 tbsp (15 ml) sugar

2 tbsp (30 ml) apple jelly, heated in the microwave to become liquefied (:30)

1 egg
CREAM TOPPING:
1 Can of Whipped Cream, or vanilla ice cream, or you can make your own whipped cream.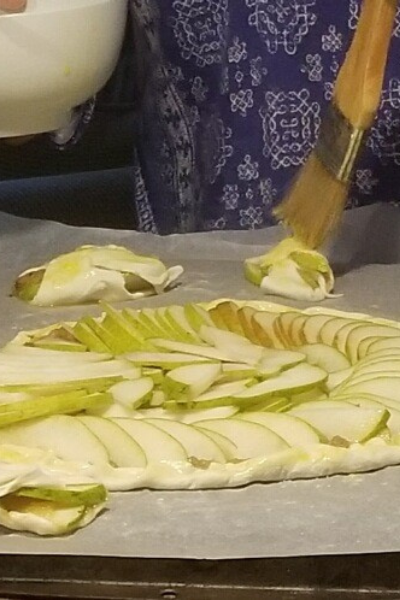 INSTRUCTIONS
Pour yourself a nice glass of wine. We chose La Crema Chardonnay a perfect match.

Preheat oven to 400F (200C).

Roll out puff pastry on a rimless cookie sheet or flip a rimmed cookie sheet upside down and line with parchment paper. Place a plate that has been floured on top of the pastry that is at least 1-2 inches smaller than the pastry round.

Score around the perimeter of the plate to create at least a 1-2" "crust". Mix the apple sauce and cinnamon. Spoon this mixture across the center circle creating a base for your tart. Do not go into the crust area.

Slice off all sides of the pears, avoiding the core, in 1 slice motions. You will have 4 pieces, and you will be left with the core.

Put the hip cut pears flat side down and slice very thin, ⅛" thick slices. Keep the sliced pears in order and arrange the pear slices exactly as they are creating an escargot pattern around the tart.

Reserve the smaller pear cuts to create a splayed pear fan for the center. Place those in the center and fill in your overall design with any other of the pear slices.

Use the excess pastry pieces and pears to create smaller tarts using the left-over pear pieces where they will fit.

After forming the pear circle, go around your outside 1-inch crust and roll it to the pears making a surrounding crust. Then take your egg, beat it for the egg wash, and paint on all of the crust surfaces lightly.

Bake for 30-35 minutes.
Once the tart has cooked, melt the Apple Jelly and lightly spread over the top of the tart, add your whipped cream. We also added a little more apple jelly on top of the whipped cream. We had it before dinner, after dinner, and for breakfast. It was light and delicious! You can use different variations of fruit and jelly's. Here is another one we created using strawberries along with the pears and pear jelly.
Part of this recipe came from "Entertaining with Beth"