Approaching Film: My First Hooptober Halloween
|
author/source:
Honey Swan
Heard of Letterboxd? I didn't until late last year when the site's number of users doubled. As an avid lover of movies, a social-media site that connected people based on their taste in film appealed to me immediately. Letterboxd allows you to rate, review, and log the movies you've seen, while also allowing users to add films to their watchlist and make lists of their favorites.
I've been casually logging movies since I downloaded the app but stumbled on a long-standing trend just in time for Spooky Season: Hooptober. I quickly learned Hooptober is a staple among frequent Letterboxd users. Horror lovers plan their entire month of viewing around the current year's rules, rating and reviewing each movie. As a newbie to the dedicated and knowledgeable fanbase, I decided this would be a great way to introduce myself to so much of the horror I've been missing out on. However, if you're well-versed when it comes to horror, this chall
enge is still definitely for you.
Hooptober diversifies viewing and reminds me of curations from film classes I've taken, The Criterion Channel collections, and series from Nashville's Belcourt Theatre. The rules encourage foreign films, films by women, and black-led films while introducing you to a variety of types of horror and cementing it all within the context of film history.
I've lived my life through movies but only recently started watching horror in the intentional way I've approached other genres. With that in mind, I decided to double the trouble in the spirit of Halloween and under the guidance of Hooptober and Letterboxd, with total disregard for the official rules' extra credit. Make it your own, after all!
If this interests you, I encourage you to get in on the action with the rules below. On Letterboxd, you can find all the inspiration you need for what films to include without the hassle of googling examples. You can see my list and their related ratings and reviews @hrswan on Letterboxd. For those of you uninterested in the app but excited about the approach, I've included the 62 film list I've been gnawing at since the beginning of September.
Happy hunting!
Hooptober 2021 Rules:
8 Decades

6 Countries

4 films from 1981

3 films with a POC as director or lead actor (excluding Asian)

3 Asian Horror Films

2 Folk Horror

2 films from your birth year

2 haunted house films

2 Hammer Films

The worst part 2 film that you haven't seen before and can access

1 film set in the woods

1 Kaiju or Kong film (Not the new Godzilla vs. Kong)

1 film by Tobe Hooper, because there must always be a Tobe Hooper film

EXTRA CREDIT: Watch

JD's Revenge

,

The Skull

, and

The Scooby-Doo Project
Honey's List: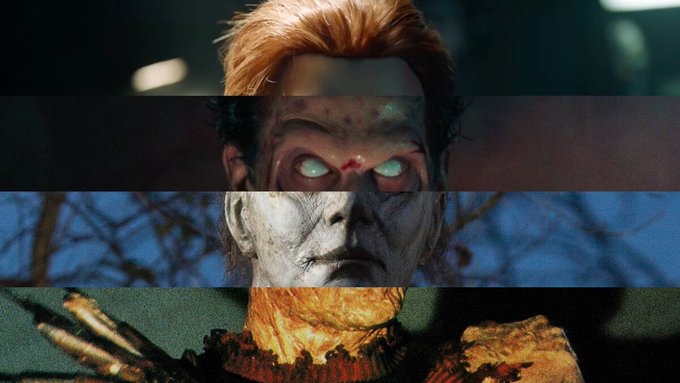 1922

Haxan

1928

The Man Who Laughs

1932

Freaks

1933

The Invisible Man

1935

Mad Love

1942

Cat People

1943

I Walked with a Zombie

1953

Creature from the Black Lagoon

1953

House of Wax

1954

Godzilla

1958

Horror of Dracula

1960

Black Sunday

1968

The Devil Rides Out

1970

I Drink Your Blood

1971

Daughters of Darkness

1972

Sisters

1972

Blacula

1973

The Crazies

1973

The Messiah of Evil

1974

Symptoms

1975

Deep Red

1976

The Witch Who Came From the Sea

1977

Suspiria

1978

The Fury

1979

The Amityville Horror

1980

Possession

1981

The Funhouse

1981

An American Werewolf in London

1981

Dead and Buried

1981

My Bloody Valentine

1982

The Thing

1983

Sleepaway Camp

1984

Night of the Comet

1985

Demons

1986

The Fly

1987

The Slumber Party Massacre

1987

Street Trash

1987

StageFright Aquarius

1988

They Live

1989

The Woman in Black

1990

Mirror Mirror

1990 Tremors

1993 Cronos

1993 Freaked

1995 Tales from the Hood

1998 Blade

1999 Audition

2000 Ginger Snaps

2001 The Devil's Backbone

2002 American Psycho 2

2003 A Tale of Two Sisters

2014 It Follows

2018 Climax

2018 Slice

2019 Atlantics

2020 Slaxx

2020 My Heart Can't Beat Unless You Tell It To

2020 Fried Barry

2021 In the Earth

2021 Candyman

2021 The Boy Behind the Door

2021 Lamb
Honey Swan is a Nashville native in Greater Boston. Movie lover. Lady Coder. Sci-fi aficionado. Cat mom.