Women in History - Angelica Salas and Diane Paulus
|
author/source:
Renée Greene
March is National Women's History Month
In 1987 the US Congress designated March as National Women's History Month. This creates a special opportunity in our schools, our workplaces, and our communities to recognize and celebrate the often-overlooked achievements of American women. Each year there is a special Theme and women whose lives exemplify that theme are selected as National Honorees.
NEVERTHELESS SHE PERSISTED:
Honoring Women Who Fight All Forms of Discrimination Against Women
National Women's History Project's 2018 Honoree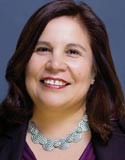 Angelia Salas is a key strategist and leader in the national movement for immigrant rights and policy reform. She works at the local, state, and national level to build coalitions among unions, faith groups, and students and seeks to give voice to the lives and experiences of individual immigrants. Salas is also working to recruit and train the next generation of activists.
Since becoming Executive Director of the Center for Humane Immigrant Rights (CHIRLA) in 1999, Angelica Salas has spearheaded several ambitious campaigns locally, state-wide, and nationally. She helped California become a pro-immigrant state by winning in-state tuition and financial aid for undocumented immigrant students and established day laborer job centers that have served as a model for the rest of the nation. She led efforts to allow all California drivers to obtain a driver license and is a leading spokesperson on federal immigration policy as an active member of FIRM (Fair Immigrant Rights Movement) and RIFA (Reform Immigration FOR America).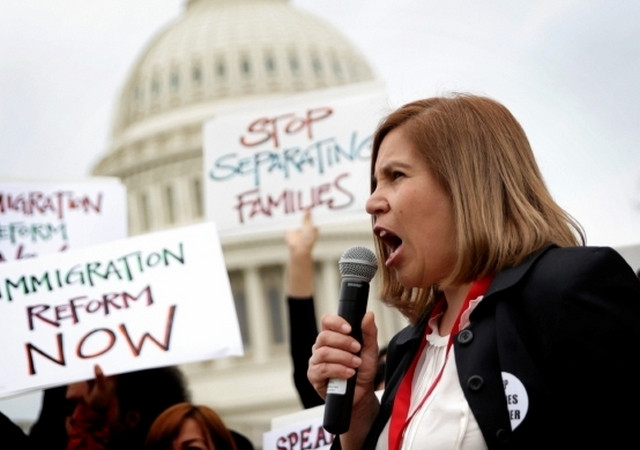 Under Salas's leadership, CHIRLA and its partners across the country have built the foundation for the upsurge in immigrant rights activism. As part of FIRM, Salas helped convene a coalition of organizations in California and across the country which have successfully mobilized millions of immigrants to demand comprehensive immigration reform including legalization with a path to citizenship, family reunification, and the protection of civil and labor rights.
One of Salas's greatest accomplishments at CHIRLA has been the transformation of a coalition of social service providers into an organization that empowers immigrants to engage in advocacy on their own behalf. In this respect, she has blazed a pioneering trail among immigrant coalitions around the country and has propelled other immigrant rights groups to follow her lead.
She comes by her understanding of the immigrant experience firsthand. As a five-year-old, Angelica Salas came to the U.S. from Mexico to rejoin her parents who had come to the U.S. to find work and better provide for their family.
DIANE PAULUS
Diane Paulus and her husband, Randy Weiner, along with a few other theater school graduates established a small theater troupe in New York City called Project 400 Theatre Group. With Project 400, Paulus and Weiner specialized in creating avant-garde musical productions which married classic theater and modern music. Her first production with the group was a rock version of Shakespeare's The Tempest. Other productions included an R&B Phaedra and a hip-hop Lohengrin. In collaboration with Weiner, Paulus co-created The Donkey Show, a disco adaptation of A Midsummer Night's Dream which ran off-Broadway from 1999 to 2005.Critics cited the production as an example of a trend in which edgy avant-garde theater had become fashionably mainstream. It continues to run in Harvard Square.
Named the artistic director of the American Repertory Theater (affiliated with Harvard University) Paulus was chosen of the position after a 16-month search to replace Robert Woodruff in an effort to revitalize the program. Paulus' first production was a revival of The Donkey Show. Paulus previously taught courses at Columbia University and Yale University. Paulus was selected by the magazine American Theatre as one of the 25 theatre artists who were asked to share their vision of coming developments in the next 25 years in the theatre world. In her comments she talks about her goal to "revolutionize" the theatre experience by making it more interactive, letting the audience participate and making theatre content more "open source." She has also argued that theater has the power to make people more compassionate and cooperative citizens.[11]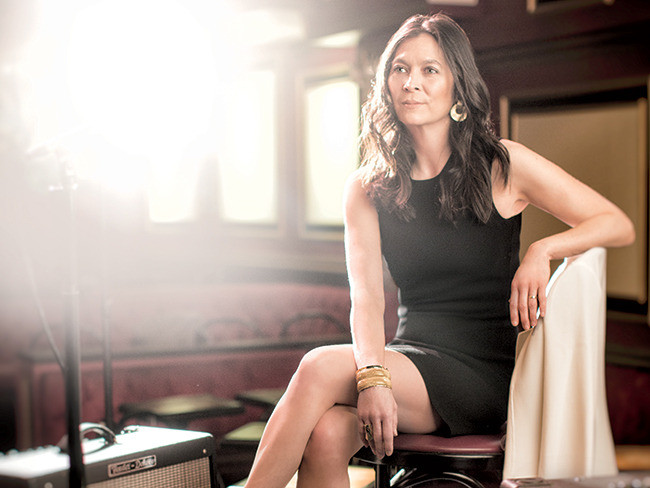 In 2010, Paulus directed Il mondo della luna (The World on the Moon), an opera by Joseph Haydn, in the Hayden Planetarium at the American Museum of Natural History. A Gotham Chamber Opera, in partnership with the Museum and in association with American Repertory Theater, Paulus' production fused live opera and stargazing using the 180-degree dome with projections courtesy of NASA.[12]
Paulus was slated to direct Paul Simon's The Capeman at the Delacorte Theatre in Central Park for the Public Theater in August 2010.[13]
In 2011 she staged a production of the Gershwin opera Porgy and Bess at the American Repertory Theater, which moved to Broadway in 2012. The production was nominated for 10 awards in the 2012 Tony Awards, winning Best Revival of a Musical and Best Performance by a Leading Actress in a Musical for Audra McDonald. The production ran through September 23, 2012.[14] It played 322 performances, 17 more than the 1953 revival, making it the longest-running production of Porgy and Bess on Broadway.[15]
In 2012, Paulus directed a production of Pippin for the American Repertory Theater. She cast a woman, Patina Miller, in the part of Leading Player, originated by Ben Vereen. The production opened on Broadway at the Music Box Theatre on Broadway, on April 25, 2013.[16] Paulus won the Tony Award for Best Direction of a Musical, becoming the third woman to win the award after Julie Taymor in 1998 and Susan Stroman in 2001.[17]
In 2015, Paulus directed the musical Waitress, based on the 2007 film of the same name, written by Adrienne Shelly. The music was written by six-time Grammy Award-nominated singer-songwriter, Sara Bareilles. The production was notable after it moved to Broadway and became the first Broadway musical with an all-female creative team.[18] The musical was nominated for four Tony Awards and the Grammy Award for Best Musical Theater Album. It is currently on Broadway at the Brooks Atkinson Theater and on US National Tour. Up next from Boston to Broadway, The White Card. Don't miss it!
* © National Women's History Project | P.O. Box 469, Santa Rosa, CA 95402
** Wikipedia