Women Pioneer Series - Betsy Ross
|
author/source:
Cathie Briggette

Despite a lack of credible evidence, according to legend, Betsy Ross made the first American Flag and remains an icon of American history. Betsy is perhaps the best-known public figure from the American Revolutionary era who wasn't a general, statesman, or president.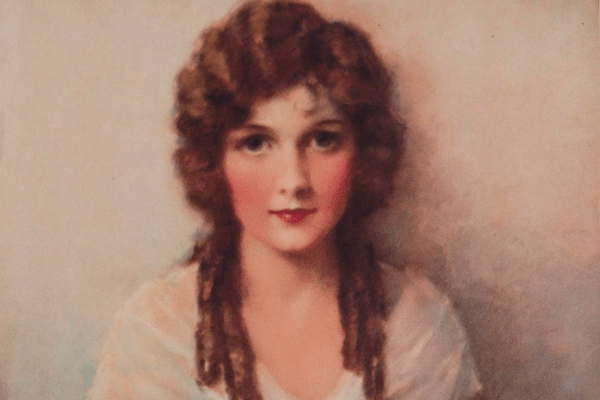 Betsy was a fourth-generation American Quaker, born in 1752 in Gloucester City, New Jersey. She and her family moved to Philadelphia when she was a toddler.* She was born Elizabeth Griscom, she was the 8th of 17 children. At 17 years old, while apprenticing with a local upholsterer, she met John Ross, an Anglican. And though marrying outside one's religion was strictly off-limits, Betsy eloped with John in 1773 when she was 21 years old, and they were married at Hugg's Tavern in Gloucester City, New Jersey. The marriage caused a spilt from her family and expulsion from the Quaker congregation.
She and her husband John, opened their own upholstery business in Philadelphia, and 2 years after their marriage, in 1775 the American Revolution broke out, her husband John was a member of the local Pennsylvania Provincial Militia in Philadelphia and was assigned to guard munitions. John was killed by an explosion of gunpowder, while on militia duty at the Philadelphia waterfront. Betsy kept his property and kept up the upholstery business, working day and night to make flags for Pennsylvania Provincial Militia.
During the conflict, the British appropriated her house to lodge soldiers. Through it all Betsy managed to run her own upholstery business (which she continued operating for several decades after the war) and after the soldiers left, she wove cloth pouches which were used to hold gunpowder for the Continentals.
In late May or early June of 1776, according to Betsy, she had the fateful meeting with the Committee of Three: George Washington, George Ross, and Robert Morris which led to the sewing of the first flag. Betsy would often tell her children, grandchildren, relatives, and friends of this fateful day when the three members of a secret committee from the Continental Congress came to call upon her, asking her to sew the first flag. This meeting occurred in her home. George Washington was then the head of the Continental Army, Robert Morris, was an owner of vast amounts of land and was perhaps the wealthiest citizen in the colonies and Colonel George Ross was a respected Philadelphian and also the uncle of her late husband John.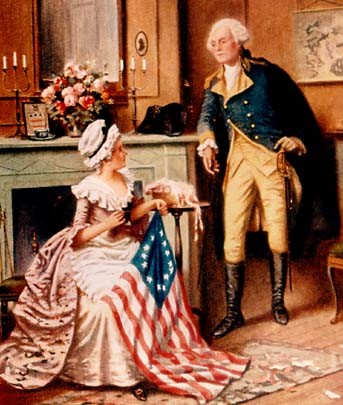 At the time, Betsy was a widow and struggling to run her own upholstery business, where she did furniture upholstering, and also a manner of sewing work for some including making flags. According to Betsy, George Washington showed her a rough design of the flag which included a six-pointed star. Betsy demonstrated how to cut a five-point star in a single snip with the scissors, impressing the committee, who then entrusted Betsy with making our first flag. She finished the flag before July of that year when the Declaration of Independence was read aloud for the first time at the Independence Hall in Philadelphia.
On June 14, 1777, the Continental Congress, seeking to promote national pride and unity, adopted the flag. "Resolved: that the flag of the United States is thirteen stripes, alternate red and white; that the union is thirteen stars, white in a blue field, representing a new constellation.
On June 15, 1777, Betsy married Joseph Ashburn, a sailor with the American Revolution, but he also met an unfortunate end 5 years later in 1781, when the ship he was on was captured by the British, and he died in prison the next year. They had 2 daughters, Zilla who died at 9 months of age, and Eliza.
In 1783, Betsy married for the 3rd time, John Claypoole, whom she had met when he came to deliver her 2nd husband Joseph's farewells. John had been in prison with Joseph. The couple had five daughters: Clarissa, Susanna, Jane, Rachel, and Harriet (who died in infancy). With the birth of their second daughter Susanna in 1786, they moved to a larger house on Philadelphia's Second Street, settling down to a peaceful post-war existence.
Research conducted by the National Museum of American History of the Smithsonian Institution in Washington, D.C. notes that the story of Betsy Ross making the first American flag for General George Washington entered into American consciousness about the time of the 1876 Centennial celebrations, with the Centennial Exposition then scheduled to be held in Philadelphia. In 1870, Ross's grandson, William J. Canby, presented a research paper to the Historical Society of Pennsylvania in which he claimed that his grandmother had "made with her hands the first flag" of the United States. Mr. Canby said he first obtained this information from his aunt Clarissa Sydney (Claypoole) Wilson in 1857, twenty years after Betsy Ross's death. Canby dates the historic episode based on General Washington's journey to Philadelphia, in the late spring of 1776, a year before the Second Continental Congress passed the first Flag Act of June 14, 1777.
http://www.ushistory.org/betsy/
https://www.biography.com/people/betsy-ross-9464205
https://en.wikipedia.org/wiki/Betsy_Ross#cite_note-31
https://web.archive.org/web/20141012151557/http://www.ushistory.org:80/betsy/flagtale.html
What do the colors of the Flag mean?
"The colors of the pales (the vertical stripes) are those used in the flag of the United States of America; White signifies purity and innocence, Red, hardiness & valor, and Blue, the color of the Chief (the broad band above the stripes) signifies vigilance, perseverance & justice." ~ http://www.usflag.org/colors.html
*See: (1) Timmins, William D. "Betsy Ross: The Griscom Legacy." Salem County, N.J.: The Salem County, N.J., Cultural and Heritage Commission through the auspices of The Salem County Board of Chosen Freeholders. 1983. p. 127, and (2) Harker, John Balderston. "Betsy Ross's Five Pointed Star: Elizabeth Claypoole, Quaker Flag Maker -- A Historical Perspective." Melbourne Beach, Fl.: Canmoore Press. 2004. p. 28. (Note: John B. Harker was a direct descendant of Betsy Ross'.) Submitted by Earl P. Williams, Jr., U.S. flag historian (paleovexillologist) - Thank you, Earl P Williams