Trending 1-31-2018
|
author/source:
Renée Greene
A NEW THREESOME SHOCKS STOCKS AMOUNG HEALTH CARE GIANTS
The New York Times reported early yesterday that a joint effort of three of the nation's top companies CEOs are poised to enter the healthcare arena. Who are they you say? Jeff Bezos, Amazon, Warren Buffett, Berkshire Hathaway and James Dimon, JPMorgan Chase. The aftershock reverberated through top health-care giants on Tuesday with quite a rumble and tumble of share value.
Notables in the industry that dropped included UnitedHealth Group about 5%, Anthem down 5%, Cigna slid 5%, with Aetna and Humana fell3% and 2% respectively. No details what the trio has in mind but just them coming together to form an independent healthcare company "free from profit-making incentives and constraints" for their workers created shockwaves even on Amazon and JPMorgan. Berkshire Hathaway stood firm. Whatever will this morning bring?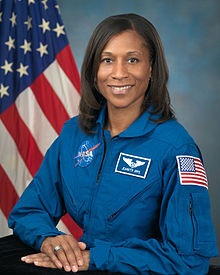 WHY WAS ASTRONAUT JEANETTE EPPS DERAILED FROM HER MISSION IN SPACE
While gathering a list of accomplished, successful African American women for Black History month, a noticeable absence of NASA astronaut Jeanette Epps came to fore. Epps was slated to become the first black crew member to live on board the International Space Station. What happened there? A little research showed she was unexpectedly pulled from her June flight. According to, NASA a member of Epps's astronaut crew, Serena Auñón-Chancellor, replaced her. Chancellor was scheduled to launch later in the year. Epps, who had already started training for her role on Expedition 56-57, but now, she's on a trek back to Johnson Space Center in Houston. NASA did not give an explanation on why the change. Her brother went on a tear that it was racism at the space agency. Is he right? Why won't NASA make a statement as to why they released Epps from the job of her life? It's been two weeks, give it up already.
TOM TERRIFIC DROPS THE PHONE ON WEEI DJ
WEEI host Alex Reimer was recently on the air discussing Tom Brady's Facebook Documentary, "Tom vs. Time". Reimer decided to mention a scene in which he called Brady's 5-year-old daughter Vivian "an annoying little puissant". Really?
Brady did just two minutes on the air on Monday morning with Kirk & Callahan.
"I've tried to come on this show for many years and showed you guys a lot of respect," Brady said. "I've always tried to come on and do a good job for you guys. It's very disappointing when you hear that, certainly. My daughter, or any child, certainly don't deserve that." He added, "I really don't have much to say about it this morning." Then the phone went to dial tone. Reimer has been suspended for his comments. Brady is said to have stated he didn't want him fired. Meanwhile, Brady is weighing whether he wants to return to the show. Stay tuned…can't see why he would.
TEAM FONDA vs. TEAM KELLY, WHO ARE YOU ROOTING FOR?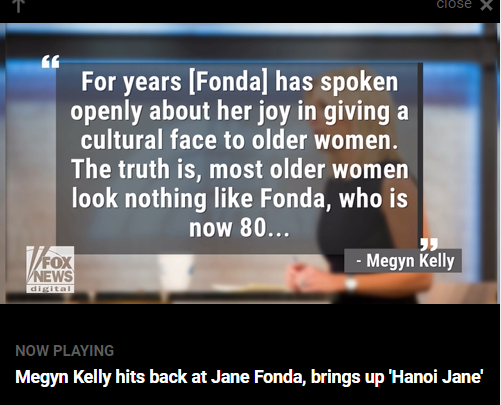 The battle between Megyn Kelly and Jane Fonda is ramping up. A public feud that began in September when Kelly asked Fonda about her plastic surgery. Fonda has publicly spoken about in the past, Kelly must have thought okay to get Fonda's opinion. Well, Fonda was taken aback, and so the sparring ensued. Fonda told Variety in a Q&A article published last Saturday, "It was so inappropriate. It showed that she's not that good an interviewer."
Kelly decided enough is enough as Fonda's criticism has been on-going for quite a while about Kelly. "It's time to address the poor-me routine," Kelly said. "First, some context. Fonda was on to promote a film about aging. For years, she has spoken openly about her joy in giving a cultural face to older women." Kelly went on to say that she doesn't need advice from Fonda. "But I have no regrets about the question," Kelly said. "Nor am I in the market for a lesson from Jane Fonda on what is and is not appropriate. After all, this is a woman whose name is synonymous with outrage." Kelly took it on air, Journalism 101, reporters report the story, and they don't become the story. She did, and took it back to the Vietnam War and "Hanoi Jane" Fonda's nickname when she was openly in support of the Viet Cong. Where will this end? How do you see it? Let me know, below. Stay tuned…