Trending 6-4-2018
|
author/source:
Renée Greene
Last Week On 1600 Pennsylvania Avenue
Pardon Me, the Number of Pardons, and On Tap
John Arthur Johnson, aka Jack Johnson
Offense: Violation of the White Slave Traffic Act (Northern District of Illinois)
Sentence: One year and one day's imprisonment; $1,000 fine (September 14, 1920) ~ Dinesh D'Souza
Offense: Campaign contribution fraud (Southern District of New York)
Sentence: Five years' probation, conditioned upon eight months' community confinement and the performance of one full day per week of community service; $30,000 fine (September 23, 2014)
Who could be next, Martha Stewart, former Celebrity Apprentice contestant? What would happen if she refused? Stay tuned, she and others are on deck to get the pardon, to show those in Robert Mueller's sight, no need to worry about conviction. Oops! That appears to be the message that Trump is sending. Stay tuned…
Is It Off, Is It On? North Korea And United States Summit
WASHINGTON: US President Donald Trump said on Friday (Jun 1) he will meet North Korea's Kim Jong Un as originally scheduled on Jun 12 for a historic summit after extraordinary Oval Office talks with a top envoy from Pyongyang. Speaking after more than an hour of talks with Kim Yong Chol in the Oval Office, Trump told reporters that denuclearization - and a formal end to the decades-old Korean War - would be on the table in Singapore.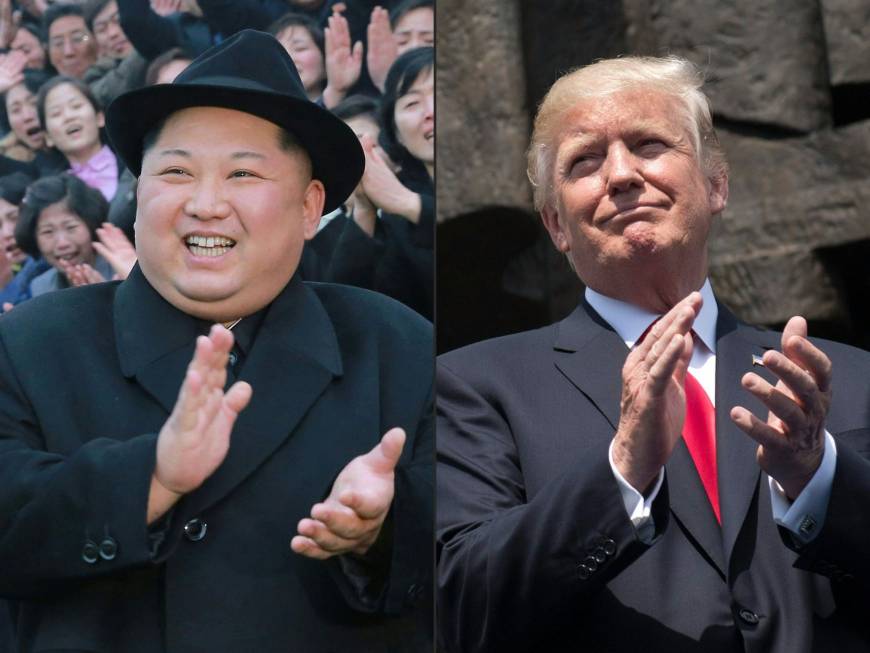 But the US leader warned that he did not expect to immediately sign a deal to bring a halt to the North's nuclear program.
"I never said it goes in one meeting. I think it's going to be a process, but the relationships are building and that's very positive," he said, after waving farewell to the North Korean envoy, Kim's right-hand man.
Trump said they had discussed formally ending the Korean War, which has been largely frozen since an armistice ended hostilities, but not the underlying conflict, in 1953. Since then, there have been occasional clashes on the divided peninsula.
"We talked about it. We talked about ending the war," Trump said. "Historically it's very important, but we'll see. We did discuss that, the ending of the Korean War. Can you believe we're talking about the ending of the Korean War?"
Washington is determined that Kim should agree to what US officials call the "complete, verifiable and irreversible" end of North Korea's nuclear weapons and intercontinental missile programs. Kim says he is committed to "denuclearization" in some form, but he is expected to demand security guarantees - one of which could be an formal end to the conflict with the US and South Korea.
Most expert observers are skeptical that even an unprecedented summit between the two leaders can lead to a rapid breakthrough, and Trump admitted it would be a long and difficult process. "We're not going to go in and sign something on June 12. We never were. I told him today, 'Take your time'," he said, adding nevertheless that he expects "a really positive result in the end."
Time will tell, eight days and counting.
Source: AFP/ec
Read more at https://www.channelnewsasia.com/news/asia/us-north-korea-summit-back-on-trump-says-after-meeting-kim-envoy-10323100
He's Got The Power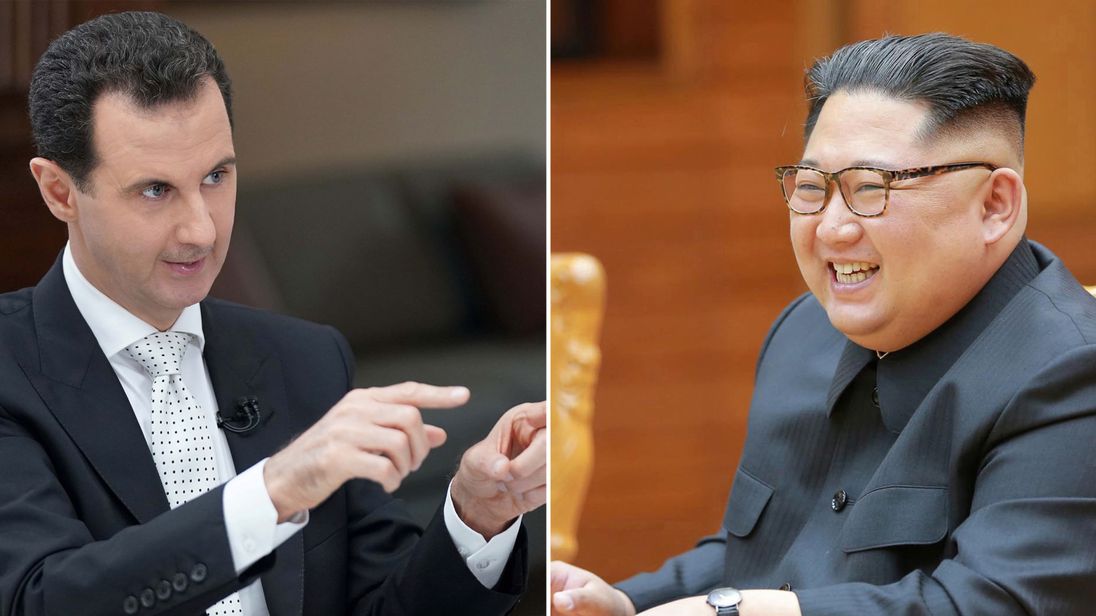 SEOUL: Syrian President Bashar al-Assad said he plans to visit North Korean leader Kim Jong Un, North Korean state media reported on Sunday (Jun 3), potentially the first meeting between Kim and another head of state in Pyongyang.
"I am going to visit the DPRK and meet HE Kim Jong Un," Assad said on May 30, North Korea's KCNA news agency reported, using the initials of the country's official name, the Democratic People's Republic of Korea.
Seems like "Little Rocket Man" has got it going on. #Jussayin
Read more at https://www.channelnewsasia.com/news/asia/syria-s-assad-says-will-visit-north-korea-report-10350624
Off, but on, the administration announced its intention to enforce tariffs on China and American allies, including the European Union.
Mr. Trump, stung by criticism that he had gone soft on China, said on Tuesday that the United States would proceed with tariffs and other punitive measures on the country. The tariffs, which include 25 percent tariffs on $50 billion worth of imported Chinese goods, are to be imposed by the end of the month
Days later, the Trump administration announced that it would enforce heavy steel and aluminum tariffs on some of its closest allies. The European Union, Canada and Mexico, which now face 25 percent tariffs on steel and 10 percent on aluminum, drew up retaliatory measures in part to target areas of the United States where Mr. Trump enjoys the strongest support.
The decision came after months of uncertainty about exemptions and whether American officials would follow through with an aggressive trade tactic.
Despite concerns about tariff retaliation, the economy is still doing well. The United States economy had its strongest job gains since February, according to numbers released on Friday by the Labor Department.
In May, 223,000 jobs were added (higher than Wall Street's expectation of about 190,000) and the unemployment rate was 3.8 percent, down from 3.9 percent in April and the lowest since early 2000.
Before the numbers were made public, Mr. Trump broke with protocol and posted on Twitter about the jobs report. The language in his Twitter post seemed to signal notable gains, and economists said they were stunned at the prospect of Mr. Trump offering hints about the report's content that could affect the markets and trading.
Hmmm, is that a crime?
Where In The World Is Melania Trump?
By DARLENE SUPERVILLE, Associated Press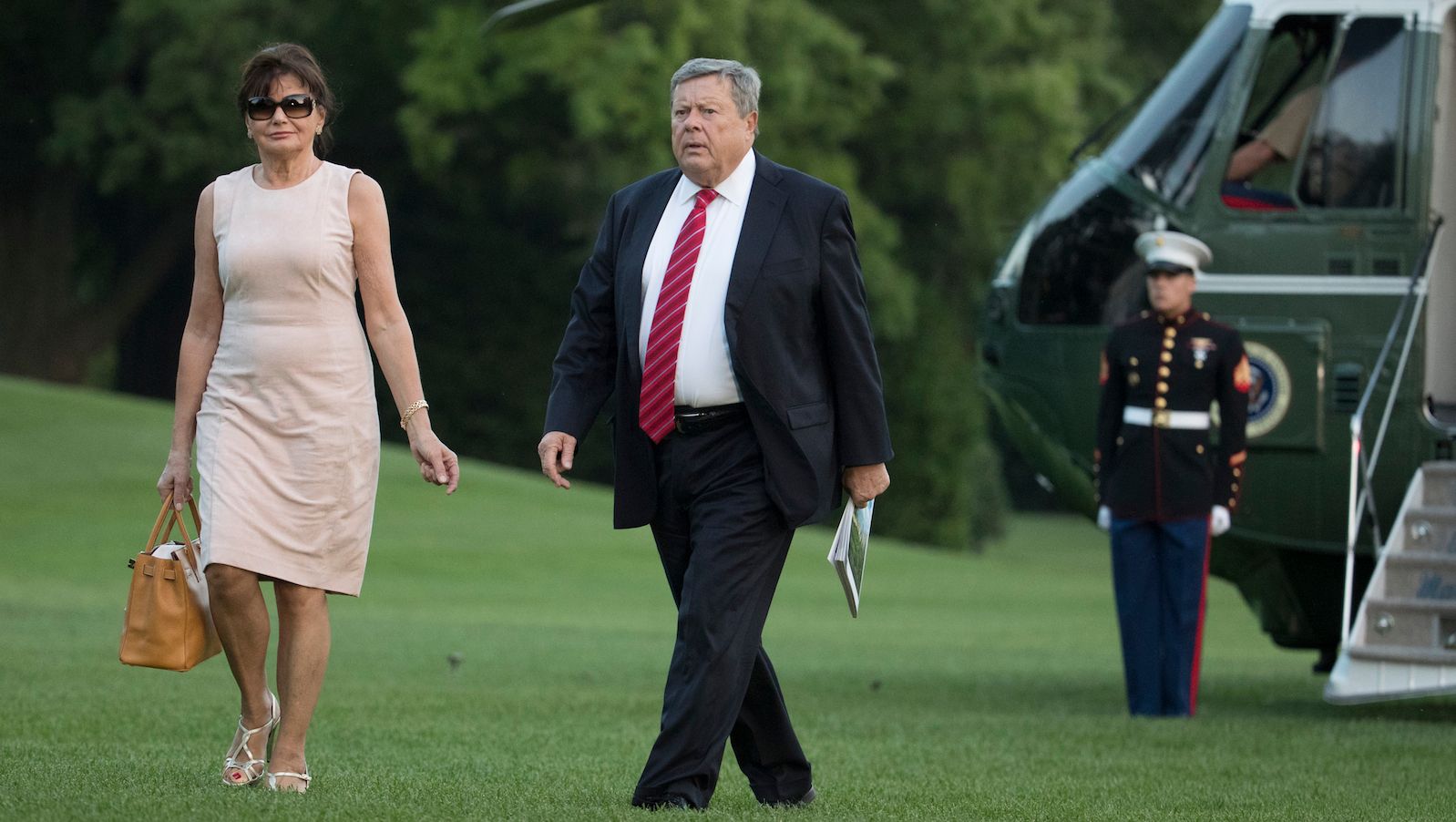 WASHINGTON (AP) -Melania Trump did not join the president on his weekend getaway from the White House, making it 22 days since she last appeared in public.
President Donald Trump boarded the presidential helicopter on the South Lawn of the White House in the afternoon with his daughters Ivanka and Tiffany, his oldest son Donald Jr., and his son-in, law Jared Kushner. The group appeared headed for a family weekend, minus the first lady, at the official Camp David presidential retreat in Maryland's Catoctin Mountains. Trump's youngest son, Barron, 12, also was not seen boarding the helicopter.
The White House had said earlier Friday that Mrs. Trump would skip this trip but gave no official reason. Her mother, Amalija Knavs, was seen walking along the White House grounds around midday Friday.
The first lady was last seen May 10 when she and Trump welcomed home three Americans who had been released from detention in North Korea.
Four days later, the White House announced that she had been hospitalized to treat a kidney condition described only as benign. She spent five days at Walter Reed National Military Medical Center just outside Washington before returning to the White House two weekends ago.
The president said last week that his wife is "doing great." She has been meeting with staff and working on projects, according to her spokeswoman. But it remained unclear when the first lady will make her next public appearance.
Trump, meanwhile, said "a little relaxation and a lot of work" are on his weekend agenda.
Speaking to reporters following a lengthy Oval Office meeting with a top aide to North Korea's leader, Trump said he'll also be talking to a lot of foreign leaders while at Camp David.
"I'm negotiating trade deals," he said.
Follow Darlene Superville on Twitter: http://www.twitter.com/dsupervilleap ~ Copyright 2018 The Associated Press.
The Search For Answers Continues In Springfield Mass.
By Jeremy C. Fox, Jerome Campbell and Evan Allen GLOBE CORRESPONDENT | GLOBE STAFF JUNE 02, 2018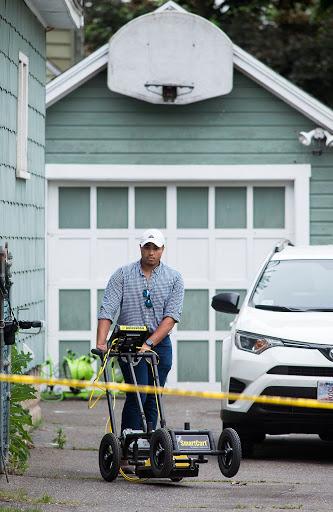 SPRINGFIELD — Fearful families waited in dread for answers Saturday, wondering how an allegedly violent kidnapper with a lengthy criminal record had been allowed to walk this city's streets, as investigators continued to search the man's home where three unidentified bodies have been found.
Springfield City Councilor Adam Gomez said a constituent called him concerned about a daughter who recently went missing.
"In the last few months into a year, there have been a bunch of missing cases," he said in a telephone interview. Gomez said he hopes the bodies found at the home of 40-year-old Stewart R. Weldon Jr. will not turn out to be missing city residents, but if they are, the information could help "give a family closure." Gomez said he hopes the bodies found at the home of 40-year-old Stewart R. Weldon Jr. will not turn out to be missing city residents, but if they are, the information could help "give a family closure."
On Saturday, investigators combed through the garage of the home at 1333 Page Blvd. and dragged suitcases out into the yard as they searched for any additional human remains. Officials have been using ground-penetrating radar at the home since Friday.
Weldon was arrested Sunday night on kidnapping and assault charges, and officials have been at his property since Wednesday.
Weldon drew the attention of Springfield police on Sunday when he was stopped for a broken taillight. He fought furiously with officers, and, after he was handcuffed, they found a large knife with a rubber handle inside his hooded sweatshirt.
Police then discovered a woman in the car with visible severe injuries. She told police Weldon had held her captive for a month, repeatedly beating her with a hammer and raping her.
"Thank you, guys, for saving my life, I didn't think I was ever going to get away," the woman is quoted as having told police.
Authorities have not said why they did not begin their search on Sunday following Weldon's arrest and have declined to say specifically where the bodies were found, how long the people had been dead, or their gender. The causes of their deaths have not been determined.
Weldon is being held on $1 million bail. He hasn't been charged with any crimes related to the three bodies found at the house, though Hampden District Attorney Anthony D. Gulluni said Friday that authorities weren't aware of any "accomplices" in those deaths