Trending 3-29-2018
|
author/source:
Renée Greene
DISRUPTION IN SACRAMENTO COUNCIL MEETING FOR STEPHON CLARK
Protesters marched in and took over the Sacramento City Council meeting, held to accommodate residents wanting to discuss the shooting death of unarmed Stephon Clark, 22, by police.
Clark fatally shot by police March 18 in his grandmother's backyard, who said they thought he had a gun. He was holding a cellphone. At Tuesday's packed council meeting, Clark's brother Stevante Clark jumped on the dais and demanded to speak. The council adjourned for roughly 15 minutes as a result of the disruption.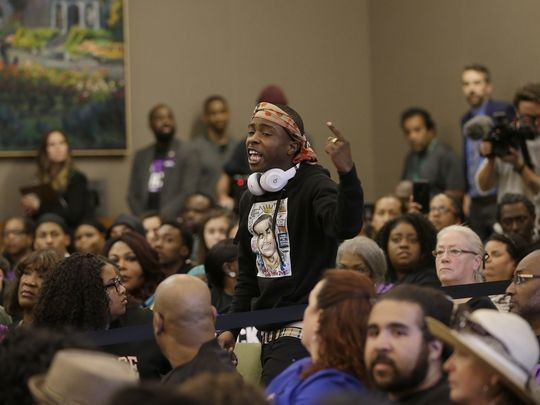 Stevante Clark, brother of Stephon Clark who was fatally shot by police a week earlier, disrupts a meeting of the
Sacramento City Council, Tuesday, March 27, 2018, in Sacramento, Calif. (Photo: Rich Pedroncelli, AP)
Protesters later moved to Golden 1 Center, blocking the entrances to the arena. The Sacramento Kings were scheduled to play the Dallas Mavericks on Tuesday night. The Kings released a statement saying the game would be delayed and the arena entrances were "temporarily closed."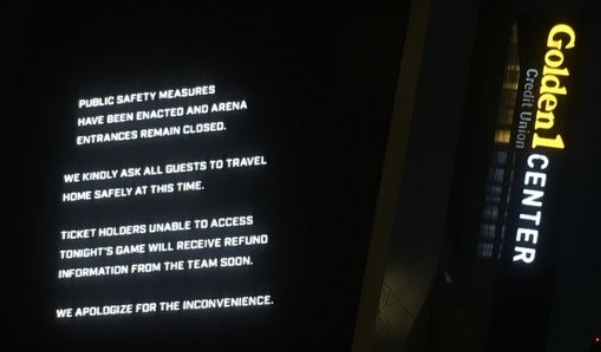 "Stand-by for further instructions as we coordinate safe entry to the building. We apologize for the inconvenience," the statement said. The delayed start of the game was just a few minutes after it the scheduled time.
Earlier Tuesday, the California attorney general's office said it is joining an investigation into the fatal shooting to provide independent oversight.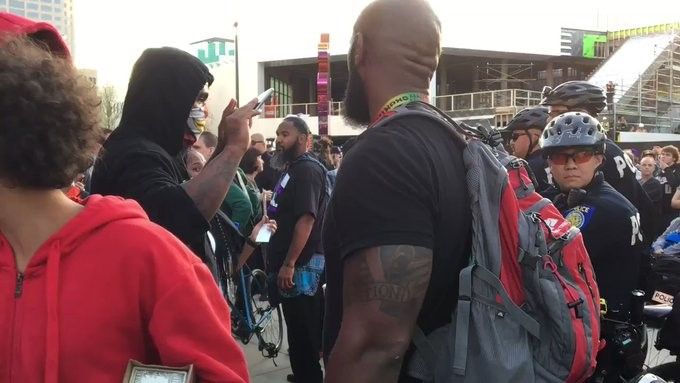 Sacramento Police Chief Daniel Hahn announced the partnership Tuesday alongside Attorney General Xavier Becerra. He said he hopes it will build "faith and confidence" in the investigation.
"Due to the nature of this investigation, the extremely high emotions, anger and hurt in our city, I felt it was the best interest of our entire community, including the members of our police department, to ask the attorney general to be an independent part of this investigation," Hahn said, according to the Associated Press.
Stephon Clark's family said they are skeptical that there will be a proper investigation – even with the state attorney general involved. Stephon Clark's uncle, Curtis Gordon, says the family will wait to see what results. He says it's all talk at this point.


SECRETARY SHULKIN, YOU'RE FIRED, BY TWEET
Veterans Affairs Secretary David Shulkin is being replaced, President Trump tweeted Wednesday, ending weeks of speculation and uncertainty about his fate. The White House remains stormy in its weekly seat changes. Trump said he is nominating Navy Rear Adm. Ronny Jackson, an official physician to the president and his predecessor, Barack Obama, to be the next VA secretary.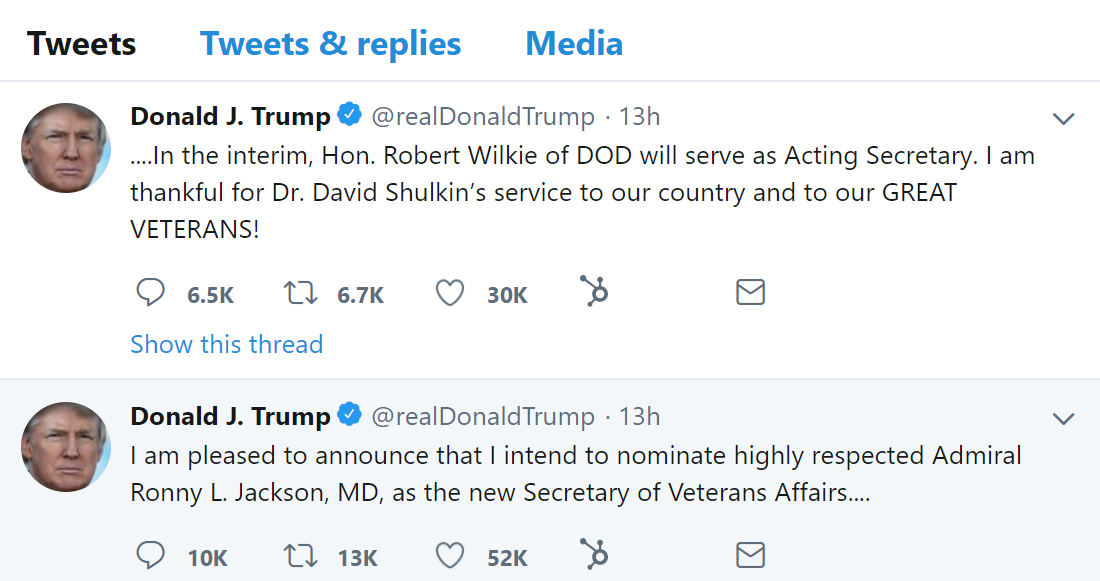 "I am thankful for Dr. David Shulkin's service to our country and to our great VETERANS!" the president tweeted.
He said Robert Wilkie, an undersecretary at the Pentagon, will take over the agency as acting secretary. Shulkin had been locked for months in a power struggle with a group of Trump political appointees among his senior staff.
Shulkin had pledged the VA would not be privatized on his watch but would provide veterans expanded opportunities to get private sector care. The Trump appointees want a more comprehensive overhaul and to give veterans more access to VA-funded care in the private sector.
Trump had praised the Cabinet secretary several weeks ago for doing a "great" and "incredible" job leading the charge to fulfill his pledges to improve the VA.
Shulkin himself provided the critical opening that led to his downfall. After touting Trump's campaign pledges to increase accountability at the VA, he balked at the results of an investigation released last month that found he and his staff committed ethics violations in planning and taking a European trip last year.
Shulkin should not be surprised since the VA inspector general's findings that he improperly accepted Wimbledon tickets and airfare for his wife during the 10-day junket. He refused to accept the determination that his chief of staff misled ethics officials to get clearance for his wife's airfare, suggesting that her email had been hacked. Shulkin later expressed regret and repaid the cost of the tickets and airfare. He also complained that the appointees were targeting and undermining him. In light of those details and others, it made it difficult for lawmakers, veterans groups, and others to speak up in his defense. Two days after the report's release, the White House unilaterally installed a new VA chief of staff, Peter O'Rourke, who was a member of Trump's transition team.
The chairman of the House Veterans Affairs Committee, Rep. Phil Roe, R-Tenn., said he thinks Shulkin did a "fantastic job, and I hate to see him go.
"That said, I respect President Trump's decision, support the president's agenda and remain willing to work with anyone committed to doing the right thing on behalf of our nation's veterans," Roe said. "I am in the process of reaching out to Dr. Jackson, and I look forward to building a strong relationship with him also."
INC. LIST TOP 10 STATES WHERE HOME PRICES ARE SURGING
Whether you want a place to live or a way to make money, buying real estate is almost always a big investment. Yes, your emotions will be involved, especially if you're looking for your own home. But you also need to think carefully and unemotionally about how the value of your purchase will change over time and whether it's a wise investment as well as a place you want to live.
To help you make a smart choice, the personal finance site GOBankingRates has analyzed home values and how they've changed over the past five years in all 50 states and the District of Columbia. The recent interest rate increase from the Federal Reserve means we may never see the rock-bottom mortgage rates of the past decade ever again. And as interest rates rise, home pricing growth inevitably slows, so we likely won't see as rapid growth in real estate prices in the next few years as we have in the past few.
Buying a home is still a solid investment though. And buying one in an up-and-coming market with solid fundamentals (i.e., not a bubble) is likely to be a smarter financial bet, at least in the relatively near term, than buying one in a community where prices are stagnating or even falling because a weak local economy is driving investment and residents away. Buying in markets such as these only makes sense if you're in it for the very long term.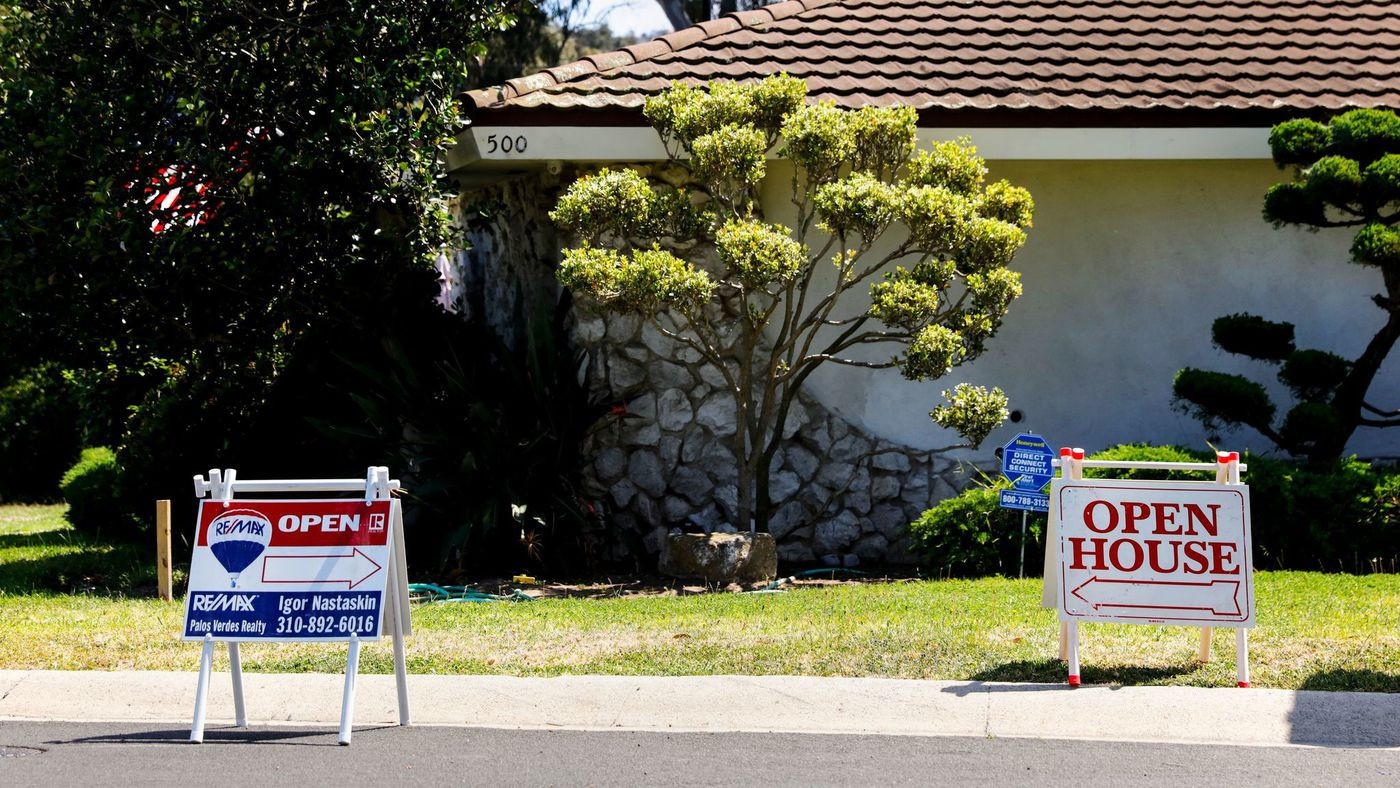 Many experts measure home price affordability by the price-to-income ratio which is the median home price in a location compared with median annual income. They consider a ratio of 3.5 (e.g., a family with $100,000 of annual income in a $350,000 home) to be normal and sustainable. Unfortunately, most of the high-end real estate areas around the country have much higher ratios than that, driven in part by the super-low interest rates of the past decade. Nevertheless, most experts told GOBankingRates that U.S. real estate is not experiencing a bubble, although there may be bubbles in individual markets.
Overall, the average home price nationwide is $207,600, GOBankingRates found. That's up 6.68 percent from a year ago, and an average 5.91 percent per year over the past five years. You can find the full analysis here. These are the 10 states where real estate prices are rising most rapidly:
1. Nevada
Nevada has seen housing prices increase faster over the past five years than any other state, one reason some experts believe it may be experiencing a real estate bubble that could be harmful when it bursts. The state has been there before, of course--home prices in Las Vegas fell by 33 percent in 2008.
On the other hand, the state has a relatively affordable median home price of $261,000 and prices in Las Vegas are nowhere near their pre-2008 levels. And the price-to-income ratio looks good at 3.36.
2. Delaware
What's going on with Delaware real estate? It's something of a mystery. Everyone agrees that prices rose very rapidly before 2008 and that the state experienced a painful crash in real estate at the beginning of the Great Recession. But they don't agree on what's happening now. According to Zillow and GOBankingRates, Delaware has seen the biggest home price increase of any state over the past year, a whopping 14.5 percent or maybe even more. But according to the Federal Housing Finance Agency, prices from October 2016 to October 2017 only increased a piddly 2.2 percent, one of the lowest increases in the country. In November, The News Journal in Wilmington reported that continuing foreclosures were keeping a lid on price increases.
If there really are lots of foreclosures in Delaware, that will likely keep the state out of a bubble for the time being. Plus, The News Journal notes that many people are retiring there, put off by Florida's high sales tax. And the median home price is only $245,900. So this state is probably a good place to buy.
3. Washington
No mystery here: home prices are rising rapidly in the Seattle area, driven by the local tech boom. Median home price is $355,600 in Washington--higher than in New York State. At the same time, the state is seeing an ongoing influx of residents, arriving for jobs at Amazon, or Boeing, or Microsoft, all of which are headquartered there. The local housing boom will likely continue for a while unless Boeing or Amazon surprises employees by moving operations elsewhere.
4. California
If you think California is really, really expensive, you're right. The median home price here is $529,900, enough to buy three median-priced homes in many other states. Price-to-income ratios are through the roof around the state, reaching as high as 9.1 in San Francisco and 9.23 in San Jose. Meantime, a variety of factors, including tax incentives for staying in place and a high proportion of rental properties means a low inventory of homes for sale, which may drive prices even higher. It's probably impossible to find a home to buy in coastal California that you both like and can afford. But if you can, it may well be a good idea.
5. Colorado
Colorado's median home value is $348,400. That's certainly on the high side, and the relative absence of very high paying jobs means that Denver and some of the nearby counties are among the least affordable in the nation, based on the price-to-income ratio. Prices here have ridden rapidly over the past few years as well.
6. Oregon
Oregon's median home value of $320,500 can look very appealing to Californians who can no longer afford California and many of them have been moving up the coast. The result is that demand continues to rise and supply can't keep up, which may lead to yet more price increases. On top of that, Portland is a hot startup location, which makes sense since it's between the tech powerhouse areas of Silicon Valley and Seattle.
7. Utah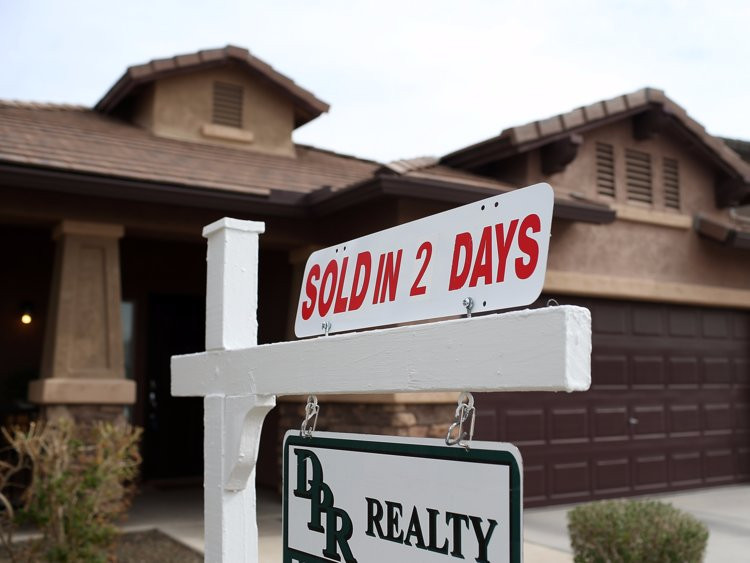 The median home value in Utah is $264,100, making the state relatively affordable compared to some other fast-growing locations--at least for now. Utah home prices have been on an upward trajectory for some time, especially in Salt Lake City. The state is projected to double its population by 2065, which means home prices should continue to increase over the long term, even if there's a temporary dip due to economic impacts.
8. Florida
When GOBankingRates listed the 20 hottest neighborhoods in the country (that is, those where prices were increasing fastest) Jungle Terrace in St. Petersburg took the top spot, with prices nearly doubling from 2016 to 2017. Bayside West in Tampa, Loretto in Jacksonville, Greater Pinellas Point in St. Petersburg, and Allapattah in Miami also made the list, making Florida "king of the hottest neighborhoods," according to GOBankingRates. With prices rising so rapidly, it's no wonder the state is also seeing an increase in house flipping, which could be an indication that the state is heading into a bubble. It was one of the badly hit "sand states" whose real estate took a beating when the last bubble burst. On the other hand, St. Petersburg and Clearwater, among other Florida cities, anticipate job growth that can support higher real estate prices. And the state's median home price is only $217,300. So there are likely still some good deals to be had.
9. Michigan
Detroit was very hard hit by the last housing crash and is only just now getting back to pre-recession prices. But home prices have been increasing rapidly in the past couple of years, up more than 7 percent from August 2016 to August 2017, according to the Detroit Free Press. Despite the increases, housing in Michigan is still very affordable, with the median home price only $138,700. Inventory remains low with houses only on the market for an average 28 days before they're sold. It would be hard to go wrong in a market with so little supply and such low prices.
10. Arizona
This is another "sand state" that was hit hard by the 2008 housing crash. Prices dropped precipitously back then and though they've been rising quickly, they're still not back to their pre-2008 levels. The median home price is a fairly modest $233,400, making Arizona a good bet, at least for now.
PUBLISHED ON: MAR 27, 2018 By Inc.Com