Trending 3-28-2018
|
author/source:
Renée Greene
Stephon Clark's death, 'You watch a human being executed — for what?'
The grandmother of an unarmed black man killed by Sacramento police is calling for changes in the way police confront suspects. Sequita Thompson said Monday police didn't need to shoot and kill 22-year-old Stephon Clark in a darkened backyard. The body of Stephon Clark will be laid to rest this week in Sacramento, but the controversy surrounding the officer-involved shooting of the 22-year-old, unarmed black man continues to rage in California's capital city.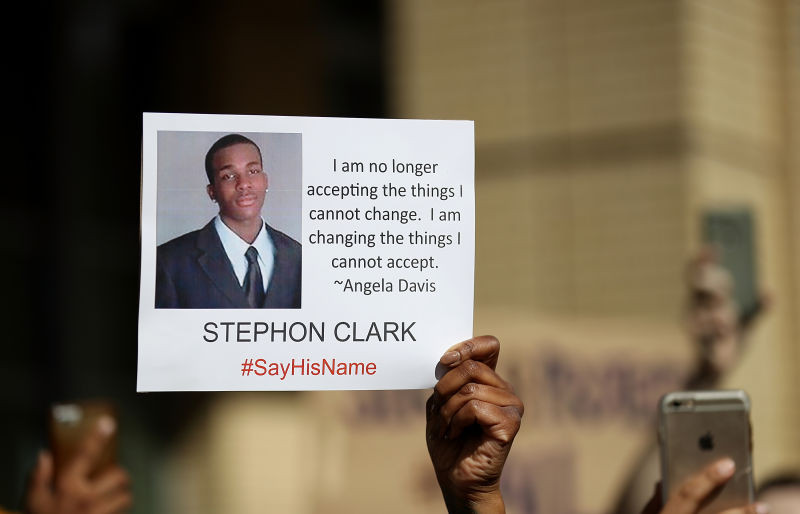 Clark was shot in his grandmother's backyard following a police pursuit March 18. Police body cameras captured the chase and an officer apparently shouting "gun" moments before the shooting begins. Daniel Hahn, who less than a year ago was sworn in as the city's first African-American police chief, announced Tuesday that state Attorney General Xavier Becerra would provide "independent oversight" into the investigation. Becerra said his office's review would include police protocols and procedures.
"I have complete confidence in the detectives in my department," Hahn said. "But due to the nature of this investigation, the extremely high emotions, anger and hurt in our city, I felt it was in the best interests of our entire community, including the police department, to ask the attorney general to be part of the investigation."
Hahn said the city's release of the body camera recordings was an example of the transparency he pledged to bring to the probe. Hahn will get a chance at transparency Tuesday night when he is scheduled to provide details of the investigation before an expected packed and raucous house at City Hall.
Clark's death is the latest of dozens of fatal shootings of black men by police officers in recent years. On Tuesday, Louisiana's attorney general announced that no criminal charges would be brought against two white Baton Rouge police officers in the fatal shooting of a black man, Alton Sterling, outside a convenience store in July 2016.
Civil rights lawyer Benjamin Crump, who is representing the Clark family, on Monday, called the Sacramento shooting an execution. "Like all the rest of America, you're shocked when you watch this video," Crump said. "You watch a human being executed and you say, 'For what? Why did they have to do what they did to him?'"
The officers had responded to a 911 call saying someone had been breaking car windows in the neighborhood. Police say the suspect fled and ignored a command to halt and show his hands.
Crump said the shooting was an example of police refusing to give a black man the benefit of doubt.
"When a young man was bombing homes in Austin, Texas, the police followed him for hours," Crump said. "But an unarmed black man holding a cellphone is shot 20 times." Clark's grandmother, Sequita Thompson, said Clark lived in her home. She said she believes her grandson was trying to get into the house when he was shot. Weeping as she spoke at a news conference, she said police should use stun guns or police dogs — or even shoot to wound, not kill. "They didn't have to kill him like that, they didn't have to shoot him that many times," she said. The nation has taken notice. On Sunday, the NBA's Sacramento Kings and visiting Boston Celtics wore shirts in warm-ups that read "Accountability. We Are One." on the front and "#StephonClark" on the back. Contributing: Frances Wang, KXTV Sacramento / Photo - The Root - A protester holds a photo of Stephon Clark during a Black Lives Matter demonstration outside of Sacramento City Hall on March 22, 2018, in Sacramento
Heineken under fire for 'terribly racist' light beer commercial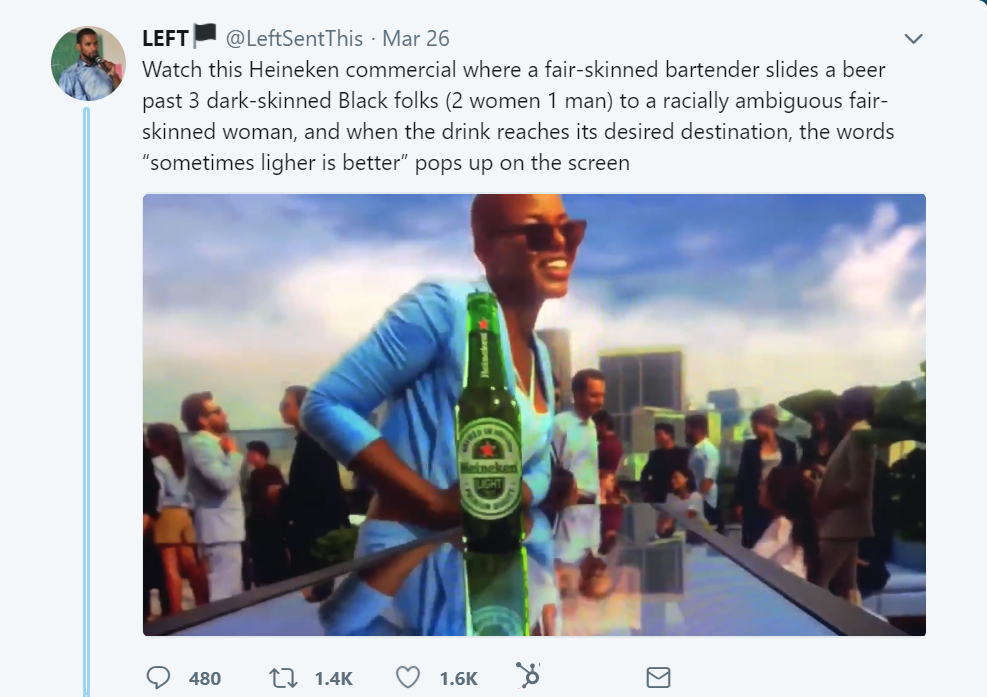 Heineken has removed a controversial commercial after major backlash online called the advertisement "terribly racist." In the commercial, a fair-skinned bartender slides a beer past 3 dark-skinned Black folks (2 women 1 man) to a racially ambiguous fair-skinned woman, and when the drink reaches its desired destination, the words "sometimes lighter is better" pops up on the screen.
Chance the Rapper, who may have been the first to comment on the commercial, tweeted, "I think some companies are purposely putting out noticeably racist ads so they can get more views. And that's -- racist/bogus so I guess I shouldn't help by posting about it. But I gotta just say tho. The 'sometimes lighter is better' Heineken commercial is terribly racist omg" according to Alexandra Deabler, Fox News.
While the Twitter-sphere took off with shout out about the commercial's racist content, some felt the ad was not offensive. "I would love to know how the Heineken Commercial is racist. When they say light I'm pretty sure they are talking about how it is a 99 calorie beer, not the color," wrote one. — LoafGod (@Pey2moo) March 26, 2018
Chris V. [email protected]
Bro, now this is a real reach. It's a beer commercial that features a variety of people. I don't see anything sinister. Heineken is in the business to sell as much beer as possible. I doubt they are pushing some hidden racial agenda.
2:29 PM - Mar 26, 2018
Whatever the intent and interpretations of the ad, Heineken decided to remove the ad from television and online. "For decades, Heineken has developed diverse marketing that shows there's more that unites us than divides us," a spokesperson for Heineken told Fox News. "While we feel the ad is referencing our Heineken Light beer, we missed the mark, are taking the feedback to heart and will use this to influence future campaigns."
NO CHARGES AGAINST OFFICERS WHO KILLED ALTON STERLING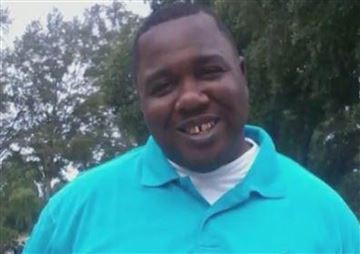 Louisiana's top prosecutor announced Tuesday that he will not pursue charges against police officers in the death of Alton Sterling, nearly two years after the shooting outside of a Baton Rouge convenience store was captured on graphic cellphone video. After informing Sterling's family about his decision, Attorney General Jeff Landry said at a news conference that there was not enough evidence of criminal wrongdoing and the state's investigation found the officers' actions were "reasonable and justified."
The Sterling family blasted the announcement, telling reporters that "this wasn't justice. "Police shot Sterling, a 37-year-old black man, six times during the July 2016 incident. The deadly altercation — which came the day before a similar police shooting involving a black man in Minnesota— sparked days of protests and national outcry over the excessive use of force and policing in minority communities. Today's decision comes after cops just shot a young man in his grandparents' yard 20 times and all he had was a cell phone.
The two Baton Rouge officers involved in the case — Blane Salamoni and Howie Lake II, who are both white — were placed on paid administrative leave. Representatives for them did not immediately comment on the attorney general's decision.
The U.S. Justice Department also decided last May not to bring civil rights charges against Salamoni and Lake, finding that there was "insufficient evidence" for such a high burden of proof. The state's investigation said Sterling, a father of five, was selling CDs in front of a convenience store when officers arrived at the scene responding to a 911 call about a black male in a red shirt acting threatening with a gun. Alton Sterling was killed during an altercation involving police in Baton Rouge, Louisiana, on July 5, 2016. WVLA-TV
Video shared on social media from a witness showed Sterling on the ground with the two officers trying to pin him down. The officers said Sterling had repeatedly failed to comply with orders and during a physical struggle, was tased twice by Lake to no effect. Salamoni, who believed Sterling was reaching for a gun in his pocket, fired his weapon at Sterling three times in the chest, investigators found. As Sterling sat up, the officer fired three more times in his back. Not know that he did have a weapon, Louisiana is an open carry state. Concealed weapon permits required but permits from other states concealed permits are allowed in the state.
Landry at a news conference Tuesday said Sterling had a loaded .38-caliber revolver in his front right pocket. He said the events took place very quickly and involved an armed man who "was continuously resisting." He added that Sterling was under the influence of "drugs," according to a toxicology report, and that may have contributed to his noncompliance. Landry did not elaborate on what types of substances were in Sterling's bloodstream.
Sterling, a convicted felon, was not permitted to have a gun, but people who knew him have previously said he kept it on him as protection from robbers.
"I'm asking that everyone consider the family in the coming days and spend their time and energy in lifting them up, rather than creating further division," Landry said.
"We did not get any justice," Quinyetta McMillan, the mother of Sterling's 16-year-old son, said after the attorney general's announcement. "The system failed us." No justice, no peace. His family also filed a lawsuit last year claiming that the shooting was the result of poor training and inadequate police procedures within the Baton Rouge Police Department. They are seeking unspecified damages and have called for the officers to be fired. The department has declined to comment on ongoing litigation.
11-Year-Old Helps Disabled Vet Whose Store Was Burglarized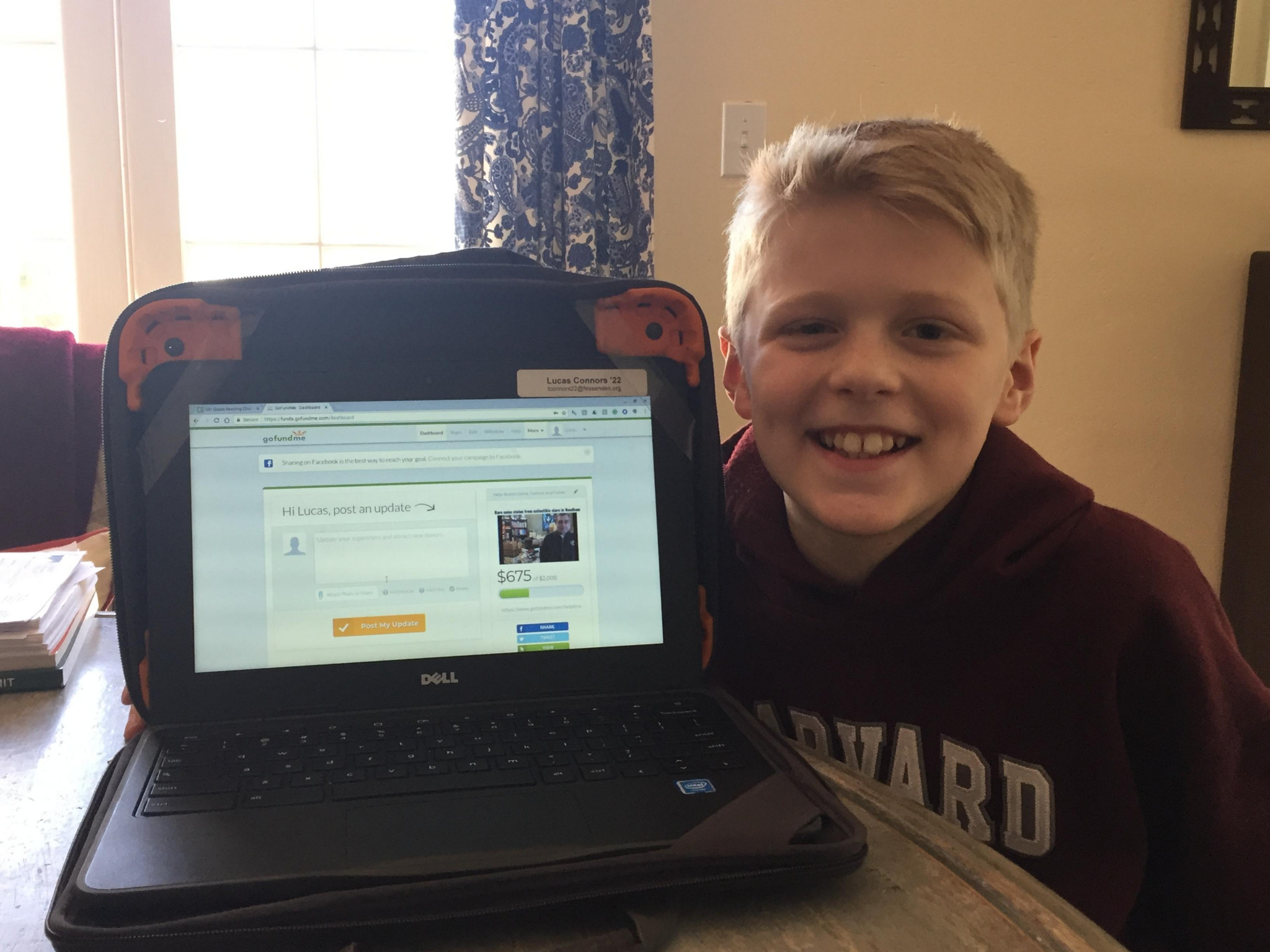 Fifth-grader, Lucas Connors, loves to collect old video games and consoles. He buys some of his collection from Brad Seidel, at Brad's Coins Comics and Cards in Needham. So when the store was broken into, Connors took it upon himself to help. A thief broke a window on the store's front door and took off with rare presidential coins that Seidel says have a face value around $2,000, but could be sold for more. "I'm not Walmart here," Seidel said. "A theft like that is huge."
Connors heard that Seidel is a disabled vet who had prostate cancer back in 2016 and suffers from PTSD. He planned to sell off those coins to pay off some hefty bills. Connors decided to help and start a GoFundMe page for Seidel. "Our goal right now is $2000," Connors said. "I'd like to deliver it to him and give it to him and he can use it for whatever he'd like to."
Seidel says he wasn't expecting this and he is extremely thankful. "You start doing good things when you're a kid, it translates, and people do good things for you," Seidel said. Connors never had a second thought about stepping up to help. "Things weren't going well for him," he said. "And I know that when things aren't going well for someone, you need to help them." No arrests have been made yet in the theft. *NBC-TV 10 Boston /Photo Needham Wicked Local