Trending 3-19-2018
|
author/source:
Renée Greene
FOURTH EXPLOSIVE BOMB INJURES TWO IN AUSTIN
Two men were seriously injured in Austin, Texas explosions on Sunday, bringing the count to four explosions this month. Three packages previously exploded, killed two and left two others injured. Yesterday's explosion according to Austin Police Chief Brian Manley could've been triggered by a tripwire. Unlike previous bombs in the past two weeks, this one was left on the side of the road. Police and FBI continue work on any relation or similarities of the Sunday explosives to those prior over the past ten days. Police advise extreme caution to the city and report anything suspicious or information that may be related to these incidents. Earlier Sunday, the FBI's San Antonio office announced a reward for information had increased to $100,000.
FBI's ANDREW MCCABE, YOU'RE FIRED!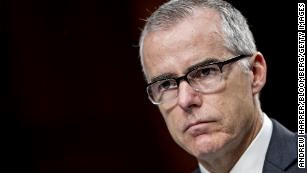 CNN reports Attorney General Jeff Sessions fired former FBI Deputy Director Andrew McCabe late Friday, less than two days shy of his retirement, ending the career of an official who had risen to serve as second-in-command at the bureau.
McCabe had more recently been regularly taunted by President Donald Trump and besieged by accusations that he had misled internal investigators at the Justice Department.
In a statement Friday night, McCabe said his firing is part of a larger effort to discredit the FBI and the special counsel's investigation. He was not going to stand for it, and fight back. "This attack on my credibility is one part of a larger effort not just to slander me personally, but to taint the FBI, law enforcement, and intelligence professionals more generally," McCabe said. "It is part of this Administration's ongoing war on the FBI and the efforts of the Special Counsel investigation, which continue to this day. Their persistence in this campaign only highlights the importance of the Special Counsel's work."Shortly after midnight, Trump tweeted.

McCabe had been expected to retire this Sunday, on his 50th birthday, when he would have become eligible to receive early retirement benefits. But Friday's termination could place a portion of his anticipated pension, earned after more than two decades of service, in significant jeopardy.
The origin of his dramatic fall stems from an internal review conducted by Justice Department Inspector General Michael Horowitz. That report -- the details of which have not been publicly released -- is said to conclude that McCabe misled investigators about his role in directing other officials at the FBI to speak to The Wall Street Journal about his involvement in a public corruption investigation into the Clinton Foundation, according to a source briefed on it.
CNN reported on Wednesday that the findings in Horowitz's report on McCabe were referred to the FBI's Office of Professional Responsibility, staffed with career officials, who recommended McCabe's termination. McCabe, accompanied by his lawyer, tried making a last-ditch effort Thursday to avoid the firing, meeting with officials at the deputy attorney general's office at the Justice Department for several hours while Sessions was traveling, but to no avail.
"After an extensive and fair investigation and according to Department of Justice procedure, the Department's Office of the Inspector General (OIG) provided its report on allegations of misconduct by Andrew McCabe to the FBI's Office of Professional Responsibility (OPR)," Sessions said in a statement late Friday. "The FBI's OPR then reviewed the report and underlying documents and issued a disciplinary proposal recommending the dismissal of Mr. McCabe. Both the OIG and FBI OPR reports concluded that Mr. McCabe had made an unauthorized disclosure to the news media and lacked candor − including under oath − on multiple occasions."
McCabe says Republicans 'mischaracterized' his testimony on Trump dossier
Horowitz's office is continuing to investigate how the Justice Department and FBI handled sensitive investigations leading up to the 2016 presidential election -- including the probe into Hillary Clinton's private email server -- and a more global report is expected this spring. That closely watched report, which Trump has derided as "already late," could prove devastating for former and current top officials at the Justice Department and FBI depending on the findings, as the President has sought to weave a narrative of biased "deep state" holdovers from the Obama administration determined to undermine his presidency.
McCabe alleged that the report's release was sped up "only after" his testimony suggested that he would corroborate Comey's accounts of his conversations with Trump.
"Here is the reality: I am being singled out and treated this way because of the role I played, the actions I took, and the events I witnessed in the aftermath of the firing of James Comey," McCabe said in a statement. "The OIG's focus on me and this report became a part of an unprecedented effort by the Administration, driven by the President himself, to remove me from my position, destroy my reputation, and possibly strip me of a pension that I worked 21 years to earn. The accelerated release of the report and the punitive actions taken in response make sense only when viewed through this lens."
A representative for McCabe said he learned from a press release that he had been fired by Sessions. A Justice Department spokesperson pushed back, saying, "Mr. McCabe and his attorney were informed in advance of any news media."
McCabe's representative said he received an email on his FBI account shortly before the Justice Department notified the media, but he was not regularly checking that account since he was on leave from duties at the bureau.
While former FBI officials say a lack of candor is a death knell for an agent's career, Sessions' decision to fire McCabe presented unique political complications.
MARRIED DAD AND MISSING TEEN FOUND IN PENNSYLVANIA
A missing Pennsylvania teenager and the 45-year-old married father who allegedly signed her out of school frequently without her parents' consent have been located in Mexico after they went missing nearly two weeks ago. Sixteen-year-old Amy Yu and Kevin Esterly, who have been missing and believed to be together since March 5, were located in Playa del Carmen on Saturday by agents from Homeland Security Investigations, Policia Federal Transnational Criminal Investigative Unit and the United States Marshals Service, according to a statement from the Allentown Police Department obtained by PEOPLE.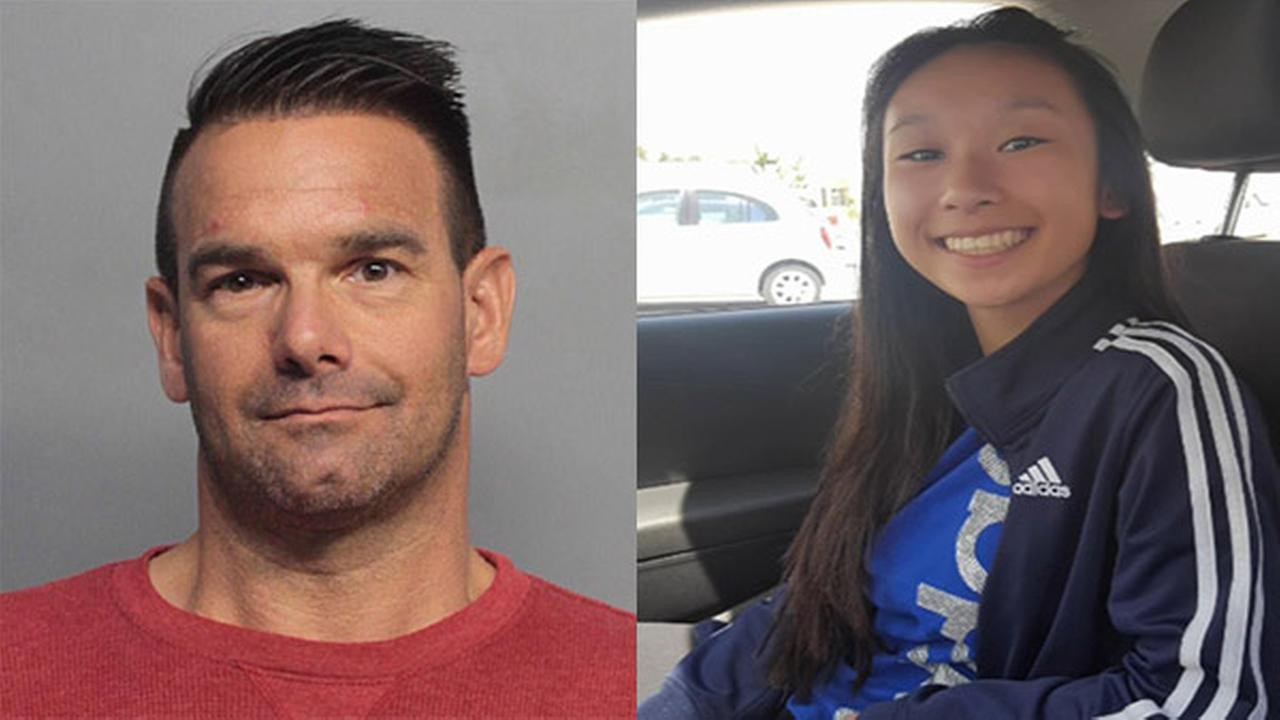 Esterly was taken into custody and flown to Miami, Florida, on Saturday, police said. He is awaiting extradition back to Allentown. Yu was found "unharmed and in good health." She arrived at the Philadelphia Airport early Sunday morning and was transported back to Allentown, police said. "I'm very happy," the teen's mother Miu Luu told The Morning Call after being informed that her daughter was safe, noting that she had trouble eating and sleeping during the ordeal.
MARCH ON WASHINGTON MARCH 24 BY TEENAGE LEADERS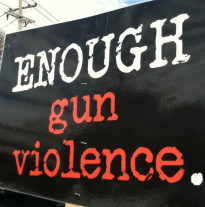 Enough is enough! A generation of students is sending a loud and united message to lawmakers. A month after a gunman killed 17 people at Florida's Marjory Stoneman Douglas High School, students across the country demanded lawmakers set up measures to prevent another mass shooting. In an unprecedented show of unity dubbed National Walkout Day, students put down their books and left class at 10 a.m. in each time zone for at least 17 minutes -- one for each person killed at the Florida school.
Some students spelled out the word "Enough" on football fields with their bodies.
"We are tired of being scared to come to school," said Ben Ramirez, a student in Los Angeles. According to CNN in some places, students chanted "Hey hey, ho ho! Gun violence has got to go!" In Washington, students sat in silence, their backs to the White House.
'National movement of ... future voters'
"Change is coming, change is here and change is here to stay," David Hogg, a Stoneman Douglas student who survived the shooting, told CNN's, Anderson Cooper. "It shows that we have a national movement of young people, future voters ... coming out and standing together with us."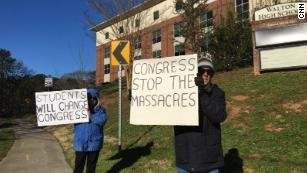 Democratic New York Gov. Andrew Cuomo, who lay down on the ground with protesters as part of a "die-in," said he was inspired by the student-led movement. "A new generation is rising, and they're not afraid of the NRA," he later tweeted. "America's students can clearly see what the GOP cannot: weak gun laws are at the heart of America's gun violence problem."
Equipped with resolve and social media savvy, the students will gather again on March 24 for an event dubbed the March for Our Lives in Washington, where they'll send a message to lawmakers up close. And more protests are planned for April 20, the anniversary of the Columbine High School massacre in Littleton, Colorado.
"This is not a matter of left versus right. This is a matter of public safety," said Cate Whitman, a junior at LaGuardia High School in New York.
"We're all working together, which is something we haven't seen from the adults in a very long time."
GOT GAME?
BRACKET BUSTING NCAA UPDATE