Nutrition for Holiday Stress
|
author/source:
Lexy Penney
The holidays are a time to gather around, enjoy each other's company, take some time off work and eat some delicious food. However, they can also be a source of added stress, especially if we don't take care of ourselves. We know that stress leads to health problems like unwanted weight gain, digestive issues, and heart disease1. Luckily there are some stress-fighting foods you can add to your dinner table this holiday and simple self-care techniques to help you feel well and enjoy your time off!
What does self-care have to do with nutrition?
When we are overworked, overstressed, and overwhelmed we find ourselves turning to food (or other temporary fixes) for comfort. And usually, it's not apples and kale. It's highly addicting, feel-good hormone stimulating, high fat, high sugar, processed foods or alcohol, sound familiar? You're not alone. Here's a list of the top 9 most addictive foods:
Chocolate

Ice cream

French Fries

Pizza

Cookie

Chips

Cake

Popcorn (buttered)

Cheeseburger
*Schulte, E.M., Avena, N.M., & Gearhardt, A. N. (2015). Which foods may be addictive? The roles of processing, fat content, and glycemic load. PLoS ONE, 10(2).
I'm all about everything in moderation, I mean, I love food so much I made a career out of it! It's when we are eating cookies in excess to cover feelings, or when the "once in awhile" become a daily habit that our bodies and minds become affected. When we eat crap, we feel like crap. Suddenly we find ourselves in a downward spiral of poor choices and it all started with poor stress management, overexerting ourselves, pouring from an empty cup and saying yes to everything.
In order to find true peace with our health and lives, we need to address ALL parts that make up a healthy person. Including stress management, relationships (including the one you have with yourself) and work/life balance. Set yourself up for success by incorporating self-care into your daily and weekly routine. Use Sundays to regroup, learn how to say no, or set aside time for weekly meal prep. Maybe just taking deep breaths, bubble baths, getting a massage, simplifying your schedule, or trying meditation would help. Try Headspace for simple daily, quick, guided meditations - first 10 days free! No right answers here, try stuff and see what works.
One way to show your body, mind, and soul some self-care and self-love is by feeding yourself nourishing food. Some foods can even help your body's natural stress response and leave you feeling a little more zen this holiday season J.
Our Stress Fighting Pharmacy: B vitamins, Magnesium, and Vitamin C
- B vitamin-rich foods convert stored energy within our bodies into useable fuel and aid in the body's natural stress response. Who wouldn't want more energy and a better response to stress?!
- Magnesium relaxes our muscles and can help reduce symptoms of anxiety and depression2.
- Stress is the common cold's best friend, and we all know vitamin C is your body's best friend for immunity. Be sure to get plenty of vitamin C rich foods throughout the holiday season to fight those pesky colds.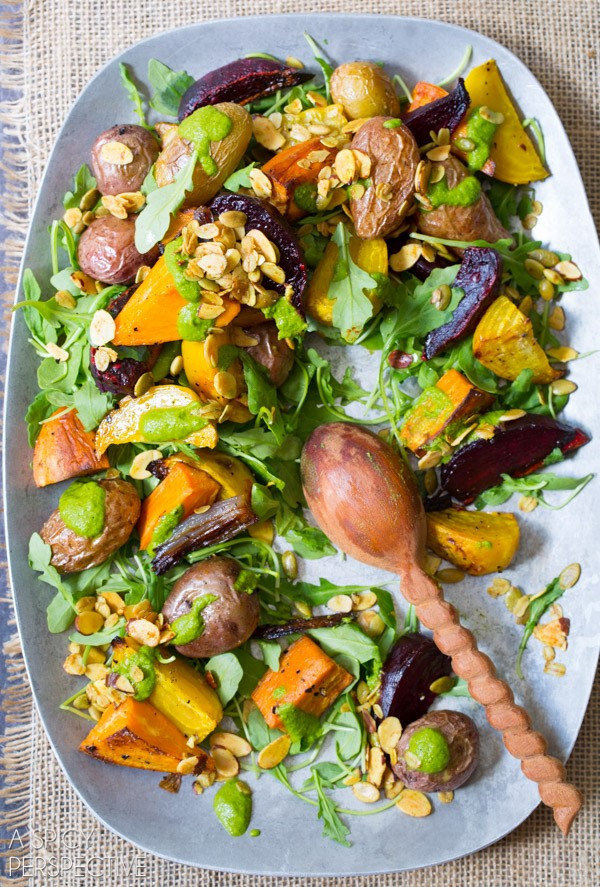 (https://www.aspicyperspective.com/roasted-root-vegetables-salad/)
Nutrient: Holiday Food How-to-yum:
B vitamins

Almonds, cauliflower, eggs, dark leafy greens, asparagus, mushrooms, bananas, sweet potatoes, yams, avocado, turkey, dairy products

Instead of starting dinner off with bread or rolls, have a hearty green salad with kale and spinach. Maybe add some roasted root vegetables for some warmth and top it off with sunflower seeds and avocado. Squeeze some lemon over it for some extra vitamin C and immunity protection.

Magnesium

Spinach, chard, pumpkin seeds, yogurt or kefir, almonds, avocado, figs, dark chocolate, bananas

Try this stuffed turkey breast recipe with spinach and figs: https://www.skinnytaste.com/stuffed-turkey-breasts-with-butternut/

Or for a fun dessert option check out these easy quick dark chocolate banana bites.

Vitamin C

Bell peppers, oranges, cranberries, strawberries, broccoli

Cranberry sauce with 2/3 less added sugar than most recipes, using applesauce and orange juice: Recipe here.
The best way to find peace with YOUR health and your own nutrition plan that works with your particular body and lifestyle is to work with a registered dietitian. Every body, mind, and soul is different and needs different tools on their path to better health. Get started with Lexy here or email [email protected]
References:
[1] http://www.apa.org/helpcenter/stress-body.aspx
[2] https://www.ncbi.nlm.nih.gov/pubmed/28654669
Lexy Penney MS, RDN is a registered dietitian, yoga teacher and the owner of Shanti Nutrition, her private practice with a primary purpose to help people live healthier happier lives. Her mission is to help people find peace with their health and well-being using food, nutrition and lifestyle changes as medicine. Lexy believes in a personal approach to wellness, not one size fits all. Appointments available at shantinutrition.com/get-started. Now accepting Blue Cross insurance.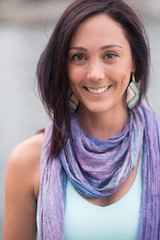 website: shantinutrition.com
email: [email protected]
phone: 774-722-2152