I'm a P.A.N.K
I'm not a mom. I'm a P.A.N.K.: Proud Aunt, No Kids.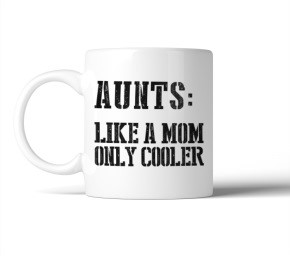 I love being an aunt to my 6 nieces. I love being that special person in their lives that makes them laugh; does silly things with them; spoils them rotten; and can give life advice without it coming from a parental point of view. Don't get me wrong. I'm not bitter about Mother's Day because I get to celebrate my own mother! Truth is, I've simply run out of superlatives for my mom. She's an incredible woman and she means the world to me. I'm a better human being because I'm able to look up to my mom.
One recent Mother's Day, I received a beautiful card from my aunt that made me cry. It said:
This day is not just for mothers but for all the women who enrich our lives,
give us love, and matter most in our world.
Today's a day to celebrate very special women like you.
My aunt has always played a super special role in my life and I love her very much. She doesn't have children and as I got older and didn't have children of my own, I grew to understand just how much she loves me. It's the very same love I feel for my nieces. I never really understood just how strong that love was until I was in the same position as an adult.
This card got me thinking about all the different women who play such an important and influential role in my life. There are so many of you! You come in the form of friends, family members, colleagues, peers, mentors, and teachers. I can't help but think of all my friends who have lost their mothers and how many times we, as friends, fill in as the understudy for that role with a hug or helping hand. Not a replacement, for sure. But in that moment, a welcome substitute, no doubt.
So here's a shout out to all my "non-mommies" out there. This day is undoubtedly for you, too. What a wonderful thing to be a mother-sister-friend-aunt to anyone who needs a little love or encouragement. (I think I'll try to write a Hallmark card for this one.) Let's celebrate all the times that we, as women, have been there for one another with a kind word, a little tough love or a laugh.
Or, sometimes, just to borrow the perfect pair of shoes.
With great admiration to all women, and moms, everywhere,
©Copyright 2019 Kim Miles, Founder and CEO, Miles in Heels Productions, LLC