Healthy is the New Yummy
|
author/source:
Lyvia Feraco
Chakra Foods For Optimum Health (Deanna M. Minich, Ph.D, C.N.)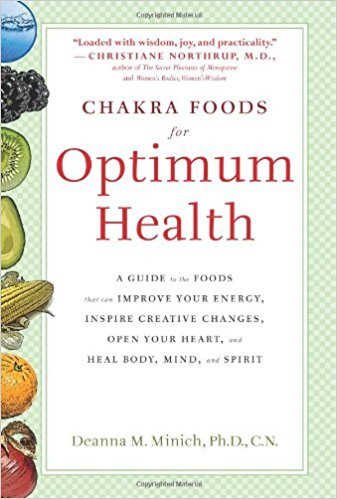 Jump Start Your Health, Reset Your Energy, and Look and Feel Better than Ever!
Nutritionist and yoga practitioner Deanna Minich's Chakra Foods provides information on how to heal emotional and physical woes through making the right food choices. The material for this book developed out of the author's highly successful "Nutrition for the Soul" classes, workshops, and private counseling sessions. Not a diet book, it looks at both the nutritional and spiritual aspects of the foods we eat and how they can heal us. For example, someone feeling stuck in their lives could turn to chapter 5 and find a list of orange foods—apricots, carrots, salmon, pumpkin, oranges—to help their sacral chakra. For each chakra, specific affirmations and other practices are also offered, as are meal plans and recipes. Helpful lists, charts, and diagrams help readers easily pinpoint and diagnose themselves and the various prescriptive options are all very clearly explained. With lots of useful sidebars, this book really is a treasure trove of energy medicine in the form of food—truly food for the body, mind, and soul!
Daily Greens 4-Day Cleanse (Shauna R. Martin)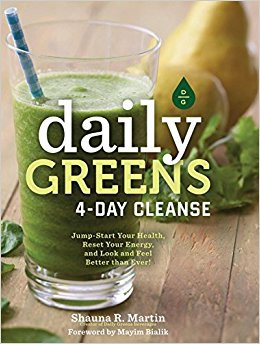 "Daily Greens is the way I start my day every day. Before I go to the gym and before I get onstage. It gives me that extra kick in the butt that I love." - Joey Kramer, Aerosmith Are you craving junk foods? Feel sluggish and tired all the time? Fueling yourself on caffeine and sugar on a daily basis? Then it's time reset your mind and body with the Daily Greens 4-Day Cleanse. Jump start your body and give yourself a "spring cleaning" during the week so you're refreshed and looking amazing for the weekend. The book features four key cleanses one for each season of the year (Spring, Summer, Fall, and New Year). The vegetables and fruits in each cleanse are selected to coincide with fresh, delicious seasonal produce so that you can juice right in your own home. Try the 4-day cleanse or if it's right for your lifestyle, try the 7- or 10-day cleanse. The best part? You don't have to eliminate food on the Daily Greens cleanse. Founder Shauna Martin recommends a raw diet while you juice, so you're not just limited to just liquid, and you'll still be able to refresh, rejuvenate, and reset as you would with other cleanses. So you get the same benefits of a cleanse without starving yourself!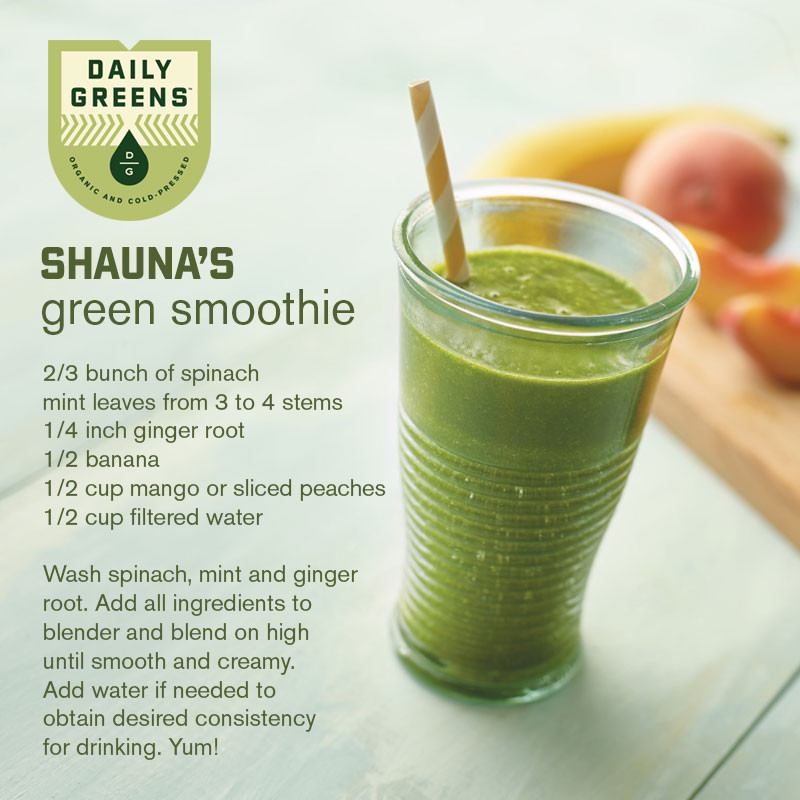 No more cleanse headaches or irritability, and you'll feel the results almost instantly. You can make these yummy green recipes right in your own kitchen, anytime you want. Daily Greens juices contain easy to follow recipes that include up to 6 pounds of raw produce cold-pressed into each bottle. Each juice is the equivalent of 9 servings of fresh vegetables and fruits. They are naturally low-calorie because less than 10% fruit is used so you don't spike sugar levels. No water, sugar, or preservatives are added. The juices are naturally vegan, naturally gluten-free, naturally dairy- and soy-free, non-GMO project certified, and absolutely delicious. So if you're ready to reset your body, lose weight, or just give yourself a much-needed energy boost, the Daily Greens 4-Day Cleanse has exactly what you need. With a foreword from Mayim Bialik, star of The Big Bang Theory.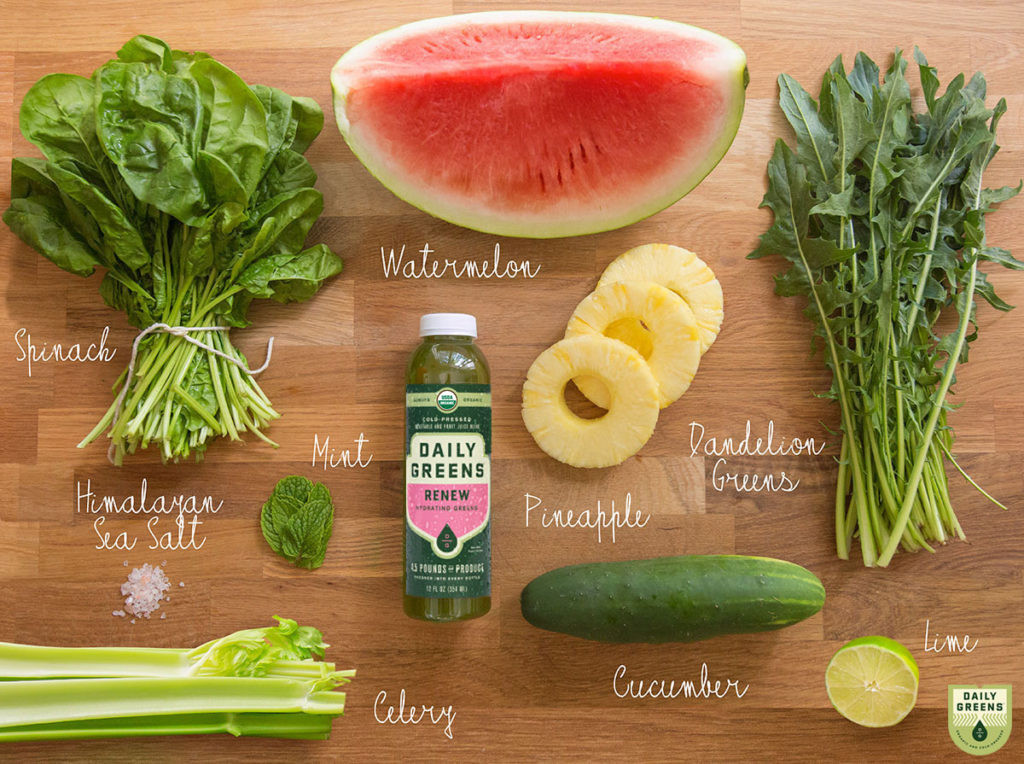 At the age of 33, Shauna R. Martin was diagnosed with breast cancer. With a very young family to care for, Shauna had an extremely difficult time recovering from multiple surgeries and chemotherapy. The effect on her body was toxic, and she began eating raw fruits and vegetables and drinking a green juice every single day to promote her health and well-being. Eight years later, Shauna is still cancer-free, and she credits her recovery from breast cancer, in part, to her current healthy lifestyle which includes a regiment of drinking green juice every day. Shauna started Pink Ribbon Cowgirls for young cancer survivors, and a portion of Daily Greens sales are set aside to grant funding to groups that support young women with cancer. She started her company, Daily Greens, in 2012, and her juice line can be found in Whole Foods, Natural Grocers, and health food stores all across the country.
Mayim Hoya Bialik is best known for her lead role as Blossom Russo in the early-1990s NBC television sitcom Blossom. She currently plays the role of Amy Farrah Fowler on the hit CBS comedy The Big Bang Theory, a role for which she has received 3 consecutive Emmy nominations. After Blossom, Bialik took a break from acting to earn a BS and PhD in Neuroscience from UCLA. She is the author of Beyond the Sling (2012) and Mayim's Vegan Table (2014).
Plenty: Vibrant Vegetable Recipes from London's Ottolenghi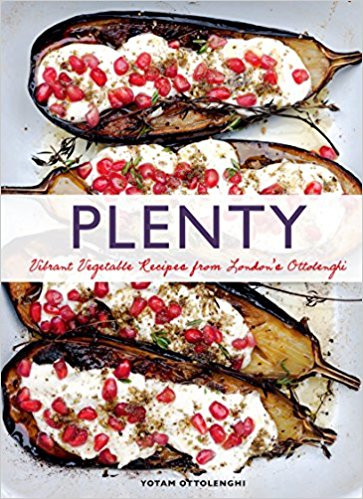 Yotam Ottolenghi is one of the most exciting new talents in the cooking world, with four fabulous, eponymous London restaurants and a weekly newspaper column that's read by foodies all over the world. Plenty is a must-have collection of 120 vegetarian recipes featuring exciting flavors and fresh combinations that will delight readers and eaters looking for a sparkling new take on vegetables.

Yotam's food inspiration comes from his Mediterranean background and his unapologetic love of ingredients. Not a vegetarian himself, his approach to vegetable dishes is wholly original and innovative, based on freshness and seasonality, and drawn from the diverse food cultures represented in London. A vibrant photo accompanies every recipe in this visually stunning book. Essential for meat-eaters and vegetarians alike!
We saved the best for last…! After all these greens, we deserve some sweetness right?!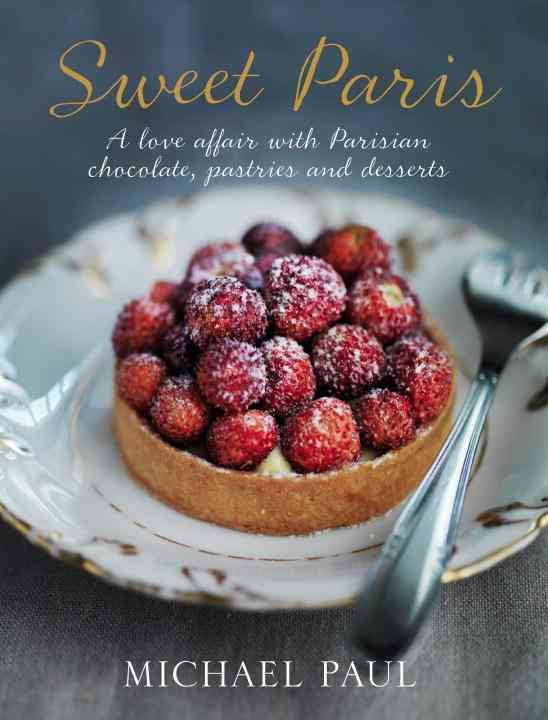 Sweet Paris: A love affair with Parisian pastries, chocolates and desserts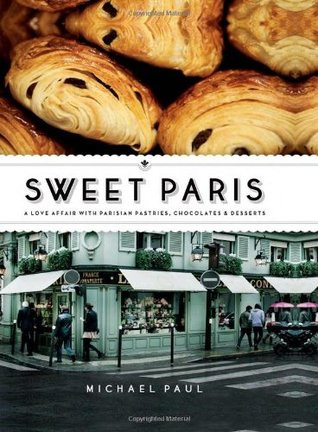 An exquisitely photographed celebration of one of the world's most beautiful cities: the perfect gift for Francophiles and food lovers. An irresistible combination of classic French dessert recipes and breathtaking photographic tour of this enchanting city, Sweet Paris is more than just a cookbook: it's a sweet-toothed guide to Paris, a city where even the desserts are chic. With more than thirty distinctly Parisian recipes, ranging from tarts and macarons to madeleines and chocolates, let your taste buds do the walking. A sophisticated design and stunning images help to make this book a timeless keepsake that will be cherished for years to come. Photographer Michael Paul has a passion for both Paris and desserts, which are captured beautifully in his images of the city of light and love. Sit back and flick through the pages to enjoy the ambiance and joie de vivre of this remarkable city.
About the author (2013)

Michael Paul is an internationally renowned lifestyle photographer based in London and is a respected photographer in the field of food, interiors and still life. His work appears regularly in prestigious magazines such as Gourmet, Martha Stewart Living, Delicious, Vogue Living and The Sunday Times Style