Dreaming a Little Dream of You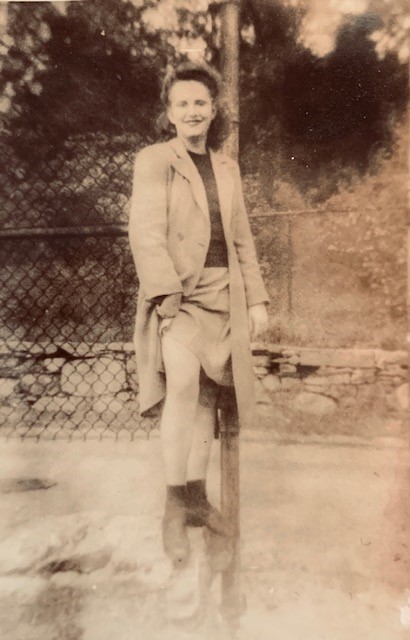 I saw a post this morning that said, "you can only pick two of your favorite smells." There were sixteen items listed. I thought, how could I only pick two? After all, smells evoke strong emotions. Fresh cut grass, new books, brownies baking just to name a few. Then, there were three items listed that crushed me like a soft tin can pulling me into the well of renewed grief. Homemade bread, strong coffee, and line dried sheets. I immediately went back in time to my early days and the smells that evoked memories of my mother.
I woke many days to the smell of fresh baked bread made from the heaping pots of yeast-risen dough tucked next to the old stove. Handfuls of fluffy dough balls were shaped into the cast iron frying pan loaded with butter to form the most decadent breakfast of fried dough washed down with a steaming cup of Eight O'Clock coffee. When I think of the best breakfast places I have ever enjoyed, none compare to my mother's kitchen table.
I used to sit on the old cement stoop in my backyard watching my mother hanging sheets on the line. One by one she would grasp the wooden clothespins from her apron pocket while fighting against wind and the slope of the lawn. She was a marvel at stringing those little wooden soldiers along to guarantee her hard work would not fly away into the next yard. I watched her silhouette disappear behind the twisting sheets of her daily washing show while I counted down how long it would take until she would reappear from under the weight of it all. She always embraced the laundry as if she had just picked up a tiny baby while plunging her face into the dried clothes and exclaiming her joy of smelling the fresh air and sun. I suspect it is the reason why, even today, I find comfort hearing the washing machine and dryer hum along to the music of laundry and the memory of my mother.
When you lose your mother despite the health of the relationship, something changes in you as a woman. There is a sense of loss even after years have passed without her that can never be filled again. You search to fill that void in everything. In every inexplicable place imagined or dreamed of. In every corner of every room, stars you wish upon, Robins that shows up unexpectantly or ocean waves you lose yourself in; you are always looking for her.
When my mother was at her best, she danced wildly in the living room to her favorite songs and always ended by doing a cartwheel between the living and dining rooms. She was a bit of a glamour puss and never went outside without her hair done, makeup on and best clothes she owned. Her go-to advice to me was never go out of the house without your lipstick on or clean underwear, as she would say in her mother voice, "you never know!"
I am very fortunate to be surrounded by amazing strong Mother-stitutes, my made-up word for the "other" mothers in our lives. My brilliant mother-in-law and step-mom who have taught me more about strength and resilience than my own mother was capable of. My sisterhood of many women friends who are always there for me to lend advice, a recipe or two or a good juicy story. They keep me grounded through my triumphs or setbacks. To my own mother, my Mother-stitutes, mothers who could not be or chose not to, I wish you all a Happy Mother's Day. I think I will put some lipstick on, a little old-time music and do the laundry!