7 Restaurants You Should Try Along Cape Cod
|
author/source:
Lyvia Feraco

Located in beautiful Plymouth, Massachusetts, The Blue-Eyed Crab is a Caribbean inspired bar and grill run by Chef Jim Casey.
The Blue-Eyed Crab opened in 2007 and is located along the seacoast in Plymouth. Chef Casey's inventive menu of fresh seafood paired with creative cocktails straight from the Caribbean makes this a local favorite. The fun and casual atmosphere is perfect for a quick lunch, after work cocktail, or a night out with friends and family. Choose from the festive dining room or the outside patio to enjoy our excellent food and great service
The food dishes are creative and the cocktails are delicious. I fell in love with their homemade dressings, the Jibarito Plantain Sandwich (crispy plantains with jerk chicken, habanero aioli, pickled red onions, avocado, greens and farm cheese) and their grilled salmon salad converted my husband (who wasn't a fan of salmon!).
LOCAL BREAK GF / V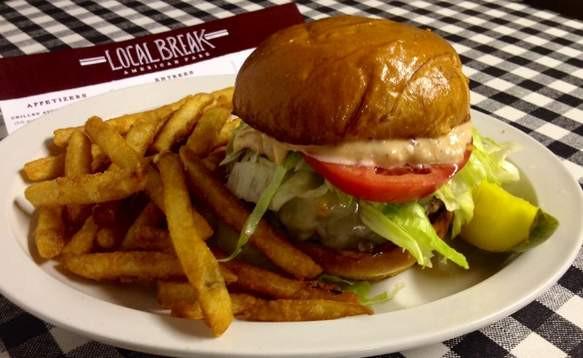 Open 7 days a week from 4 pm til close.
EVERYBODY feels at home at the Local Break! It's the local restaurant in Eastham, open all year round and keeps Cape Cod vibe alive! Mac the owner and his team are very welcoming and friendly. The place is always packed (yeah, it's that good!) but it never feels overloud or overwhelming, nope – it's part of its charm! Trust me. A great place for couples, family or just by yourself at the bar to meet new people or watch the game on TV.
A great choice of awesome local draft beers, homemade white or red sangria, a Black Raspberry Mojito or the Thom's Cucumber Collins made from the house-infused cucumber gin.
It's part of our ritual whenever we go to the Cape, which is pretty often. I recommend the New England clam chowder, the fried wings (request extra crispy!) with homemade dressings. The cheeseburger is one of my favorite with the Craigie on Main's one. It's also worth it to try the coleslaw and the salads. The Chef is very creative so just try everything.
Van Rensselaer's has been family owned and operated since its opening in 1968. Howard and Anne Hall opened Southfleet Restaurant, serving a variety of Cape Cod fare. Many a customer today recalls those summer nights when a Wellfleet entertainer by the name of Arnie would fill the place with a song.
1980 marked the beginning of Van Rensselaer's, a name chosen from Peter Hall's Dutch ancestry. A trace of the family line leads to Steven Van Rensselaer, a name highly associated with New York's Rensselaer County and Rensselaer Polytechnic Institute.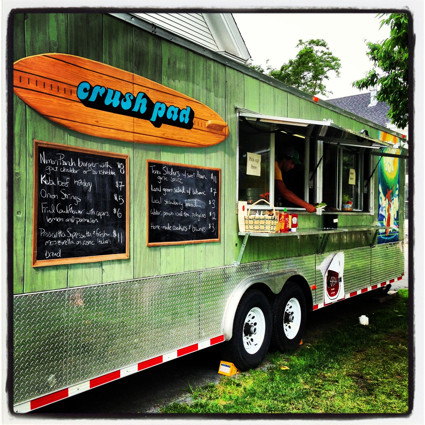 Today, Peter and Diane Hall, proudly continue to serve the freshest locally caught seafood and superbly prepared meats and it's also a great spot for breakfast.
If you are in a fancy/nice decorative mood, go dining side. If you feel like casual, the bar is a great spot! But no matter where you're seated, you will have a great experience with a creative cuisine. Peter is very friendly, and a Patriots fan so don't be surprised to see framed authentic "treasures" on the walls.
CRUSH PAD FOOD TRUCK (closed for the season, re-opens in Spring)
The Crush Pad food truck, located at Truro Vineyards offers many choices including: great burgers, fried cauliflower and arancini, fried onion rings, lobster roll and a Kobe hot dog. Beach chairs & tables are set around the vineyard in the sun or shade overlooking the vineyard. In the summer, you can enjoy your meal along with the wine tasting and get whatever you liked from the store on site. We celebrated our wedding there so we have a great excuse to go back at least once a year for our wedding anniversary and we are never disappointed. The kids love it too, they can play around while parents relax and enjoy the moment in this gorgeous place.
The Wellfleet Book Store & Restaurant
Raw Bar, Lobster, Oysters, Waterfront Views – It's All At One Of The Best Seafood Restaurants For Family Dining On Cape Cod.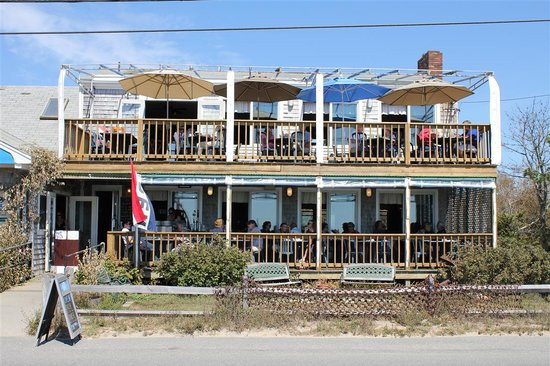 The Bookstore and Restaurant overlook the beautiful Wellfleet Bay, which feeds into the larger Cape Cod Bay. Diners can look out at the fishing boats steaming out around the hook of Billingsgate, where the original whaling town was founded, now submerged under the sea. The Bookstore and Restaurant offer the seafood treasures from our Atlantic coast, especially cod, littlenecks, oysters, scallops, mussels, and lobster. Carnivores will also be happy here, with dishes of sirloin and lamb, prepared simply, allowing the meat's natural flavors to take center stage. Pair any appetizer or meal with of an exclusive selection of wines, beers on tap & microbrews or divine cocktails and you will be in heaven by the sea.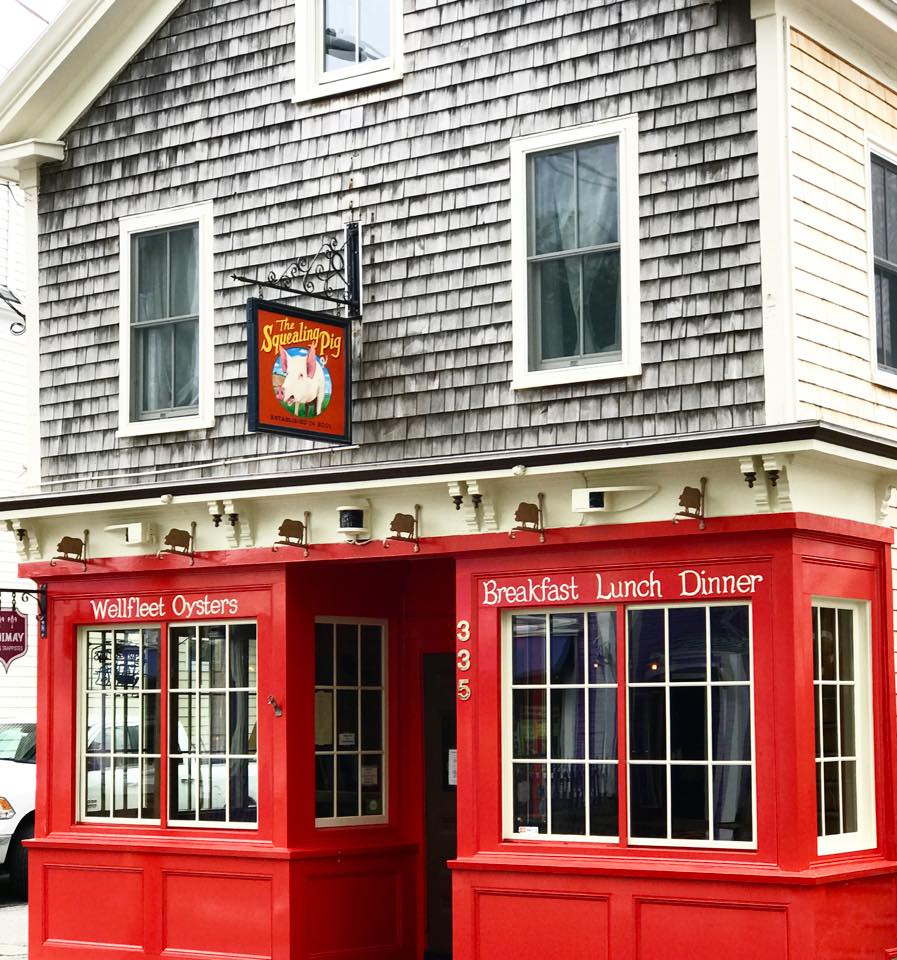 Starving after hours on a whale watch cruise or shopping? The Squealing Pig is one of P-Town locals favorites. Great Hamburgers! And if you are lucky enough, you may find yourself seated next to Julian Edelman who was there last November!
It's a very small place but very accommodating. They have a great draft beer, cocktails, and the food is delicious. To name a few: smoked halibut chowder full of flavor with the smoked fish, great burgers and delicious fries. Raw bar available, don't be surprised if the bartender prepares the oyster in front of you. BLT. One of the best lobster roll/sandwich I had.
KAROO RESTAURANT – South African Cuisine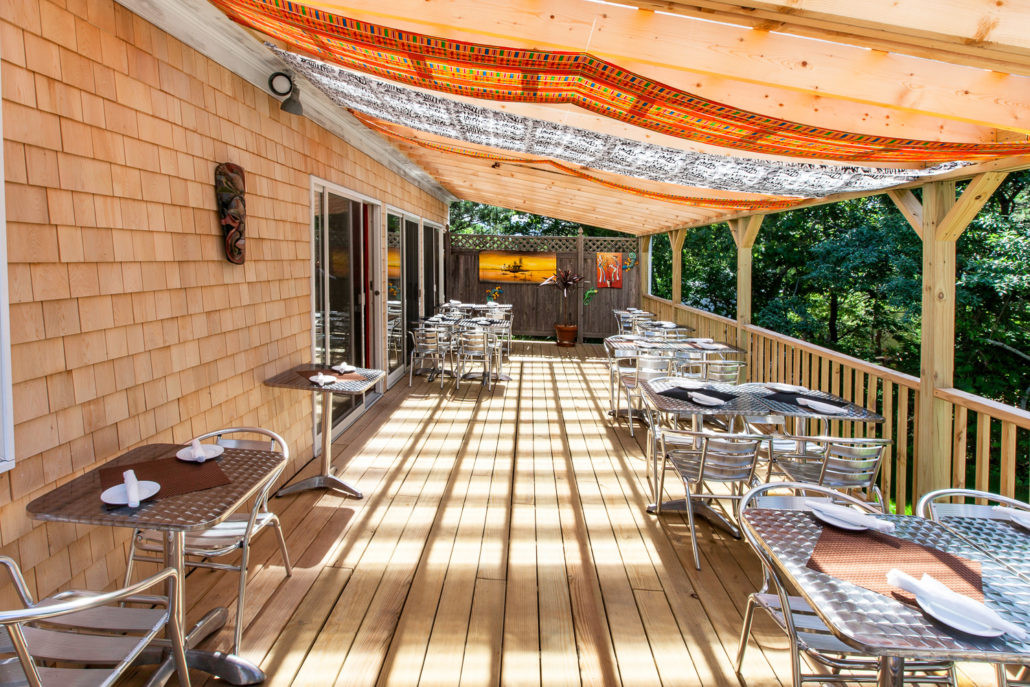 Inspired by the diversity of British, Dutch, African, Malaysian, Portuguese and Indian flavors that make up the delicious dishes of Chef Sanette Groenewald's South African homeland makes this spot an international treasure of cuisine. Chef Sanette was born and raised in a small town called Wolseley located in the Little Karoo where life is simple, down to earth, unpretentious, and full of friendly people. That is the principle on which both Karoo Restaurant was built. Karoo's expansive menu is designed to include vegan, vegetarian, and gluten-free versions of traditional recipes, as well as the original, chicken, beef, and fish-based dishes.
I like the sweet potato fries AND the GF Peri-Peri wings (basket of grilled chicken wings in Peri-Peri sauce)
The Samosas : curried ground beef or vegetables mixed with cilantro (light) and onions wrapped in wonton pastry and deep fried. It reminds me of my childhood in Madagascar, quite different from the Asian or Indian samosas. It's served with rice and chutney or by the piece.